New biosecurity housing measures to protect UK poultry, captive birds against avian flu
Bird keepers should review biosecurity and house birds
The new housing measures, which went into effect on 14 December, mean that it's a legal requirement for all bird keepers to keep their birds indoors and to follow strict biosecurity measures in order to limit the spread of and eradicate the disease.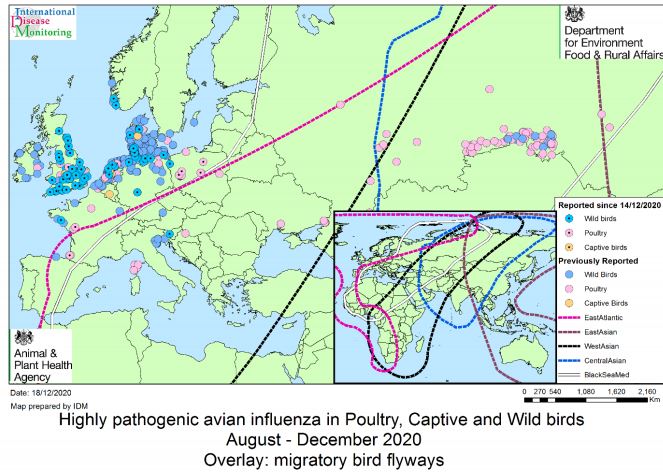 The above map shows the concentration of wild bird cases in north-western Europe, with relatively few in southern or central Europe. To 20 December, a total of 241 HPAI cases have been reported in wild birds in the United Kingdom, with most in England, and only a few in Scotland and Wales. Since the last report on 15 December, there have been no new reports of HPAI H5N8 in wild birds in Northern Ireland. For further details, please see the report (updated weekly) on findings of HPAI in wild birds in Great Britain.
Public health advice is that the risk to human health from the virus is very low and food standards bodies advise that avian influenzas pose a very low food safety risk for UK consumers, and it does not affect the consumption of poultry products including eggs.

Government Chief Veterinary Officers are encouraging bird keepers take steps to safeguard animal welfare, consult their veterinarian and where necessary put up additional housing.
These housing measures build on the strengthened biosecurity regulations that were brought in as part of the Avian Influenza Prevention Zone (AIPZ) on 11 November. The AIPZ means that all poultry and captive bird keepers need to take extra precautions, such as cleaning and disinfecting equipment, clothing and vehicles, limiting access to non-essential people on their sites, and workers changing clothing and footwear before entering bird enclosures.
The Scottish Government has worked closely with the UK and Welsh Governments to introduce the new housing measures at the same time, thus the restrictions will be applied across the whole of Great Britain.

Poultry and captive bird keepers are advised to be vigilant for any signs of disease in their birds and any wild birds, and seek prompt advice from their vet if they have any concerns. They can help prevent avian flu by maintaining good biosecurity on their premises, including:
housing or netting all poultry and captive birds
cleansing and disinfecting clothing, footwear, equipment and vehicles before and after contact with poultry and captive birds – if practical, use disposable protective clothing
reducing the movement of people, vehicles or equipment to and from areas where poultry and captive birds are kept, to minimise contamination from manure, waste and other products, and using effective vermin control
thoroughly cleaning and disinfecting housing at the end of a production cycle
keeping fresh disinfectant at the right concentration at all points where people should use it, such as farm entrances and before entering poultry and captive bird housing or enclosures
minimising direct and indirect contact between poultry and captive birds and wild birds, including making sure all feed and water is not accessible to wild birds
The new housing measures will be from 14 December onwards and will be kept under regular review as part of the government's work to protect flocks.
Avian influenza is in no way connected to the COVID-19 pandemic, which is caused by the SARS-CoV-2 virus and is not carried in poultry or captive birds.