Norwegian researchers study two broiler-catching methods
Can both bird-welfare standards and commercial margins be improved by changing the way broilers are caught prior to slaughter? New Norwegian research has been getting to grips with the issue
Words Melanie Epp
The European Union produces approximately 4 billion chickens for meat consumption each year. Even if only a small percentage experience injuries and poor welfare standards during catching, a large number of birds will be impacted. To improve end-of-life welfare standards, researchers from Animalia, the Norwegian Meat and Poultry Research Centre and the Norwegian University of Life Sciences evaluated two broiler-catching methods in two flocks consisting of different hybrids. Their results could provide the basis for improved, and more animal-welfare friendly, catching routines.
"Published papers on catching have stated that catching is a stressful event for the animals," said Käthe Elise Kittelsen, DVM, from Animalia's poultry health service. "In addition, we know that suboptimal handling may lead to injuries, for instance wing fractures, and mortality."
As a part of an ongoing process to update the educational programme for catchers, and to better secure animal welfare, the industry started to investigate potential new catching techniques. The motivation for this study, said Kittelsen, was to investigate whether or not it is possible to catch broilers in a more animal-friendly way, but in a commercial setting.
Since catching puts broiler welfare at risk, as well as placing strain on catchers, logistics and economics, the researchers wanted to study several parameters to see where improvements could be made. The parameters included: crating time of individual transport modules, the number of birds in each drawer, wing and leg fractures, birds on their back in the drawers and the number of dead-on-arrival (DOA) birds.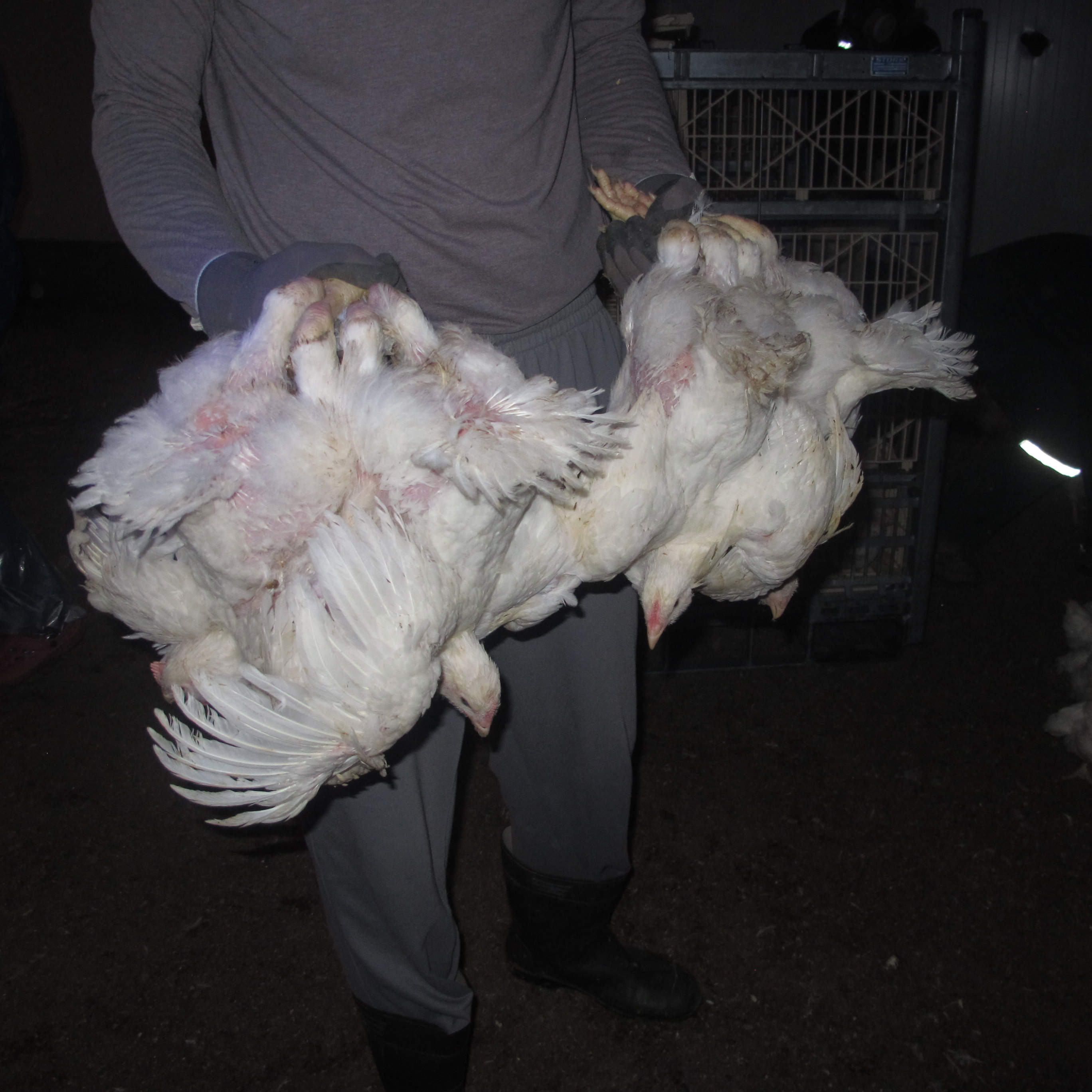 Specifically, the study aimed toassess two catching methods. In the first method, birds were caught by two legs and carried upside down. In the second, the broilers were caught under the abdomen and carried upright to the transport modules. The one-leg catching method was not evaluated since it is banned in Norway.
The study was carried out in commercial conditions using two flocks of different hybrids: a conventional, fast-growing type called Ross 308, and a slower-growing hybrid, Hubbard JA787. The study sample consisted of 3,951 broilers; 2,010 were caught by the legs and 1,941 were caught using the upright method.
While Ross 308 has been the dominating hybrid in Norway for several years, Kittelsen said a recent switch to Hubbard JA787 led to questions regarding proper handling.
"This hybrid was expected to be more active and has a slightly heavier body weight at the time of slaughter," she said. "Not much information is available regarding Hubbard and catching, and therefore it was necessary to investigate how different catching methods affect different hybrids."
It is important to note that the broiler houses where the study took place were designed by the same manufacturer, were the same size, and were equipped with the same ventilation system. The flocks were also caught by the same professional catching team, which consisted of two men and two women. Immediately after the broilers were caught, they were taken to a local abattoir and evaluated for wing and leg fractures, as well as the number of birds found on their backs and the number of DOAs.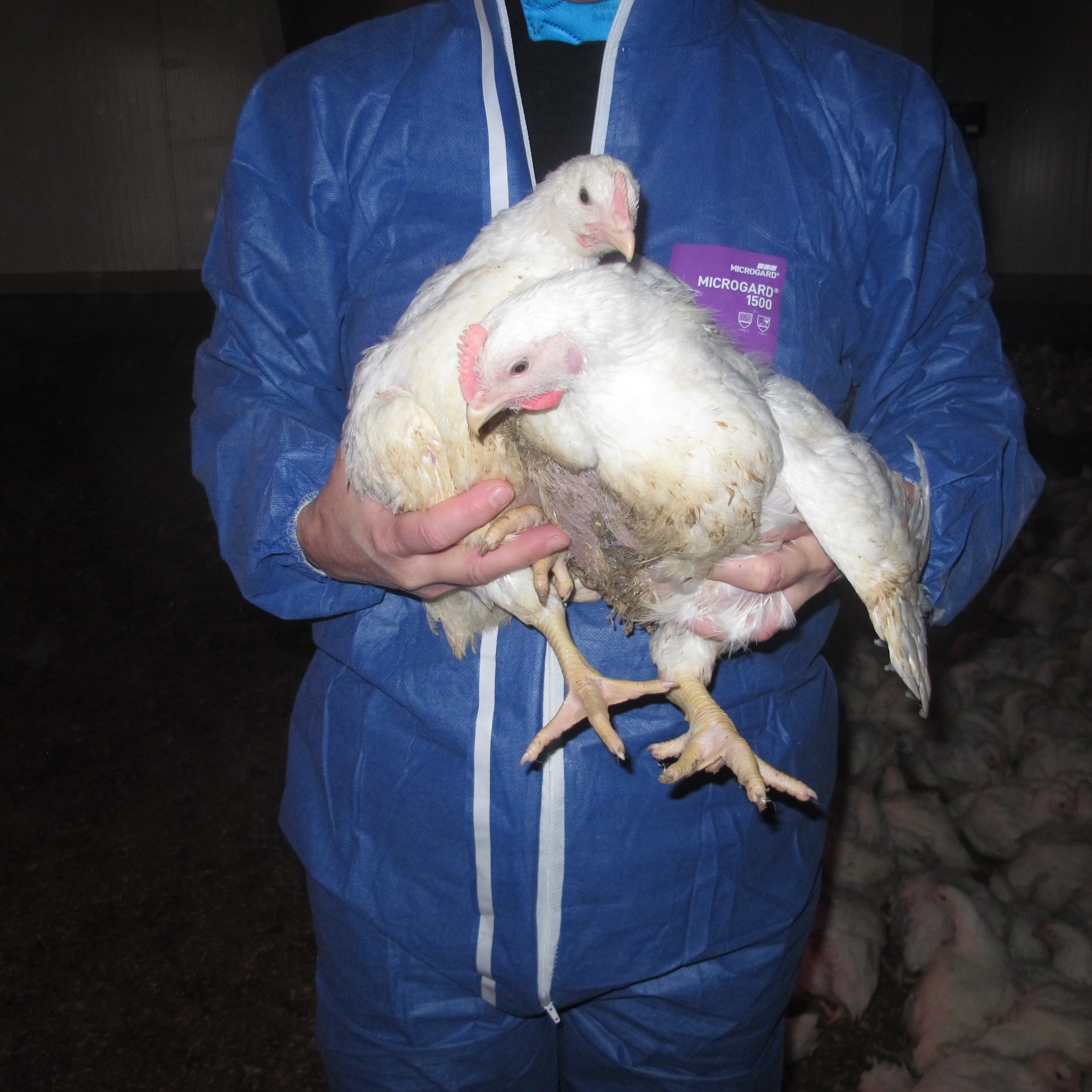 In comparing catching broilers by two legs against the under-the-abdomen grip, "Both methods were perceived as more difficult than catching the broilers by one leg," said Kittelsen. "Overall, the results indicate that catching under the abdomen in an upright position may improve broiler welfare in terms of the investigated indicators in this study," she continued.
To the researchers' surprise, no broken legs were observed during the course of the study regardless of catching method. There was, however, a tendency towards more wing fractures for broilers caught by the legs. "But it must be mentioned that few wing fractures were registered in total," Kittelsen added.
"Both catchers and researchers were surprised that the upright, under-the-abdomen method was faster, compared to catching by a grip in both legs," she continued. "However, the upright method requires more squats and as such is perceived as more exhausting by the catchers."
Kittelsen points out that this was only a pilot study and more information is needed on how welfare parameters could be impacted on a larger scale.
"We do not know how a more exhausting catching method will affect the time it takes to depopulate big houses with many thousands of broilers," she said. "I would most definitely like to continue this study in a larger setting with more broilers and more flocks. In such a case we would like to include more welfare indicators, to be able to better conclude on how different methods affect the broilers' welfare."
"It is important to improve catching methods both to secure animal welfare and to secure the health of the catchers," Kittelsen concluded.
The study is the result of collaboration between Animalia, the Norwegian Meat and Poultry Research Centre, Norsk Kylling and the Norwegian University of Life Sciences, Faculty of Veterinary Medicine. It was funded by Animalia and Norsk Kylling.