Optimizing the Performance of Early Nutrient Restricted Offspring From Young Broiler Breeders
By David Peebles, PhD Professor, Poultry Science, Mississippi State University, published in MSU Poultry Dept. Newsletter Vol. 1 Issue 3. The poor quality and excessive mortality of chicks during the first 7 days of brooding are frequently associated with smaller chicks from smaller eggs (inherent to flocks of young breeder hens 30 weeks of age or younger) that have been subjected to an improper hatching process, delayed brooding, or poor brooding management.
A hatching egg is injected using laboratory-scale injector equipment.
The loss of body fat, muscular regression, and kidney damage in these chicks parallels in-creases in early embryo mortality between days 1 and 12 of incubation. Internal body temperature and plasma refractive index are physiological parameters that are indicative of the metabolic and growth rates of embryos and chicks. These parameters are important "marker" parameters, because when they are abnormal, they will signal the poultry producer to the possibility of a subsequent increase in mortality. When elevated, plasma refractive index is indicative of dehydration, while a low internal body temperature reflects a depressed metabolism. These two specific parameters have been shown in earlier studies to have potential value for the prediction of later performance. However, the age-dependent relationships among these and other "marker" parameters in embryos and chicks, from breeder flocks at 30 weeks of age or younger, are largely unknown.

Understanding the association and predicting the onset of changes in these parameters would allow hatchery and grower personnel to make appropriate adjustments in their management to accommodate the negative impacts of earlier environmental influences and to optimize performance. In addition, no previous work has addressed the influence of prolonged delays in brooding and the impact of its duration on the relationship of these parameters to the health, viability, and welfare of chicks. These relationships are a major concern of primary breeders, particularly those that transport chicks internationally. Industry personnel must be knowledgeable of established parameters that are essential in defining the well-being (hydration and energy status) of their chicks when confronted with welfare issues.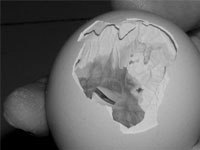 Our laboratory is interested in understanding the relationships among these metabolic and growth-related parameters across incubation and brooding, and to know their critical levels and physiological and molecular bases. More specifically, we further seek to establish the time-dependent changes and relationships between various physiological and molecular parameters in broiler embryos (during the last week of incubation) and in chicks (through 72 hours post-hatch) from very young hens before, during, and after prolonged delays in brooding. In addition to body temperature, plasma refractive index, and other blood and visceral parameters, incubation temperature, egg temperature, incubational egg water loss, eggshell conductance, bird sex, time of hatch, hatchability, and embryo and chick growth and mortality are also under consideration. Trials are underway to establish the repeatability of the results in industry settings and to provide procedures by which to test for the various metabolic indices in both incubating embryos and chicks for practical application.

Other research in our laboratory has extended into the determination of the effects of the commercial egg injection of various nutrients at transfer on the viability of the embryo and chick, and their effects on the various physiological factors described above. These materials would be injected in conjunction with the normal injection of the Marek's vaccine.

The US Broiler Industry produces 8 billion or more broilers per year. Therefore, understanding and alleviating early chick mortality by as little as 0.25 % could result in a realized annual savings of over $5 million in chick costs to the industry. Much greater benefits in subsequent broiler performance, however, may be realized. Therefore, such measures as described in our research could significantly increase profits to the commercial broiler industry that exceed $20 million per year.

November 2007