Organic Egg Production with Big Dutchman Poultry House
An organic egg farmer in northern England has achieved success in layer management with a combination of football, music and a Natura Compact poultry house.
James Maclean from Border Eggs near Berwick on Tweed in the Scottish Borders, Great Britain, displays an unusual, though promising approach to organic egg production.

Next to providing all standard prerequisites for optimal layer management such as organic feed and free access to the outdoors, Mr Maclean swears by daily exercise and allows his hens at Border Eggs to indulge in football matches to keep themselves fit and healthy. To this end, they are provided with little red balls which, in downright contrast to the motto 'No sports please', they love kicking around.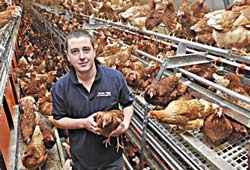 James Maclean and his flock inside the Natura Compact
Picture: Poultry World
This unorthodox commitment to animal welfare of the owner of Border Eggs is not limited to sports, though, but also includes a cultural approach: BBC Radio 2 is played to them each day as background music. As far as everyday indoor life of the hens is concerned, this promising way of doing organic egg production is complemented to perfection by the Natura Compact system from Big Dutchman. The static shed is equipped with the innovative NaturaNova aviary and stands for both animal-friendly housing and ideal stocking densities.

When James Maclean set up his business a year ago, he first opted for a mobile system capable of holding 3000 birds. After the success of his first flock, Mr Maclean decided to add a second shed. He then decided in favour of the multi-tier static shed Natura Compact instead of another mobile unit. Its main feature is its compactness which allows Mr. Maclean to hold 6000 birds without having to increase the building area. Both sheds were supplied by Newquip, Big Dutchman's sales agent in Great Britain.

Next to the positive effects of regular exercise and 'cultural input', high laying performance is further fuelled by a variety of system advantages such as the fact that the animals have enough room at their disposal and easy access to feed and water. Thus the hens feel comfortable and situations of stress are avoided.

Altogether, there are four different areas of activity (food and water supply, resting, laying and scratching). To reach the individual areas, the hens have to move in a zigzag course. This leads to increased activity, more frequent visits to the nest and less mislaid eggs.

In addition, different structural elements further various behavioural patterns, such as feed and water intake, flying, scratching, sand bathing etc.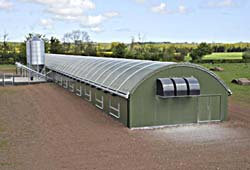 Natura Compact layer house
Picture: Poultry World
Also for James Maclean, the system offers some benefits as far as the workload is concerned. For instance, the motorised belt that removes the dung from the shed not only saves time but it also leads to a reduction in flies as well as odour, thus providing a better environment for the animals.

In addition, thanks to the well thought-out layout of Natura Compact, Mr Maclean can easily walk through the shed to inspect the birds and spot floor eggs much easier. Both sheds have solid sides that allow for optimum light control and prevent wind chill during cold spells. Constant temperatures, even on hot days, can be maintained by Viper, a flexible climate and production computer. It controls fresh and exhaust air based on the temperatures inside and outside of the house and on the age of the birds. At the same time, Viper registers important data regarding production, growth, feed and water consumption thus covering all important production functions. That means Mr Maclean is in a position to quickly react to changing conditions and immediately take the required measures. The result is a much better bird performance and increased economic efficiency.
This article was published in the June 2008 issue of Poultry World, and Berwickshire News on 2 July 2008.
August 2008
Sponsored Article
---
Our Partners
---