Organic Poultry Production in the United States - Living Conditions and Housing
In organic poultry production systems, birds are raised without cages in housing that allows outdoor access, are fed organic feed and managed with proactive practices and natural treatments. Organic Poultry Production in the United States was published by ATTRA in 2008. It discusses organic husbandry including living conditions, health, genetics and origin, feed and processing as specified under the livestock requirements of the US Department of Agriculture National Organic Program (NOP). This article covers living conditions and housing, including a comparison of NOP standards with those in other countries.
Introduction to Organic Production
Organic refers to the way livestock and agricultural products are raised and processed, avoiding agrochemicals such as synthetic pesticides and fertilizers.

Although non-chemical farming is a good working definition, avoiding synthetic inputs is just one feature. Organic production focuses on animal health and welfare, good environmental practices and product quality. In contrast, conventional production focuses on reducing costs and maximizing production through weight gain, feed efficiency and more (Sundrum, 2006).

Since USDA established the National Organic Program in 2002, the organic food market has grown by almost 20 per cent annually. The organic meat industry is a relatively young one although organic production has been practised for decades in the United States. This publication is written for US producers who are complying with the NOP.

The NOP regulations are available by clicking here. The regulations are broken down into sub-parts: sub-part C deals with crops, livestock and handling. Sections 205.236 through 205.239 deal specifically with livestock, including poultry. Section 205.600 is the National List of Allowed and Prohibited Substances and lists synthetic substances that can be used in organic production and a few natural substances that may not.
Basic Requirements for Organic Poultry
The basic requirements include:
Appropriate housing that permits natural behavior, including outdoor access
Certified organic feed, including pasture
No antibiotics, drugs or synthetic parasiticides
Organic processing of meat and eggs
Record-keeping system to allow tracking of poultry and products (audit trail)
Organic system plan including description of practices to prevent contamination, monitoring practices and list of inputs
Production that does not contribute to contamination of soil or water
No genetically modified organisms, ionizing radiation or sewage sludge.
Living Conditions and Housing
Housing should protect birds from the elements, maintain a comfortable temperature, provide ventilation and clean bedding and allow birds to exercise and conduct natural behaviours. Cages are not permitted. In addition, the birds must have access to the outdoors for exercise areas, fresh air and sunlight and must be able to scratch and dustbath. Combining free-ranging poultry with ruminant production can help manage the forage for the poultry and reduce mowing for the producer. Shelters such as pastured poultry pens or field pens are questionable because they may not provide adequate housing or permit birds to express natural behaviour due to confinement. The NOP does not specify if ponds are required for waterfowl; check with your certifier.

The NOP does not specify indoor or outdoor stocking densities but many organic certifiers look for a lower stocking rate than the industry average of 0.7 square feet (0.07 square metres) per bird. Most look for at least 1.5 square feet (0.14 square metres) per bird. There is no limit on the number of birds that may be raised in one house; nor is there a requirement for the amount of bird exits or popholes that should be provided. The NOP also does not specify the amount of outdoor access a bird should have. Organic programmess in other countries have details on these issues to limit the size and density of flocks.

Livestock and poultry may be temporarily confined for inclement weather, the stage of production, conditions under which the health, safety or well-being of the animal could be jeopardized or if the animals being outside could pose a risk to soil or water quality. Chicks, poults and other young birds are normally confined during brooding when they need to be heated although outdoor access can be provided at a young age. Birds can be confined during cold weather although some breeds are hardy and venture outdoors in cold weather.

Organic pullets are often not provided outdoor access until they are ready to lay, at about 20 weeks. Many producers have biosecurity concerns with outdoor access and use the argument that vaccines need sufficient time to create immunity; however, long periods are not required. Immunity generally develops a week or so after the first boost. The last round of vaccines, usually at 16 to 18 weeks, is intended to maintain lasting titres to protect the flock during lay. Outdoor access is not likely to interfere, although many producers are concerned about biosecurity and their vets may order no outdoor access. In addition, the light period is carefully managed for pullets to delay egg production until sufficient maturity exists for proper egg size.

All-slat flooring is generally not permitted. Some flooring should be solid with litter so birds can scratch. If birds are likely to eat their litter, it should be organic. Most poultry litter is not. Although litter treatments are common in conventional production to lower pH and reduce microbial growth and ammonia production, in organic production litter amendments are not as common. Any amendment must be natural. For example, synthetic materials, such as the commercially available Poultry Litter Treatment (sodium bisulphite), are not permitted. Some small producers use hydrated lime to lower moisture in litter. Although hydrated lime is permitted in organic livestock production, hydrated lime is only permitted for external pest control. Adequate nestboxes and perches are needed for laying birds.

Producers must not allow lumber treated with arsenate or other prohibited substances for new installations or replacement to be in contact with animals. Existing treated lumber is handled differently by certifying agencies; some require removal or a barrier, while others permit it if it does not impact livestock. See ATTRA's Organic Alternatives to Treated Lumber for information on alternative lumber options.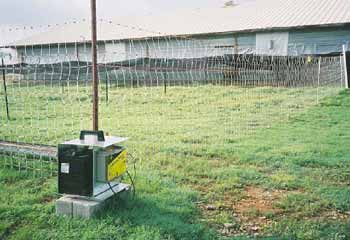 Electronet fence to protect birds from predators.
Photo by Anne Fanatico, NCAT
Poultry should be protected from predators, both indoors and outdoors. Electric fences can exclude ground predators and keep poultry where desired.

For more information on fencing and managing outdoor areas for poultry, see ATTRA's Alternative Poultry Production Systems and Outdoor Access. Artificial lighting is permitted but there are limits on its use. Although the NOP has no specific requirements on lighting, many certifiers look for an eight-hour dark period because a dark period is needed to maintain the immune system and for good bird welfare. When managing layers and breeders, the lighting period should not be longer than 16 hours or the longest day of the year.

Many certifiers require a relatively high level of light in the house to encourage bird activity and may require windows in order to provide direct sunlight. In contrast, the conventional industry usually keeps lights low for broilers to reduce activity. The light level is so low that it is difficult to read a newspaper. Some welfare assurance programmes require at least two footcandles of light intensity (Humane Farm Animal Care, 2008).

For rodent, fly and other pest control, a multi-level approach is used and begins with prevention and sanitation including habitat reduction and physical exclusion from facilities and feed. Secondly, control can include mechanical and physical methods such as tarps, electric fences, adhesive and fans; and thirdly, it can include natural or allowed synthetic rodenticides such as cholecalciferol and sulphur dioxide as an underground smoke bomb. ATTRA can provide additional information on natural rodent control.

In terms of waste, the producer must manage waste in a way that does not contribute to environmental contamination and optimizes recycling of nutrients. Although poultry litter and manure have nutrients that are very useful for crop and pasture production, producers must be careful not to apply manure to land that is already too high in nitrogen or phosphorus.

Also, because raw manure cannot come into contact with organic crops ready for harvest and human consumption, poultry may not be grazed with crops within 90 days of harvest or 120 days if a harvestable crop part contacts soil. However, manure or other waste that is composted according to NOP specifications does not have these harvest restrictions. The NOP has additional guidelines for other heat-processed animal manure products online by clicking here.
Table 1. Comparison of highlights of poultry requirements regarding living conditions and housing of selected organic programmes a
USDA NOP
European Union
Soil Association (UK)
Canada
National Bio-Gro (New Zealand)
IFOAM 2002
Living conditions
No cages
Flooring
At least 1/3 of house must be solid with litter (all slats not permitted)
At least ½ of house must be solid with litter (no more than ½ slats permitted)
Equipment
Minimum feeder space(linear): 2.5 cm; minimum drinkers: 10 birds per nipple
Perches
18 cm/layer
18 cm/layer
Nests
8 layers/nest
6 layers/nest
Maximum indoor density
6 layer/m2; 10 meat poultry/m2 (21 kg/m2 max) b
6 layer/m2; 10 meat poultry/m2 (21 kg/m2 max); 2 turkey/m2 b
6 layers/m2; 10 meat chickens/m2; 2 turkeys/m2
5 layers/m2 on litter; 10 layers/m2 on slats; 13 layers/m2 on multilevels, perches
Outdoor area
Outdoor access required
At least 1/3 of birds; lives; mainly covered by vegetation; shelter required on pasture; access to pond for waterfowl
At least 2/3 of meat birds' lives and of all laying lives; well-covered with vegetation; shelter required on pasture; access to pond for waterfowl; outdoor drinkers required
At least 1/3 of birds' lives access to pasture required; covered by vegetation
Birds must forage as soon as possible (ideally by first week); outside area must provide access to forages; shelter required on pasture
Access to pasture required; 'landless animal production' is prohibited
Popholes or 'bird doorways'
4 m of pophole per 100 m2 house
4 m of pophole per 100 m2 house
Pasture rotation
Rest pasture at least 9 months between each batch of layers; rest pasture for 2 months per year plus 1 year in every 3 years for meat birds
Pasture left empty periodically to allow vegetation to re-grow
If run area is limited, pasture must be rotated
Maximum outdoor density
4 m2 per chicken c; 4 m2 per layer; 10 m2 per turkey; 4-5 m2 per duck
1,000 hens/ha; 2,500 meat chickens c/ha; 800 turkeys/ha
4 layers/m2; 4 meat chckens/m2; 7.2 m2/turkey (over 10 wk)d
833 layers/ha; 1,500 meat chickens/ha
Maximum flock/farm size
4,800 meat chickens; 3,000 layers; 2,500 turkeys; maximum total house area (entire farm) is 1,600m2
500 layers or meat birds per house or 250 turkeys/house; if welfare and environment are well maintained, then 2,000 layers or 1,000 meat chickens or turkeys; maximum total house area (entire farm) is 1,600m2
Lighting
Artificial lighting cannot extend daylength more than 16 hours
No fluorescent lighting
Natural daylight is needed
a
Note that 1 m
2
= 10.8 ft
2
; 4 m
2
= 43.2 ft
2
b
If mobile housing is used in which the popholes remain open at night, the indoor stocking density can be increased: 16 birds/m
2
(maximum of 30 kg live weight). This type of housing must not be larger than 150m
2
.
c
If mobile housing is used, only 2.5 m
2
per meat bird is required
d
Additional standards for mobile units moved daily
References
Humane Farm Animal Care. 2008.
Broilers. Animal Care Standards
. Herndon, Virginia.
Sundrum, A. 2006. Protein supply in organic poultry and pig production. Pp. 195-199. Proceedings of the 1st IFOAM International Conference on Animals in Organic Production, St. Paul, MN, Aug. 23-25, 2006.
Further Reading
January 2009