ORKA's Egg Tester Ultimate used for major egg quality competition in China
Egg Tester Ultimate used test all parameters in one unit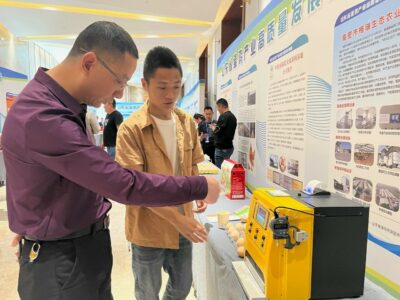 ORKA Food Technology (widely known as "EggTester.Com") announced that ORKA's Egg Tester Ultimate was used at First Shandong Animal Product Quality Evaluation Competition in China in order to evaluate egg quality. The major event was held on May 10, 2023 in Jinan, Shandong Province, China.
The egg quality evaluation includes, among other things, the strength and thickness of the eggshell, the Haugh unit, the height of the egg white and the color of the yolk which were tested and scored one by one.
For these evaluations, ORKA's Egg Tester Ultimate was used to determine the test results as it can measure all of the parameters in one unit.
We are happy to assist in this important quality evaluation competition in China to determine the egg quality and to help selecting winners.
ORKA was represented by TENOVO International Co Ltd, its distributor in China.
Egg Tester Ultimate's main features:
Electronically measures and calculates egg weight, albumen height, yolk color, Haugh unit, USDA grade, eggshell strength and eggshell thickness with one unit.
Shortens the measurement time (approx.17 seconds per set)
Proprietary Software compatible with an external PC
Unified data, data transportability
Self in–line calibration (automatic calibration), no need to ship unit back to manufacturer!
Come with 2 ways of communication to PC:
Large 3.5'' color/graphic display
The current ORKA product range comprises:
Egg Tester Plus™: this device measures and calculates Haugh unit, yolk color, egg weight and USDA Grade!
Digital Haugh Tester: this instrument is extremely precise and friendly to use in order to assist you with the correct process of reading of the albumen height.
Wireless Egg NodeTM: this instrument provides real time measure of shocks, vibration, rotation, tilting and temperature to your eggs to reduce eggs breakages and losses.
For more information, please contact ORKA Food Technology at [email protected] Or visit us at www.eggtester.com