People's Republic of China - Poultry and Products - Semi-Annual - 2009
The latest GAIN report from USDA Foreign Agricultural Service forecasts China's broiler meat production will rise two per cent in 2009 to 12.1 million tonnes. Production gains will be hampered by sluggish sales. Chinese broiler meat imports in 2009 will remain flat at 399,000 tons. Continued robust shipments of chicken paws are expected as Chinese production continues to fall short of demand.
Executive Summary
FAS Beijing (Post) projects China's 2009 broiler meat production will rise two per cent to 12.1 million metric tons (MMT). Production gains will be hampered by sluggish consumer demand. Pork prices will remain sharply lower than 2008 levels encouraging higher pork sales and reduced purchases of chicken and other alternative meats. Rising unemployment among migrant workers, a key market segment for low-priced chicken meat, is also limiting growth. Lower feed and chick prices in 2009 will help offset reduced broiler returns.

Overall, Chinese broiler meat imports are projected to remain flat at 399,000 tons. However, imports from the United States should be up slightly to 328,000 tons, fueled by higher shipments of chicken leg quarters. In addition to these sales, Post expects continued strong shipments of US chicken paws, boosted by comparatively strong Chinese demand,and continued shortfalls in domestic chicken paw production.

Post forecasts China's broiler exports in 2009 will decrease by 25 per cent to 215,000 MT due to weak demand in key Chinese export markets.
Production Growth to Slow in 2009
Post expects 2009 Chinese broiler production will rise just two per cent to 12.1 million tons. Weak production in the first half of 2009 should be offset by stronger output in the latter half of 2009 as economic growth begins to rise later this year.

Currently, production is hampered by sluggish demand caused mainly by sharply lower pork prices, as Chinese pork production recovers from the effects of blue ear disease in 2007 and 2008. Producers are also facing reduced export demand due to the effects of the global economic crisis in Japan and other key Chinese poultry export markets. Further adding to the woes of domestic industry, there have been seven human cases of high pathogenic avian influenza (HPAI) in early 2009, which have led to some Chinese consumers reducing broiler meat purchases due to misperceptions about the transmission of the HPAI virus. Overall, as a result of weak demand, nationwide broiler meat stocks currently are estimated at 600,000 to 700,000 metric tons. There are unofficial reports of small and medium-sized broiler processing plants shutting down, especially in Shandong Province, the largest poultry producing province. While smaller plants are being challenged by the weak market, many larger processors are seizing the opportunity to purchase cheaper broiler materials for processing and putting these products in stock, while waiting for better market opportunities later this year.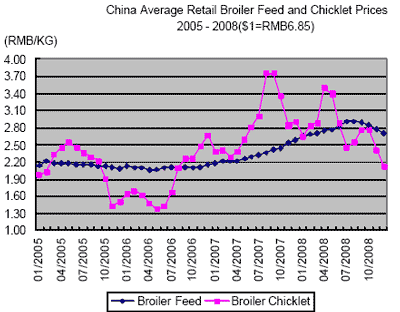 China's broiler producers are emerging from a year of major price fluctuations. Broiler chick (chicklet) prices were at high levels for most of 2007 and into 2008 because broiler meat became a vital substitute for pork as a result of sharply reduced pork supplies caused by swine blue ear disease (PRRS) in 2007. Sudden increased demand for placement led to a nearly threefold increase in commercial chick prices.

Although broiler feed and chick prices rose during this period, rising broiler meat prices more than offset the effects of these cost increases. This resulted in large imports of grandparent generation breeding stocks in 2008 (over 700,000 sets according to contacts). Broiler meat prices started declining in April when pork production began recovering, reversing a trend toward higher broiler meat consumption. Breeders responded with reduced imports of grandparent generation breeding stocks and this trend has continued into 2009.

In addition to lower chick prices, lower feed prices will also help producers cope with lower market returns. China's grain production in 2008 rebounded to a record 528.5 MMT, up more than 5 per cent from the previous year. The government reportedly purchased large quantities of corn and soybeans for reserves late last year, which will translate into more stable and cheaper feeds through 2009. Reduced production costs in 2009 are expected to encourage production gains later this year, especially among larger companies.

Chinese broiler producers do not receive significant direct subsidies, with the exception of government supports for grandparent breeding stocks verified and approved by the Ministry of Agriculture (MOA). The government provides RMB50,000 to 100,000 ($7,299 to 14,599) to broiler or egg layer grand-parent breeding farms based on inventory. Producers complain government support does not provide meaningful benefits and continue to lag well behind subsidies for hog producers, putting their industry at a disadvantage.
Chinese Broiler Meat Demand to Decline in 2009
Post forecasts China's broiler consumption in 2009 will fall three per cent to 12.5 MMT, down from 11 per cent growth in 2008. Consumption gains will be lowered mainly by continued recovery in pork demand as pork prices will remain well below record highs in 2008. Sales are also affected by rising unemployment, especially among migrant workers, a key market segment for Chinese chicken meat. An estimated 20 million migrant workers became jobless in late 2008 due to the global economic slowdown.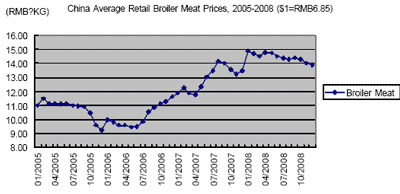 New trends in Chinese consumption patterns in recent years include rising demand for younger broilers (33-34 days) in Beijing and other urban areas due to rising popularity of roasted broilers. This is improving profitability since early slaughter can save production costs as the broiler feed:gain ratio for small birds is 1.7-1.8:1, compared to an average ratio of 2.1:1 and 2.6 -2.8 :1 for larger birds (44 days). Consumption of breast meat in large cities has also been increasing as urban consumers increasingly perceive these products as healthier than other meats. Historically, Chinese consumers have exhibited a strong preference for dark meat over breast meat. China's consumption of turkey meat is also rising fueled by expanding interest in western food culture. Processed products, such as turkey drum legs and wings, account for most sales.
Overall Chinese Broiler Meat Imports Slump as US Shipments Continue to Rise
Total Chinese broiler imports (including paws) in 2008 rose two per cent to more than one million tons, (up 9 per cent in value terms to more than $1.3 billion). Excluding paws, imports of broiler meat declined 17 per cent to 399,000 tons. Post forecasts imports will be roughly unchanged in 2009. However, import sales of chicken paws are expected to continue relatively strong, as domestic production of these products continues to fall short of demand.

While overall Chinese import demand has been sluggish in recent years, sales from the United States continue to rise. 2008 Chinese imports US broiler meat (including paws) jumped 19 per cent to 641,000 tons (up 35 per cent in value terms to $841 million). Excluding paws, 2008 US broiler sales to China totaled 321,000 tons, up 8 per cent from the previous year. Higher Chinese imports from the United States and Argentina nearly offset sharply lower imports from Brazil, which declined due to new technical restrictions on direct Brazilian shipments in 2008.

In 2009, US exports to China will face stronger competition from Brazil and Argentina because of lower prices from South America and China's expected decision to resume direct imports from Brazil. 2009 imports from the United States should be unchanged at roughly 321,000 tons. Despite rising competition, the United States is expected to remain China's largest broiler meat supplier due to reliable supplies and comparatively more product variety.

Brazilian chicken product strengths are lower moisture content, due to the common practice in Brazil of air-cooled processing and labour-intensive parts, such as hand-packed whole wings (soldier packing). US exports of chicken quarters could increase as Chinese processor demand continues to rise. Traders expect higher available US leg quarter supplies due to lower demand from Russia. Sales of US chicken paws to China will remain strong due to robust demand and short domestic production.
Turkey Meat Imports Strong
Post forecasts China's turkey meat imports are forecast to continue rising in 2009, up 10 per cent to more than 50,000 tons. The United States accounts for nearly 90 per cent of China's turkey meat imports. Rising imports are fueled by continued interest in Western food culture, especially among urban consumers with higher incomes. With low domestic production – China's turkey meat production totals 4,000 MT/year –and relatively low price sensitivity compared to broiler meat, demand for imports is expected to continue strong for the foreseeable future.
Possible Trade Conflicts
In 2007, the US Congress prohibited USDA from moving forward on plans to issue a proposed rule allowing China's cooked poultry exports into the United States, under Section 733 of the 2008 Omnibus Appropriations Act. The Government of China maintains this action is unwarranted. Chinese poultry interests have threatened to step up pressure to reduce imports of US poultry products if the United States continues to block rule-making.
Decreasing Broiler Meat Exports
Post forecasts China's broiler exports in 2009 to decrease by 24 per cent to 215,000 MT due mainly to lower sales to Japan caused by the global financial crisis. This forecast is a major revision from Post's previous estimate in the 2008 poultry annual report (CH8073). Japan is China's largest export market by far, accounting for roughly half of total sales. Sales to other markets will also be sluggish. Although the EU lifted its ban on Chinese poultry in late 2008, sales are just commencing. EU demand has been weak, due mainly to comparatively high prices for Chinese chicken in the EU market. China's higher export prices have limited exports to other new export markets, such as South Africa, and its 2009 exports to these new markets are uncertain because of the world financial crisis.

China is a net live chicken exporter, with Hong Kong and Macau accounting for most Chinese exports. These sales are based on export quotas issued by the Ministry of Commerce (MOFCOM) at end of calendar year. China's 2009 total export quota to Hong Kong and Macau is 13.4 million birds with Hong Kong 10 million birds, roughly unchanged from the previous year. Chinese live broiler exports vary widely and will mainly depend on China's HPAI outbreaks and market prices.
Chinese Poultry Egg Production to Continue Higher in 2009
Post forecasts China's total poultry egg production to grow steadily by over three per cent to 27.3 MMT based on a four per cent increase in the previous year.

Like broiler production, China's egg layer production experienced good profits in 2007 and the first half of 2008. However, slower economic growth in China and egg oversupplies driven by good profits pushed egg prices downward in the latter half of 2008. In addition, food safety concerns emerged when Hong Kong detected melamine in eggs imported from China, further reducing demand. Now domestic egg prices are slightly below feed costs.

Egg producers are reducing new placements to avoid further losses. Given expected lower feed prices in 2009 because of an abundant grain harvest in 2008 and the fact that there is little substitute for poultry eggs, large poultry egg producers are expected to continue increasing production, despite negligible profits.

China is a net table egg exporter, with Hong Kong and Macau accounting for 90 per cent of total export sales. This pattern is expected to continue into 2009. China's exports in 2009 are expected to increase by five per cent to 1.5 billion pieces.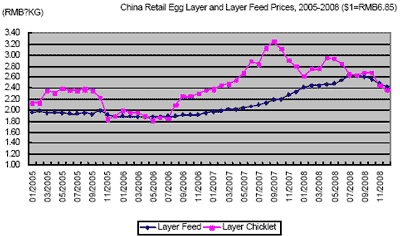 Further Reading
March 2009