US Poultry Industry Manual - Biosecurity
Biosecurity tips to help keep disease off your farm
Editor's Note: The following content is an excerpt from Poultry Industry Manual: The Foreign Animal Disease Preparedness and Response Plan (FAD PReP)/National Animal Health Emergency Management System (NAHEMS) Guidelines which is designed to provide a framework for dealing with an animal health emergency in the United States. Additional content from the manual will be provided as an article series.

Biosecurity Concepts
Biosecurity encompasses procedures that reduce the probability of disease outbreaks and includes two components: bioexclusion prior to an outbreak (keeping pathogens out) and biocontainment after an outbreak (keeping pathogens from leaving an infected premises to prevent disease transmission). Components of a comprehensive biosecurity plan include conceptual biosecurity, structural biosecurity, and operational biosecurity. Conceptual biosecurity refers to selecting the location of an operation to provide isolation of the premises. Poultry farms should be geographically separated from other poultry units. Relationship of the farm site to lakes, ponds, rivers, public roads, hatcheries, and feed mills needs to be considered. Disease agents may be blown or carried by various vectors and fomites to adjacent premises. Structural biosecurity requires that buildings in a complex be separated into quarantinable units by erecting fences and building roads in appropriate places. Decontamination equipment, showers, and change rooms should be installed for employees. Houses, food storage areas, and water tanks should be constructed to exclude free-flying wild birds, rats, and mice. Operational biosecurity consists of management decisions and routine procedures intended to prevent introduction of infectious disease agents.
Farm Outside Areas
Footwear disinfection stations, site-provided footwear, or site-provided foot covers should be available outside all external entrances. External entrances to chicken houses and the processing plant should be kept locked during non-business hours. Secure entry gates should require visitors to obtain permission before entering the premises.
People
Keep out unnecessary visitors and equipment and allow only essential personnel on the farm. A visitors logbook should record the a) visitor's name, b) company, c) time of entry, d) statement confirming no contact with premises containing birds or rendering activities during the preceding 48 hours, e) time of leaving, and f) a contact telephone number. Employees should receive biosecurity training and should not own or come into contact with other birds – including pet birds, domestic chickens, fighting chickens, ducks, geese, waterfowl, exotic birds, quail, partridge, or pheasants. Employees should not hunt waterfowl or upland gamebirds. Workers should wear clean, laundered, or new disposable coveralls and boots. Separate outer clothing should be assigned to individual houses. Hands should be washed and disinfected on entry and exit from houses. If drivers are required to make multiple stops at more than one individual farm in any given day, they should be prohibited from entering chicken houses or egg processing areas. Visitors must not enter chicken houses unless absolutely necessary.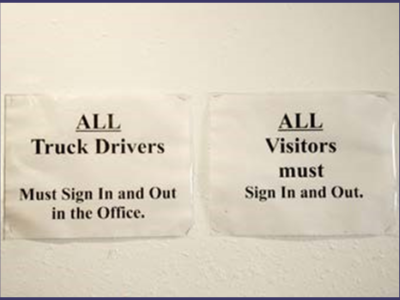 Chickens
Records of daily feed consumption, water consumption, egg production, and mortality should be available for each flock since placement in the chicken house. In commercial egg operations, a flock consists of all laying hens within one house.
Pest and Animal Control
Rodents and insects can transmit disease between houses on a premises and between premises. They can also serve as a reservoir of disease whereby an infectious agent survives from one flock to the next. Rodent and insect control programs must be in place to prevent transmission of infectious disease by rats, mice, other rodents, flies, beetles, and other insects. Cats and dogs must not be allowed in chicken houses and egg processing areas. Backyard poultry must be excluded from the premises and control measures to discourage the presence of wild and migratory birds should be in place.
Cleaning and Disinfection of Vehicles, Equipment, and Egg Handling Materials
Clean manure spreaders, tractors, truck tires, and undercarriages with a strong detergent and then apply disinfectant to kill disease-causing micro-organisms that can linger on surfaces. Equipment and tools brought to the farm must be cleaned and disinfected prior to entering the farm. Avoid lending or borrowing equipment to or from producers on other premises – equipment may carry infectious agents. Only clean, sanitized, and disinfected plastic egg flats or new disposable egg flats should be allowed on the premises.
Feed
Feed bins must be secured to prevent contamination by wild birds or rodents. Spilled feed should be cleaned up promptly to prevent attracting wild birds and rodents.
Manure Removal
Manure trucks must never go from one poultry farm to another on the same day. Manure trucks must be washed with detergent and disinfected prior to arrival at the farm.

Reference: "USDA APHIS | FAD Prep Industry Manuals". Aphis.Usda.Gov. 2013. https://www.aphis.usda.gov/aph...
The manual was produced by the Center for Food Security and Public Health, Iowa State University of Science and Technology, College of Veterinary Medicine, in collaboration with the USDA Animal and Plant Health Inspection Service through a cooperative agreement.