Poultry Industry in the Forefront of Supermarket Price War
Will the economic climate shape future buying habits? Retail commentator, Clive Bedall, reviews the global scene in the latest issue of Cobb Focus.
The supermarkets' relentless battles to be top dog in high streets around the world have never been fought with more passion and guile.

Yet, the launch of sharper pricing strategies coupled with significant smaller store expansion, is adding new dimensions to their struggle, and posing significant challengers for suppliers.

Typical of the trend is the story that began in Britain last year when cash-strapped food shoppers confounded the pundits and turned in their droves to the discounters Aldi, Lidl and Netto.

The trio of no frills, European price-cutters had been in the UK for nearly two decades without making major national impact. But given the economic downturn, and its effects on consumer wallets, all that changed.

Like their neighbours in other parts of the world, the British went in search of food bargains, thus partly abandoning their traditional allegiances to Tesco and the like.

For the major supermarkets, something had to be done. And, as usual, Tesco did it first by taking the radical step of controversially re-branding itself as 'Britain's biggest discounter.'

That meant sharpening its pricing act and stepping up its advertising while urging suppliers covering a wide area of its stores, including poultry meat, to come up with new, even more competitively priced products.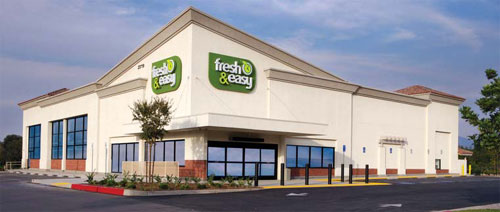 One of the new Fresh & Easy stores in California
Predictably, the other major chains also launched sharper, cut-price strategies of their own and a massive offensive began.

As one experienced poultry industry figure put it: "Such is the ferocity of the high street war that the big retailers are squeezing suppliers' margins as never before by seeking cheaper priced products. And this has resulted in some controversial items, including a £1.99 chicken offer."

Significantly, this activity has also resulted in some chains replacing 12 months supply contracts by others as short as three months.
---
*
"Such is the ferocity of the high street war that big retailers are squeezing suppliers' margins as never before"
---
In addition, more recently, there have been predictions that if the retail warfare intensifies, we will eventually see a £1 chicken being promoted by at least one UK supermarket.

Meanwhile, further afield, the French hypermarket giant and the world's second largest retailer, Carrefour, has responded to smaller households and a craving for convenience in its domestic market.

Under attack from Aldi, it has shrewdly painted the word 'discount' into its marketing as food shoppers' hunt for bargains spreads across France.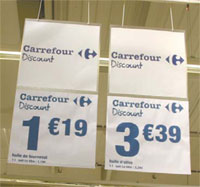 And in the US, the world's biggest store operator, Wal-Mart, has made its own contribution to the discount cause by offering recession-hit shoppers a range of revamped 'Great Value' products. It has changed the formula of around 750 lines, added more than 60 new ones, and updated its packaging.

But there have been even more marketing shocks in Britain. Waitrose, traditionally, with Marks & Spencer, the holder of the high ground at the premium end of the market, is astounding industry purists with a new budget range under the 'Essentials' name – a step that it has taken while emphasising that it would not compromise its principles as a purveyor of quality products.

Add a further spotlight on Sainsbury's 'Basics' range with over 600 products benefiting from recent price reductions, a regular pricing blitz by Asda and a major promotional programme from the reinvigorated Co-operative Group and you have an idea of the revolution that has been taking place.

But what happens when the economic climate improves? Will consumers forsake the discounters and return to their regular shopping haunts?

Some City soothsayers think they will, and point to recent growth surges by Sainsbury and Morrison as a sign of a reversal in the discounters' fortunes. But other specialist food experts believe otherwise.

Research from Britain's most distinguished grocery think tank, the IGD, reveals that three-quarters of shoppers who have made changes to their food shopping due to the recession say that they will stick with their new habits even when the economy is fully recovered. Thus new consumer loyalties are emerging as food retailers and suppliers engage in what IGD calls a 'contest for value.'

So, since IGD's major findings show that shoppers are continuing to visit the discounters more often, this suggests that Aldi, Lidl and Netto are set to hold their ground in the market shares league, albeit from their small base of six per cent compared to Tesco's 30 per cent.

Significantly, Aldi recently confirmed its place in mainstream grocery by winning one of the &lsquot;Oscars&rsquot; of the frozen food industry, the award for the best new poultry-based product given by the British Frozen Food Federation.

Sold under Aldi's 'Cook it, taste it, love it' label, the first prize went to the firm's Chicken en croute with mango, chilli and pak choi, which retails at £2.99.
---
*
"Consumers becoming more aware of animal welfare issues"
---
Meanwhile, the bigger chains, despite their preoccupation with price, are vying to win the crown of being Britain's greenest grocery store while at the same time claiming to be ahead of government and Brussels when it comes to exacting animal welfare standards.

In addition, a posse of UK supermarket technologists has, as usual, been criss-crossing the Atlantic to study packaging trends.

For example, it has not gone unnoticed in Britain that Petaluma Poultry of California has removed the wraps from a new tray-less form of packaging for its all natural chicken and organic chicken. This concept eliminates foam trays in favour of freezer-safe abd leak-resistant plastic, and reduces overall packaging volume by 73 per cent.

The US group is phasing in the concept, starting with boneless, skinless chicken breasts.

In addition, some in the UK market are predicting that ultimately, British consumers will follow their American counterparts and opt for even more value-priced, casual dining chicken products. This should offer new opportunities for suppliers, albeit probably the larger ones with the strongest financial clout who are better able to face up to the supermarkets' keen negotiating tactics.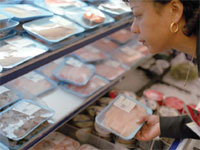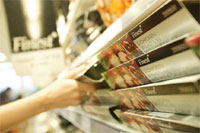 At the same time, many British chains have been building closer links with farmers and primary producers. In particular, Morrisons, which holds fourth place in the market share stakes behind Tesco, Asda and Sainsbury, is teaming up with the NFU and several agricultural colleges and is planning to open two research farms, where it will create centres of excellence for applied farming research.

It is also helping to improve communications across the supply chain by launching farmer groups, including several in the poultry sector.

In addition, Waitrose, rejoicing at the success of its 'Essentials' range, is advertising the fact that all its chicken comes from a group of carefully selected British farmers and suppliers with whom it has worked for several years.

Birds are fed a diet enriched with maize, which gives excellent eating quality and are reared with purpose-built houses with large windows down each side to allow the natural light to stream in. They also have straw bales to keep them fit and active.

But while all these developments are being seen, other significant moves cannot be ignored.

Most notably, Tesco has been expanding its new smaller store concept in the western states of North America although, traditionally, British chains have not done well in the US.

And while the growth of this new chain – under the Fresh & Easy fascia – may not have been as a rapid as the company would have liked, some seasoned industry observers believe that it could one day be the shape of things to come for Tesco in other parts of the world, including in its home market.

The well signed, light and airy units set out to project a distinctive fresh foods convenience formula that few major retailers, in the author's experience, have achieved.

Packed with energy-efficient equipment, what also makes Fresh & Easy different is that the shops successfully display a much sought after natural, 'country market town' image in a neighbourhood location.

However, the formula is still being developed. And 18 months on from opening its first unit in California, Tesco has tweaked the Fresh & Easy shops by putting more emphasis on value and adding another 1,000 items to its 3,500-product portfolio.

Mind you, while Tesco has been sticking its flag in the ground in America, the world's biggest retailer Wal-Mart has reacted by introducing its own smaller stores format.

Recently re-branded as 'Marketside by Wal-Mart,' the units offer a convenience formula clearly designed to counter the Tesco invasion.

Whether it, too, will eventually cross the Atlantic with the new store formula is unclear. But given its UK offspring Asda's penchant for innovation, it is another area on which innovative poultry suppliers should keep a close eye.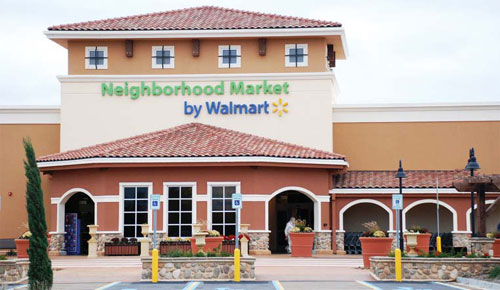 The Neighborhood Market stores in the US provide added convenience for consumers
Meanwhile, back in Britain, IGD says that more than 100 stores a year will be opened collectively by Aldi, Lidl and Netto, building on an existing store portfolio of over 1,100 outlets.

Not only will this provide a greater number of shoppers with access to a discount store, but it will also be a valuable generator of sales growth over the next two to three years as the space matures.

A major British supermarket purchasing executive who, for company policy reasons, must remain anonymous, summed up current market conditions when he said: "Such is the nature of the market, I cannot see it being anything other than 'price, price, price" being the theme for the foreseeable future.

"Having said that, as consumers, spurred by a spate of campaigning television programmes, become more aware of animal welfare issues, this will increasingly be an issue for us. The next few years on the high street will, to say the least, be challenging for retailers and poultry meat suppliers alike."
December 2009