Poultry Meat: the Future, Consumers, Energy and the Environment
In its 2009 Annual Report, Association of Poultry Processors and Poultry Trade in the EU Countries (avec) gives an overview of the main themes the organisation has been working on during the last year. The focus on issues of growing future importance are changing consumer trends, sustainability of production and competition between food and fuel for resources.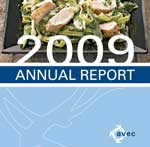 In 2009, the world economy entered the worst economic recession for 60 years. The political and financial effects of climate change put further pressure on food production.

In European poultry production, the impact has been on:
consumer spending patterns and consumer concern for environment
political concern about climate change and consequent impacts on the industry
population growth and global demand for feed and fuel
poultry meat industry investments, takeovers and consolidations, and increased trade protectionism and currency instability
Scientific evidence from a study by JRC IMPRO1 in 2008 and a DEFRA/Cranfield study2 from 2006 proves that chicken produced from conventional farming, respecting high European standards of animal welfare, health, hygiene and environmental protection is the most efficient and environmental friendly of meat productions, with significantly lower green-house gas emissions than even organic chicken production.

For this reason avec, supported by the Commission's own forecasts3, is confident that long term demand for poultry meat will grow. Consumer preferences will shift to poultry meat – conventionally produced chicken meat is a healthy, inexpensive and environmental friendly source of protein.
Sustainable Production of Poultry Meat
The EU Commission's Joint Research Centre (JRC) published in March 2008 a study on the environmental improvement potential of meat and dairy products.

The study confirms that of the four largest livestock sectors (dairy, beef, pork and poultry meat), poultry meat has the least impact on the environment in the EU per kilogramme of meat produced.

Across a range of impacts, poultry meat was between five and 10 per cent of the total impact for the four sectors combined, whereas for beef and pork the impact is much greater, ranging from 16 per cent to 39 per cent and from 19 per cent to 44 per cent, respectively.

A Defra/Cranfield study concludes that poultry has very efficient feed conversion, high daily weight gain combined with a short growth period, which contributes to its overall efficiency and environmental friendliness.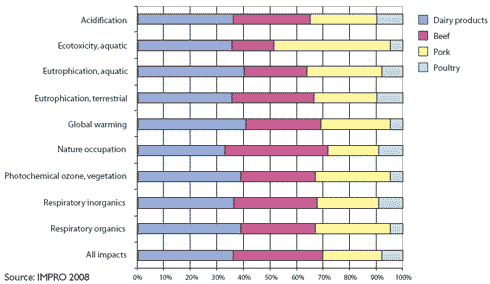 Environmental impacts: relative contribution of the four main product groups
Activities on Sustainable Production
The growing concerns about scarcity of natural resources and costs for raw materials, made the EU Commission look for ways to decrease the resource impact of industrial activity and consumption patterns. The Commission's Communication on the strategy for the sustainable use of natural resources (2005) has been followed by Action Plans on sustainable consumption and production in July 2008.

In March 2009, the Commission launched a Retail Forum to promote more sustainable consumption with the European Retail Sector. The retailers are to promote more environmentally sustainable products to the EU consumer.

In response to this Forum, the European farmers and food industry launched in May a Round Table with participation of avec and other stakeholders. The objective is to establish by 2011 scientifically reliable environmental assessment methodologies for food and drink products and to identify suitable means of voluntary communication to consumers. The Round Table is co-chaired by the EU Commission.

A Round Table on responsible soy production was established in 2004 by producers, industry, trade and civil society organisations. The aim is to create a global standard for responsible soy production. avec has participated in meetings in 2009 as an observer.

avec is following these initiatives closely. The overall aim is to provide consumers with reliable information on the real sustainable value of the meat they buy. A common reference system to assess life cycle impacts of products must be developed before this information is available.
Consumer Trends in the EU
DG SANCO's mission is to make 'Europe's citizens healthier, safer and more confident.' It is evident that consumers want to be healthier, safer and more confident – but how do consumers translate these objectives into their everyday shopping choices in the supermarkets?

Experience shows that it is essential to listen to consumers themselves and not to the few who seek to change them through sensational publicity. In some EU Member States, poultry producers and retailers have been under great pressure from celebrity chefs and vocal lobby groups who want only particular farming systems used to produce poultry meat.

Many producers and retailers followed the celebrities and turned to free-range and organic farming the demand fell away as quickly as it had been artificially increased and has been further affected by the financial crisis.

Organic farmers have asked their governments for a derogation to move away from strict organic standards if they were to survive the recession. The request focused in particular on the use of levels of non-organic raw materials in the feed.

How has the crisis changed consumers spending? For basic needs such as food, consumers are switching to less expensive meat like chicken and within the chicken category to less expensive cuts such as drumsticks, thighs and wings instead of breast meat. One consumer trend is continuing to expand: consumers want more ready to cook or prepared products4.

avec values a dialogue with consumers and consumer organisations and has for the 2009 General Assembly the theme Poultry meat the future, consumers, energy, environment.
Competition for Food and Feed: Energy
avec believes that feeding people is more important than fuelling cars. In 2008, the surge in the biofuel industry hardened competition for commodities and prices went up. The devaluation of the dollar and the financial recession decreased the global demand for commodities and eased temporarily the pressure on feed prices. The world population however, continues to grow as will the demand for food, feed and energy. For this reason, avec follows closely the availability of feed ingredients and their prices.

Soybean meal is an important part of a poultry diet. Most soy is imported from the US, Argentina, and especially Brazil. GM soy production is expected to reach 80 per cent in these countries in 2009. The European zero tolerance for non-EU approved GM varieties is already causing whole shipments of soy to be rejected at the EU border and will increasingly be difficult to manage. avec continues with FEFAC and other stakeholders to put pressure on the Commission to set a reasonable threshold for the unavoidable presence of GMs in imported feed and for speeding up the GM approval process of the Commission and EFSA.
References
IMPRO study by the JRC, April 2008
DEFRA/Cranfield: Williams, A.G., Audsley, E. and Sandars, D.L. (2006)
DG AGRI prospects, March 2009
Further Reading
October 2009