Poultry Producers Recount Positive Experiences with Merial's Vaxxitek HVT+IBD
Vaxxitek HVT+IBD is a vaccine produced by animal health company Merial to protect birds against infectious bursal disease (also known as Gumboro Disease) and Marek's Disease in chickens.
This year marks the tenth anniversary of the vaccine, and a number of people from top poultry companies around the world gathered at Merial's Global Avian Forum in Barcelona, Spain in April to discuss their experiences using it.

Vaxxitek HVT + IBD is a live vaccine based on a recombinant turkey herpes virus (the 'HVT' part of its name), which is commonly used to protect chickens from Marek's disease, expressing a gene from the infectious bursal disease virus (IBDv). The vaccine strains induce an active immunity and a serological response (detectable antibodies) against these two diseases.
Marek's disease and IBD are both important diseases that can affect productivity in both broiler and layer flocks.
IBD is a viral disease of 3-6 week old chickens, found to varying degrees across the world. The virus attacks lymphocytes (important cells for the immune response) in the bursa of Fabricius and other immune organs. The virus is shed in poultry faeces, and survives months in the environment.
IBD causes a number of symptoms, including diarrhoea, depression and tail pecking, as well as varying levels of mortality. It also increases susceptibility to other diseases, including Marek's.
Importantly for producers, it can result in reduced body weight/uniformity, and decreased performance in layers.
Vaxxitek HVT + IBD can be used to prevent Marek's disease and IBD through either in-ovo vaccination in 18-19 day old embryos or as a subcutaneous injection for day-old chicks. It can be used in breeders, broilers and layers.
Field experiences with Vaxxitek in Asia, the Americas, and the Middle East
Muhammad Kashif Qazi, Director of FSQA, Live Operation and Supply Chain at Tyson Foods China, told the Forum that Vaxxitek provides many advantages for his business, including:
it is efficacious against classical, variant and vvIBD (very virulent) strain, in the presence of maternal antibodies;
it is safer than other available IBD vaccines, not damaging the bursa;
it simplifies the control of IBD vaccination with only one injection in ovo or at day old in hatchery;
it is efficacious against Marek's disease;
it has early and long lasting protection with less handling, less stress, and better performance.
"We started using Vaxxitek when we started Tyson grow-out operations in China in 2010, and since then we have had no incidence of disease, either IBD or Marek's," Mr Qazi said. "Tyson is very proud to be partnered with Merial."
Dr Bernie Beckman, who also spoke at the Forum, is Director of Technical Services at layer breeding company Hy-Line North America. He believes that using Vaxxitek HVT + IBD gives a big improvement on the modified live IBD vaccine programme he used previously.
When using the Vaxxitek HVT + IBD, what Dr Beckman saw at 16 weeks was a bursa twice the size compared to birds raised using the previous modified live IBD vaccine only programme. Although he said factors such as improvements in the immune system are hard to measure, he said he had seen improvements in both body weight and uniformity of pullets. These two factors both contribute to egg numbers and egg size, thus increasing the payback to the producer.
Dr Oscar Mario Gonzalez, from Pilgrims Pride Mexico, appreciated the services that Merial has provided to support the use of Vaxxitek HVT + IBD in the vaccination programme. This included training, sampling and monitoring the immune response to vaccination, including auditing spray vaccination in the field.
"Broilers in Pilgrims North have healthy bursae, better immunological responses to vaccinations and reduced problems in the field," his presentation said.
Also speaking was Ana Caselles, Product and Vaccination Manager for Merial Avian Brazil.
"Vaxxitek HVT+IBD first launched in Brazil in 2006 and over the past 10 years it has achieved 60 per cent of the Brazilian market share of broilers," she said. "Marek's Disease vaccination is mandatory in Brazil and Merial is proud to have 87 per cent of this market share."
In 2013, Merial obtained exclusive rights to Ovo-Jector, the most compact in-ovo vaccinator with automated egg transfer on the market. Ms Caselles praised Ovo-Jector for its benefits in ease of administering Vaxxitek.
"The addition of the Ovo-Jector to our equipment portfolio has allowed Merial Brazil to work closer with our customers in the hatchery and realising the customer's need to increase chick quality and results, therefore forming a true partnership."
Dr El Rashid Dafalla, CEO of the Emirates Modern Poultry Company, said: "Vaxxitek is a real gift for us in the Middle East area, where there are a lot of field challenges from the prevailing viruses."
Dr Dafalla said both in-ovo and subcutaneous methods of inoculation using Vaxxitek gave excellent results in his business, which has been using Vaxxitek for five years. Bursa samples collected had a good weight and healthy appearance, which Dr Dafalla said explained the good results obtained in the chickens in terms of body weight and feed conversion ratio.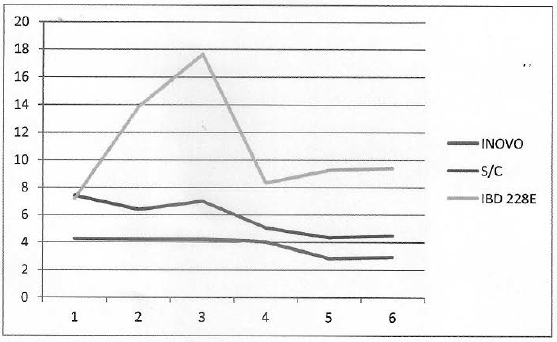 Dr Dafalla had significantly reduced mortality levels (per cent, vertical axis) using Vaxxitek either by the in-ovo or subcutaneous method (dark lines) compared with the IBD 228E vaccine (light grey line).
"Before introduction of the Vaxxitek HVT vaccine we had very unsatisfactory results using the conventional vaccine," he said. "Since the introduction of Vaxxitek five years ago, there has been a dramatic, positive change in production performance."
Further Reading