Research: greater prairie-chickens pay turbine fields no mind
Rapid development of wind energy across the American Great Plains has spurred concern about potential effects on grassland birds, the most rapidly declining avian group in North America.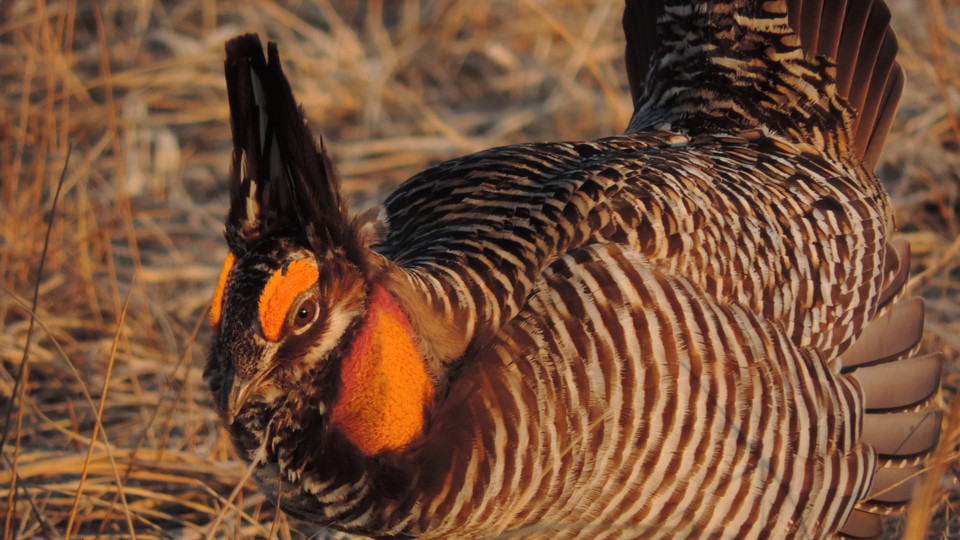 But a study by University of Nebraska-Lincoln researchers shows that at least one grassland bird — the endangered greater prairie-chicken — pays little attention to small-scale wind energy infrastructure in choosing nesting sites.
Grassland management and proximity to roads, on the other hand, still play the most dominant role in where the birds choose to nest and whether they survive.
The research, led by Jocelyn Olney Harrison of the School of Natural Resources, examined a small, pre-existing 36-turbine wind facility in the Nebraska Sandhills, a mostly unfragmented landscape where prairie grasses offer prime habitat for prairie-chickens.
Over two years, the research team captured 78 female prairie-chickens at breeding sites and fitted them with transmitters to track them to their nests. Some were as close as six-tenths of a mile to the wind energy facility; others as far away as 12 miles.
A prior study by researchers in Kansas had suggested prairie-chickens might avoid turbine fields, which would be perceived as areas at high-risk for predators that typically perch on tall structures and power lines. But what the Nebraska researchers found was that some prairie-chickens nested very close to both turbine fields and transmission lines. What appeared to be more important in choosing their nesting site was grass cover.
"Prairie-chickens in our study nested in areas with twice the cover of residual standing dead vegetation in random sites," Harrison wrote. Land-use practices, such as grazing, therefore would have a greater impact on nesting and survival than proximity to wind energy fields.
The researchers also found prairie-chickens avoided nesting near roads, possibly due to increased risk of predation or possibly due to traffic noise. As wind energy facilities grow across the Great Plains, a denser network of roads likely would affect prairie-chicken populations and their habitat, the authors noted.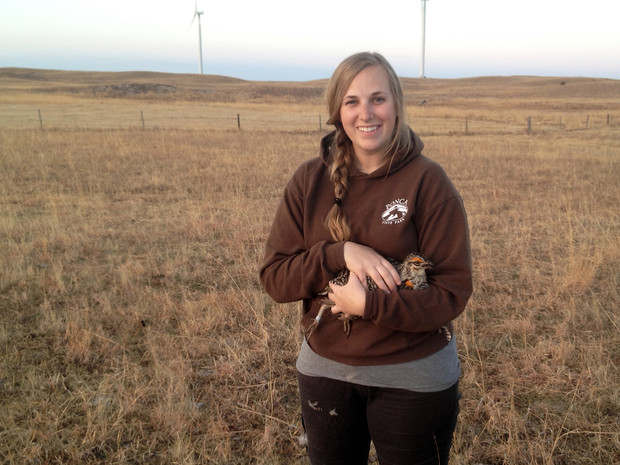 More research is needed to address these variables, Harrison noted.
"When comparing previous studies to our own," she said, "it appears that the effects of wind energy facilities on prairie grouse are often site- and species-specific. Therefore, it's important to consider the results of our study in the context of the size and location of the wind energy facility, as well as the prairie grouse species investigated."
She and her colleagues recommend future energy development planners take into account potential negative effects roads and land fragmentation could have on greater prairie-chickens and similar grassland species.
The study was published in The Condor: Ornithological Applications, a peer-reviewed, international journal of ornithology.
Separate study shows songbirds undeterred by turbine noise
Researchers at Nebraska also examined whether noise associated with wind-energy developments is altering the acoustic environment to the point habits would be unsuitable for songbirds.
The findings were published in the same journal and suggest intact, low-grazing intensity rangelands with wind energy infrastructure in the Nebraska Sandhills can host diverse grassland songbird communities, said E.J. Raynor, lead researcher on the project. Additionally, Raynor said, this first look into grassland songbird acoustic activity provides insight about the Nebraska Sandhills soundscape, a potential baseline for comparison with less, intact grasslands.
Raynor, together with Bomberger Brown, Powell and Cara Whalen, all of SNR, recorded the soundscape at six transects near a small-scale wind turbine facility in western Nebraska. Three transects were within about half a mile of wind turbines and three were without turbines but at growing distances from the energy development. The recordings captured the song of 21 breeding grassland species in the reference areas and 19 species in the wind turbine areas.
Overall, species composition within wind facility and reference habitat was identical, with the exception of Northern Flicker and American Robin, Raynor wrote. The researchers also didn't notice much difference in the birds' "acoustic expression" when comparing turbine sites with reference ones – while the turbine sites did record mechanical noise, it was not constant and it was of a low frequency.
"However, it is possible that acoustic expression between the treatments was similar because avian communities within the wind energy facility may sing more loudly or use higher frequencies than communities in reference grasslands to mitigate acoustic masking by low-frequency noise," the researchers noted.