Role of Recombinant Technology in Human and Animal Health
Dr Robert G. Webster of St Jude Children's Research Hospital in the US outlined the strategies for the development of vaccines against influenza in a presentation to the Vector Vaccines Symposium organised by Ceva Santé Animale in San Diego earlier this month.
The first influenza pandemic of the 21st century that originated in swine in Mexico in April 2009 exemplified the importance of recombinant technology for vaccine development for both humans and lower animals. The pandemic 2009 H1N1 virus spread globally in humans in a remarkably short time and has a wide zoonotic host range including swine, turkeys, ferrets, cats and dogs. There was urgent need for rapid vaccine production of both inactivated and live attenuated influenza vaccines that replicated well in embryonated chicken eggs and cell cultures.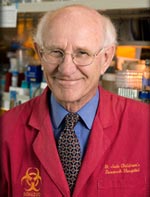 Dr Robert G. Webster
Reverse genetics and conventional reassortment were used to generate high-yielding vaccine strains. Other strategies for rapidly producing H1N1 vaccines included in vitro expression of the haemagglutinin in baculovirus. While approved influenza vaccines for humans currently include only inactivated whole virus, subunit and live attenuated vaccines many recombinant strategies are undergoing development and some of these are approved for use in poultry.

Vaccines for animals including domestic poultry have been developed for the highly pathogenic (HP) H5N1 avian influenza virus 'bird flu' that is a threat to both human and veterinary public health, particularly in multiple epicentres in Eurasia.

The strategies for vaccine development and use have been widely used in China, Vietnam, Indonesia and Egypt.

The strategies include:
Inactivated oil emulsion vaccines
In vitro expression systems including:

baculovirus in insect culture
vaccinia
adenovirus
alphavirus: virus-like replicon particles

In vivo expression systems including:

live attenuated influenza virus
fowl pox
avian leukosis virus
paramyxovirus type 1 vectored
gallid herpesvirus-1, and

DNA vaccines-naked DNA
In this presentation, Dr Webster dealt with some of the successes and failures of vaccine use for controlling HP H5N1 influenza virus in poultry in Asia and Egypt. Additionally the problems of poor immunogenicity of H5N1 vaccines in mammals including humans and the need for modern adjuvants were discussed.
References
Swayne D.E. and Kapczynski D.R. 2008. Vaccines, vaccination, and immunology for avian influenza viruses in poultry. In 'Avian Influenza' edited by D.E. Swayne. Blackwell Publishing, 2008.
Capua I. and Alexander D.J. 2008. Avian influenza vaccines and vaccination in birds. Vaccine, 26 Suppl. 4:D70-3.
Kim J.K., Kayali G., Walker D., Forrest H.L., Ellebedy A.H., Griffin Y.S., Rubrum A., Bahgat M.M., Kutkat M.A., Ali M.A., Aldridge J.R., Negovetich N.J., Krauss S., Webby R.J. and Webster R.G. 2010. Puzzling inefficiency of H5N1 influenza vaccines in Egyptian poultry. Proc. Natl. Acad. Sci. USA. 107(24): 11044-9.
Further Reading
| | | |
| --- | --- | --- |
| | - | You can view other papers presented at the Vector Vaccines Symposium by clicking here. |
Further Reading
October 2010