Simplifying maintenance: building an efficient meat processing line
A how-to guide on building a meat-processing line that's easy to clean and meets food safety guidelines.
In the poultry industry, quality and food safety is critical. Because a processing line handles raw materials, it must comply with the highest quality and hygiene standards to prevent contamination that can result in foodborne illnesses.
Even a single outbreak of a foodborne illness could damage a food processor's reputation and lead to the closing of their facility. In many cases, individual outbreaks of salmonella, E coli, shigella and campylobacter have escalated into full-blown public health crises.
Thankfully, food manufacturers in the poultry industry can take steps towards mitigating the risks of contamination by designing a food-processing line that is easy to clean and complies with food safety guidelines.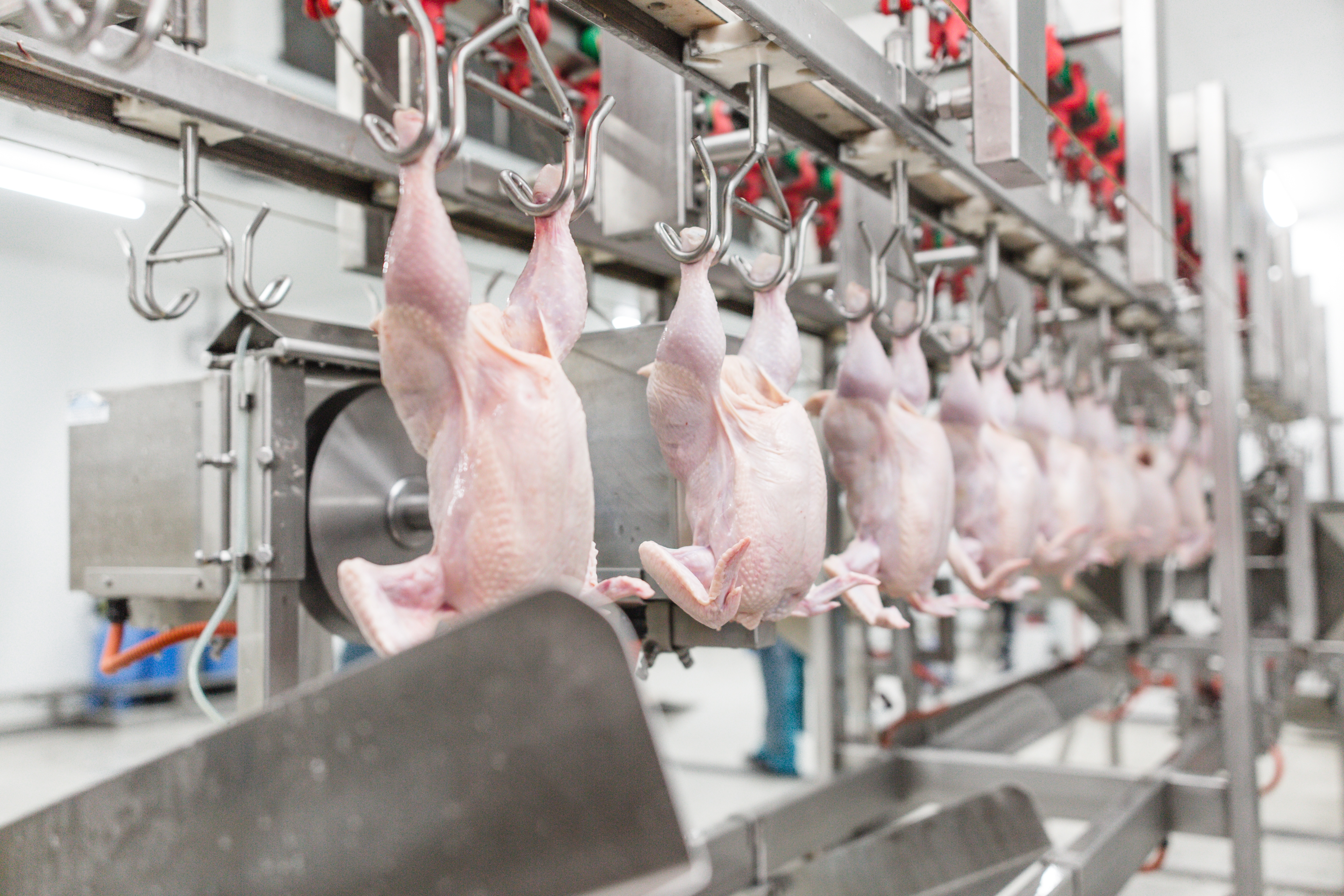 The poultry-processing line

In the poultry sector, a typical processing line may use a variety of processing equipment including:
defeathering equipment;
kill line equipment;
cut-up and portioning equipment;
weighing and grading equipment;
packing equipment.
This industrial-grade processing equipment must be easy to clean and be able to withstand the harsh cleaning regimens involved in meeting hygiene standards required by regulatory bodies. These pieces of equipment also often feature: augers, blades or saws and racks.
It's these smaller components of processing equipment that are critical when it comes to ensuring food safety. Blades that maintain their integrity and can be easily cleaned, for example, are paramount to providing a quality product and preventing cross-contamination of foods or other potentially hazardous conditions.
The dangers of an unsanitary food production line
Maintaining the highest sanitary standards in a food production line is essential to food safety and protecting the public. Low-quality equipment or improper cleaning may lead to serious sanitation and safety issues within the production line. These include:
Corrosion: this is a potential issue with just about any tool or component that's part of the processing line. Corrosion can begin at welded areas or joints and easily spread into the raw materials.
Surface imperfections: imperfections and uneven surfaces can make equipment harder to clean, making it easy for bacteria to develop.
Burrs: burrs in blades or other components can be potentially hazardous. These burrs can potentially flake off into food.
When it comes to food processing, only the highest hygiene standards are acceptable. Knowing the potential risks that can lead to contamination is important when designing and selecting equipment for a processing line.
Choosing the right equipment for your processing line
Whether your final processing requires deboning thighs, portioning wings or grinding meat, it's important to select the right equipment. When choosing processing-line apparatus, it's important to understand the durability and longevity of the equipment, as well as:
Material: most processing equipment is made from stainless steel due to its cleanability and general ability to prevent bacteria from growing.
Finish: the equipment as a whole is only a portion of the equation. Individual components must also be considered. The manufacturing and finishing process of specific components such as blades and augers can make a difference when it comes to food safety. Because these components are exposed to liquids and must undergo continuous cleanings, they must be resistant to corrosion. Each piece also needs a smooth surface to avoid food sticking to it, and to prevent residue from being entrapped and resisting cleaning.
Food-processing equipment as a whole is composed of many parts which should be considered in the purchasing process.
Risks posed by the way your processing equipment has been finished
During the manufacture of components used in a processing line, the finishing process is critical to preventing potentially hazardous food-safety outcomes. Here are some common problems that manufacturing methods pose for the overall safety of the processing line:
Contamination during the machining process: machining may often lead to surface contamination of the final components. In many cases, the introduction of other metals in tooling, such as carbon steel, can contaminate the surface of a stainless steel part, stripping it of its natural passive state, making it less resistant to corrosion and leaving surface impurities.
Secondary contamination: when components are mechanically polished, blasted or ground, foreign particles from this process can be introduced and embedded into their surface. This type of contamination causes an impure surface that leaves the parts more vulnerable to corrosion and can shorten the life of the parts.
The development of burrs: burrs are small flecks of metal that protrude from the surface of a part. This can happen when parts are stamped or machined. This unevenness can provide a surface on which bacteria can grow. Furthermore, these metal bits can even break off into the food.
Enhanced corrosion: electropolished parts are up to 30 times more resistant to corrosion than parts that undergo chemical passivation .
Smooth surfaces: by removing burrs from a part's surface, electropolishing creates a smooth surface that is easier to clean. A smooth surface means less opportunities for bacteria to harbour and contaminate raw materials in the poultry-processing line.
Removal of burrs: because burrs create an uneven surface where bacteria may grow and can be potentially hazardous if they flake off, removal of burrs from components such as saws and blades is critical.
Clean surfaces: electropolishing leaves parts passive and clean, free of foreign contaminants that can cause corrosion.
A bright finish: when it comes to food processing, a bright finish makes for aesthetically pleasing parts and components.
In order to keep the meat-processing line free from contamination, it is vital to keep the surfaces smooth and clear of impurities that may have been introduced during the manufacturing process. They must also be able to withstand consistent and harsh cleaning methods.
Using electropolishing to minimise contamination risks
Electropolishing, a one-step operation, is often the preferred finishing method for many components used in food processing equipment. This advanced finishing method comes with a series of benefits that create easy-to-clean components as well as protection from daily wear and tear including:
By removing a uniform layer of surface metal using a chemical bath with rectified current, electropolishing offers an optimal finish for a variety of components used in the poultry sector.
Using electropolishing to stay compliant with the USDA and the FDA
For food-processing operations that are based in the United States, USDA and FDA standards are extremely high. Hygiene and food safety are key to maintaining compliance with these regulatory bodies. Many poultry-equipment manufacturers choose electropolishing as their preferred finishing method for its many benefits but primarily for its ability to improve the surface finish of metal parts to help maintain cleanability.