Spanish Poultry Sector Needs to Make Changes
Spain is planning a radical shake-up of its poultry sector, according to Pablo Bernardos Hernàndez, head of poultry within the Spanish ministry for the Environment and Rural and Marine Affairs, writes ThePoultrySite Editor, Jackie Linden.
Speaking at Agra Informa's World Poultry 2008 conference in London, Mr Hernández stated that Spain is a newcomer to international markets compared to other European Union (EU) countries.

Comparing resource costs, he said that feed is more expensive in Spain than its main EU competitors; France, Germany and the UK. He reported that feed prices in the USA are some 50% lower than in Spain.

Spanish consumers regard poultry meat as a cheap protein source and show a strong preference for fresh chicken over frozen. Poultry companies there are now looking to launch new fresh and frozen products as a means of adding value and making them more attractive on international markets. Mr Hernández mentioned that Spanish producers must first overcome certain health and commercial barriers, made more difficult by the high overall cost of production in Spain. He expressed the hope that local producers would benefit from the outcome of the Doha round of World Health Order talks.

There are 7,200 registered farms in Spain producing broiler chickens and of these, 5642 produce broilers. The great majority - 77 per cent - are intensively reared and most flocks are between 20,000 and 40,000 birds. It is not a popular enterprise among younger farmers.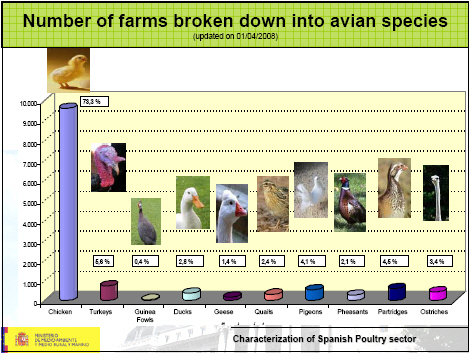 Ninety per cent of broilers are reared under contract to integrators. In 2006, the largest integrator was a Grupo Sada with a 24.3 per cent share of the market, followed by Coren (6.0 per cent). The top 10 companies account for 57 per cent of the total market in Spain. More than 90 per cent of production comes from members of the producers' organisation, Propollo.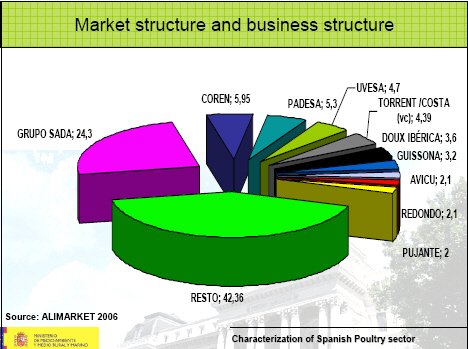 Spain's level of self-sufficiency in poultry meat has been steady over recent years and in 2007, it was 94.3 per cent. Average domestic consumption of poultry meat in Spain is 19.7kg per person per year. In 1990, around 55 per cent of poultry was sold through specialist butchers but the importance of this retail route has declined and they now account for less than 40 per cent of sales, overtaken by supermarkets with a 45 per cent share. Hypermarkets account for about 10 per cent of poultry meat purchases.

In 2007, Spain produced 1.375 million tonnes of poultry meat, which is around one-fifth of the nation's total meat output. This was some 10% below the average for the previous decade.

Mr Hernández concluded that in the near future, Spanish producers must find ways to reduce costs and broaden the product range. The relatively low energy costs and popularity of poultry among Spain's considerable number of foreign tourists offer the industry healthy advantages for future growth.
May 2008