Study Shows Effects of Feed Particle Size on Laying Hens
It is well known that a reduction in cereal particle size within processed diets improves productive performance of poultry by increasing nutrient digestibility although little work has been carried out in laying hens.
Feed form is also an important characteristic for laying hens, and diets can be presented as mash, crumbs, pellets or whole grain cereal. Given the current high costs of dietary ingredients and the energy required for feed production, it is important to understand the benefits of processing and the optimum feed form for laying hens.

Dr Elizabeth McCann and Dr Marian Scott discuss the value of whole wheat for laying hens. Dr Scott has completed her Ph.D. and is now employed by Devenish Nutrition Ltd.
A recent study conducted as part of a Ph.D. programme by Dr Marian Scott at the Agri-Food and Biosciences Institute, Newforge and Queen's University of Belfast has evaluated the effect of particle size and feed form on egg production and egg quality parameters. Ten experimental diets were produced to contain 60% wheat and a metabolisable energy value of 11MJ per kg (fresh basis). The treatments included a whole wheat ration plus balancer, wheat ground through three particle sizes (2, 5 and 8mm) and formulated into diets offered in three forms (pellets, crumbs and mash) to laying hens. Feed intake and daily egg production were recorded, feed conversion ratio (kg feed:kg egg) was determined and several egg quality parameters were assessed.

Feed intake was highest for the 8mm particle size and lowest for the 2mm particle size, and average egg weight was highest when hens were offered rations containing 2mm particle sizes (see table). Particle size had no significant effect on yolk colour index or percentage shell. However, there was a tendency for fewer eggs to be produced per day with diets containing 8mm particle sizes. The whole wheat plus balancer ration significantly reduced feed intake, increased average egg weight and reduced feed cost per 100 eggs (£2.35 vs. £3.18). There were no significant differences in egg production or quality as a result of mash, crumbs or pellets but it was found that the crumbed ration reduced feed intake and hence feed cost per 100 eggs.
The effect of whole wheat plus balancer ration and wheat particle size within processed diets on egg production and quality
Parameter
Whole wheat + balancer
2mm particle size
5mm particle size
8mm particle size
Feed intake (g per d on dry matter basis)
81.4
87.8
92.1
99.1
Daily egg production
0.96
0.92
0.93
0.84
Egg weight (g)
60.4
59.3
58.6
53.3
Yolk colour index
4.59
4.59
4.70
4.67
Percentage shell (%)
8.73
9.23
9.06
9.80
Feed cost ((£ per tonne)
277
317
302
299
Feed cost per 100 eggs (£)
2.35
3.03
2.99
3.53
The effect of feed form on feed cost per 100 eggs (£)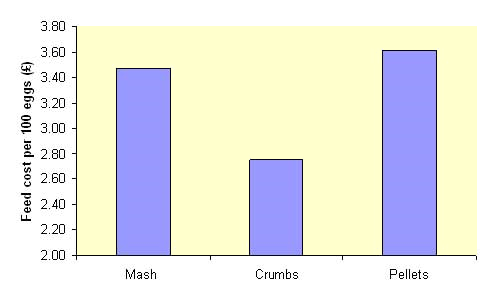 Conclusions
It was concluded that feed form i.e. mash, crumbs or pelleted diets, has no significant effect on egg production or egg quality, but crumbed diets reduced feed cost per 100 eggs. The finer particle size (2mm) resulted in better performance than coarser particle sizes. However, overall optimum performance was achieved when the whole wheat plus balancer ration was given to hens. Offering feeds in such a form would also reduce diet costs per 100 eggs produced and in addition, reduce the energy required for diet production. However, an extra auger system would be required to implement the feeding of a whole wheat plus balancer ration on a commercial unit.
July 2008