Time to work together to unlock the huge potential in poultry industry data
Next generation of poultry production will be more efficient and sustainable by "connecting" data across all players in the poultry industry
Everyone involved in the poultry industry is on their own individual and collective digitalization journey. Across the sector, practices have evolved from traditional small-scale operations to multi-billion enterprises. Research and processes have advanced, looking to optimize production at every step.
The use of information across the value chain to improve results has evolved over time too, even if it is often still an isolated digital activity within a specific production unit. We still have some way to go to meet several pressing challenges.
Where do we go from here?
Today, most people agree, mastering data will help us all improve and innovate. However, leveraging data has not been an easy task. While we are using relevant tools and methods to collect the data, and perform analytics, allowing machines to learn and use their recommendations to reach at least some of our objectives, we are still feeling a bit lost. Either there is not enough data to begin with or there is an overdose of data. There are dozens of individual solutions which do not interoperate, either due to too many data formats, communication protocols or data ownership and access issues. Partners do not often allow the industry to access some of the raw data even though it is owned by industry. The result is a lot of data is not being used to its full potential.
At Evonik we are constantly looking at how we can 'Science the global food challenge', together with our partners from across the entire industry. Over the past few years, our Precision Livestock Farming (PLF) team has researched several 'pain points' that the industry faces across the value chain and developed ideas to help relieve them. We are trying to connect various pieces of information to get better overall results. The continuous development of technology has helped us place data at the core of our products, services and processes.
We have focused on connecting efficiency, sustainability and animal welfare and have come to realize that the 'magic' is in the word connect. We have made it our mission to connect the various data sources in the entire value chain, while guaranteeing data integrity and coherence for all data owners over time.
Taking control to maximize choice
We would like the most innovative players in the value chain to manage their data in one place and have complete control over it. This will allow data owners to exercise choice regarding who they would like to partner with, share data with, how they would like to analyse the data and view their chosen partners' recommendations based on that.
We would also like all suppliers of products, applications and services across the value chain to be able to request and gain access to all contextual relevant and, if necessary, anonymized data from their clients so that they can learn from the operational context in which their products are being used and identify opportunities for enhancing their products and offers based on what they learn.
Take an animal health company as an example; it will normally only have data from the few locations where a farmer enters data into the health company's app. The health company uses this information to get true operational data around their products from the real world not just from their laboratories. They want to improve the efficacy of their products, but that information cannot be verified to be true when it is never really comprehensive.
With the PLF platform, the farmer only manages the typical operational data from the houses. He or she does not need to enter any extra data anywhere else. Based on the farmer's permissions the veterinarian can access raw data, and the animal health company, for example, may access anonymized health data and anonymized operational data from the farm. Based on the intelligence plus permissions they may access anonymized data from other participants across the individual value chain.
This is true operational data, and its veracity and completeness, even though anonymous, is excellent. And we achieve this without any further work for the farmer or the integration manager, except maybe managing the data access permissions for their trusted partners.
Just as in this example, we would like suppliers to give precise recommendations to their customers and actively support their customers' decision making so that they may improve their operational results and become more successful. After all, if we make our customers more successful, they will make us more successful in turn.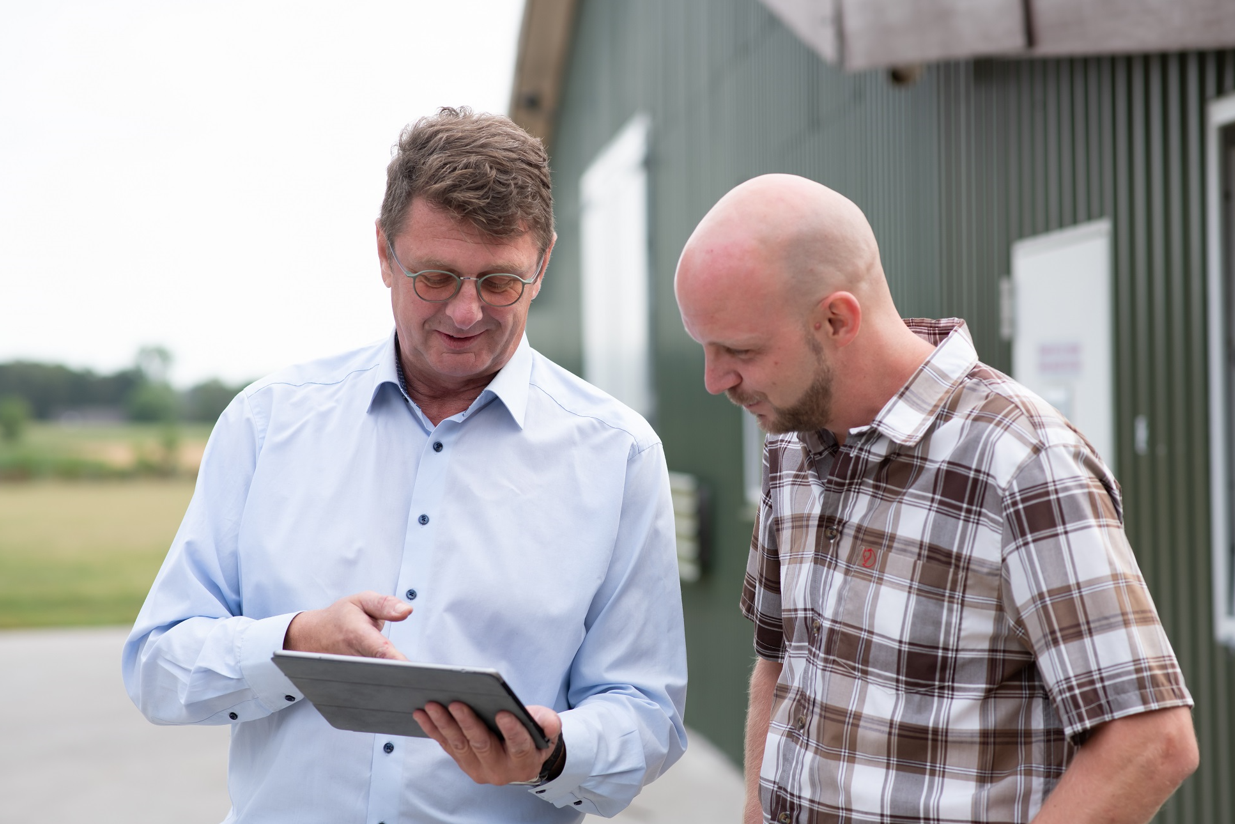 We want to see more companies become part of this collaborative network to innovate with partners, and if relevant increase their market reach across the world. That is the promise of the PLF platform.
What is the PLF platform?
We are building a data hub, connecting data sources across the value chain, combined with a marketplace for apps and services on which curated partners can offer their solutions. Customers can choose which partners to work with, while keeping control of their data, interoperability between the partners and not losing any time, resources etc while improving their results.
As an open and curated business platform, running on a global technology platform, Evonik's PLF solution connects the diverse sides of the industry: the core value chain (extending from genetics to feed farming to processing) these are typically the users of equipment, applications and services; and the suppliers of those equipment, applications and services (software providers, consultants etc). We also connect secondary service providers, (financial institutions, such as banks, insurance companies) so that they may access, with permission, data about the wellbeing of the livestock, quality of the product and thereby reduce their lending rates and premiums and improve the financing conditions for the industry. Additionally, there are researchers who can help with the understanding of the data and extract meaningful learnings and further improve results at each step of the value chain.
To connect all of these the PLF platform provides vendor neutral technology for sharing data. On the one hand, the data owner can control their data and exercise choice, essentially deciding with whom to share what type of data and when. On the other hand, suppliers can access more of that contextual data from the customer and the supplier specific processes.
Effectively we are building common ground to bring innovative industry partners together. We believe that together we can accelerate innovation cycles, build new business models, and drive the entire industry to become a more efficient and sustainable poultry value chain.