To Find <em>Campylobacter jejuni</em>, Look in the Biofilms
Most biofilms have the potential to promote and harbour C. jejuni, according to this report from the Food Safety Consortium.
Campylobacter jejuni is a pathogen found in chickens and is the leading cause of foodborne bacterial diarrhoea in the USA, so poultry producers look for ways to control it before the birds go to processing. The good news is that the bacterium is susceptible to stress and is vulnerable. So what keeps it going?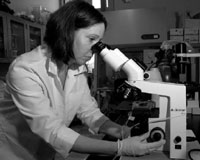 Irene Hanning explores biofilms as hiding places for Campylobacter jejuni
Here's one way: the bug latches onto other colonies of bacteria — biofilms — and uses them as places to thrive in ways the C. jejuni would be less likely to do on their own.

"The capture of C. jejuni could be correlated to the amount of biofilm present," said Irene Hanning, a postdoctoral associate in food science at the University of Arkansas System's Division of Agriculture who investigated the issue for the Food Safety Consortium. "This makes control of all biofilms critical because the communities have a strong potential to capture high levels of C. jejuni."

First, it is important to consider how biofilms work. Many bacteria have an ability to form a biofilm, which Dr Hanning described as an assemblage of bacteria encased in a sticky substance. Biofilms are complex structures that adhere to surfaces and consist of colonies of bacteria.

Being in a biofilm is an advantage to bacteria. The biofilm provides protection from antibiotics and other threats to bacteria's existence.

C. jejuni has had a major disadvantage in that unlike many other bacteria, it does not do well at making its own biofilm. So it may have found the next best thing to do: it moves into biofilms that are already protecting other bacteria. C. jejuni becomes a secondary colonizer.
---
*
"Most biofilms should be considered as having the potential to promote and harbour C. jejuni."
---
The host colonizers can be any of several bacteria, but C. jejuni's most prevalent host turns out to be Pseudomonas, which also serve as the main spoilage bacteria on chicken carcasses and are excellent biofilm formers, Dr Hanning said.

Dr Hanning looked at the ability of C. jejuni to survive from biofilm populations isolated from four places: a drinking unit in a chicken grow-out house, a drain under a plucker in a processing plant, a retail chicken carcass and a crate used to haul live chickens. NoC. jejuni was found on the growth surfaces outside of biofilms that had already been established. The biofilms were cultured under three different temperatures that showed varying levels of ability to harbour C. jejuni.

"These experiments indicated that C. jejuni can be captured and harbored by a biofilm regardless of the bacterial constituents," Dr Hanning said. "Therefore most biofilms should be considered as having the potential to promote and harbour C. jejuni."

September 2008