UK Poultry and Poultrymeat Statistics - October 2008
By Defra. This monthly publication combines the UK Hatcheries Survey and Poultry Slaughterhouse Survey results together with other Defra statistics, and trade data.
Summary
Broiler chick placings in the UK were up slightly in September from the previous month but the downward year-on-year trend continues. The figure of 64.8 million placed in September 2008 is 1.4% lower than a year previously.
In September 2008, 1.87 million turkey poults were placed - an increase of 12.7% over the number placed in the same month last year. This contributed to the continued upturn for placings, which reached 16.71 million as a rolling total for the last 12 months.
The trade gap in commercial broiler chicks widened in the last month reported (August 2008). Imports for the month were 106,400 (-27.7%) compared to the same month of 2007 while exports rose to 797,000 (+21.7%).
Both imports and exports of turkey poults were down for August 2008 compared to the same month a year previously. The 12-month rolling totals came to just over 701,000 for imports and 934,600 for exports.
At 60.3 million, UK broiler slaughterings were down marginally in September 2008 compared to the same month in 2007, while the 12-month moving total was also down at 786.8 million birds.
Average slaughter weights were broilers, 2.20kg; spent hens, 1.76kg; spent breeders, 3.72kg; light turkeys, 6.02kg; heavy turkeys, 16.80kg; average for all turkeys, 11.58kg.
Poultry meat imports - both whole birds and cuts - continued to decline.
For exports of poultry meat, whole birds jumped up significantly but this segment accounts for only a small part of the total export market and overall, exports continued their downward slide.
The overall effect of the trade situation was a further narrowing of the trade gap between poultry imports and exports during 2008.
Section 1: UK Hatcheries Data - Placings and Eggs Set
Chart 1.1: Monthly UK Commercial Broiler Chick Placings

Chart 1.3: Monthly UK Turkey Poult Placings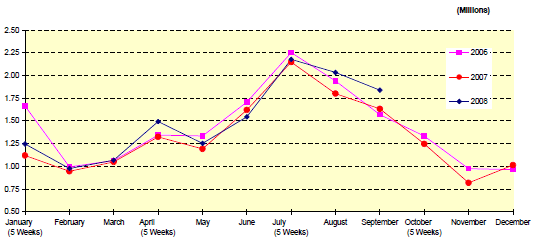 Section 2: UK Trade in Live Poultry
Chart 2.1: Imports and Exports of Commercial Broiler Chicks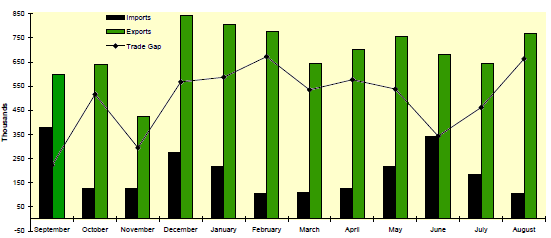 Chart 2.2: Imports and Exports of Turkey Poults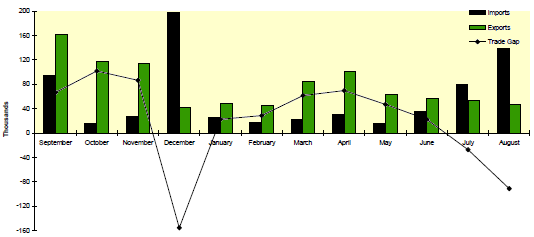 Section 3: UK Slaughterhouse Data - Numbers Slaughtered and Average Weights
Chart 3.1: Monthly Broiler Slaughterings in UK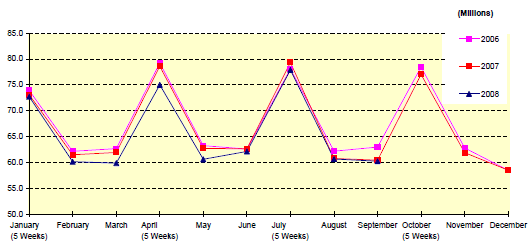 Section 4: UK Poultrymeat Production, Trade and Domestic Usage (Net of Offal)
Chart 4.2: Imports of Whole Birds and Cuts

Chart 4.3: Exports of Whole Birds and Cuts

Chart 4.4: Total Poultrymeat Imports and Exports

Further Reading
October 2008