UK Poultry Disease Quarterly Surveillance Report - April-June 2008
By Veterinary Laboratories Agency - This report monitors trends in the major endemic poultry diseases and utilises the farmfile and VIDA (Veterinary Investigation Disease Analysis) databases. The report is compiled using disease data gathered by the network of 15 VLA regional laboratories which carry out disease investigation in the field.

Quarterly Surveillance Report Poultry: Vol. 12, No. 2
April – June 2008
Published August 2008

Contents

OVERVIEW (here)

POULTRY STATISTICS

NOTIFIABLE DISEASES:
- SUBMISSIONS TO THE EU REFERENCE
- LABORATORY

FOOD SAFETY AND ZOONOSES
- FOOD SAFETY
- SALMONELLA REPORT
- VACCINAL STRAINS OF
S.ENTERITIDIS
- SALMONELLA ZO4 VISITS

ENDEMIC/NEW AND EMERGING DISEASE SURVEILLANCE
- VIROLOGY REPORT

OTHER AVIAN TOPICS
- FOWL CHOLERA
- BLACKHEAD UPDATE
- MAREK'S DISEASE
APPENDIX I: VLA BURY AVIAN HISTOPATHOLOGY SUBMISSIONS JAN – JUNE 08


Highlights
DESCRIPTION OF HIGHLY PATHOGENIC AVIAN INFLUENZA H7N7 OUTBREAK

THE SECOND UK ISOLATION OF INFECTIOUS BRONCHITIS VIRUS QX STRAIN
Overview
Following the rise in feed costs highlighted in the previous quarterly report (Vol. 12, No. 1), Poultry World reported that the price of basic layer ration rose to £233/tonne in April (compared with £136/tonne in April 2007), before easing back in May as a result of declines in the price of wheat and soya.

If the decline is sustained, it will be beneficial in reducing the impact of high food costs in the industry. Another welcome development has been a small increase in turkey poult placings in the quarter compared with last year.

In terms of disease, the quarter was dominated by the outbreak in June of highly pathogenic avian influenza (HPAI) H7N7 in a free-range layer flock. A description of the outbreak is given in the report.

The ingestion of lead shot by waterfowl is well documented but toxicity in poultry is more unusual. The consequences of exposure of a free-range layer flock to lead contaminated soil adjacent to a clay pigeon shoot are summarised. The presenting feature of the incident was poor egg production in the flock.
UK Quarterly Figures for Female Broiler Parent
Chick Placings (Average Monthly figures)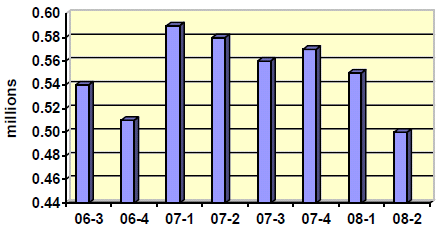 Average UK Quarterly Figures for Commercial Layer
Chick Placings (Average Monthly figures)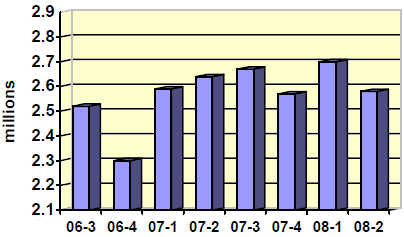 UK Quarterly Figures for Commercial Broiler
Chick Placings (Average Monthly figures)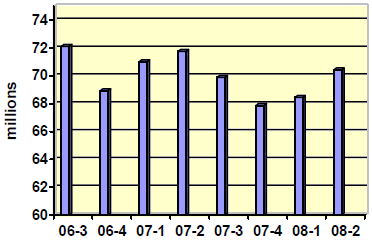 UK Quarterly Figures for Broiler Slaughterings
(Average monthly figures)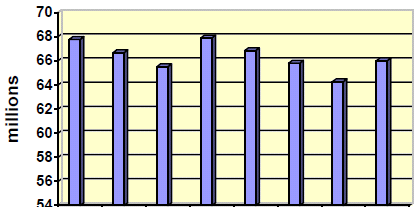 UK Quarterly Figures for Turkey Poult Placings
(Average Monthly figures)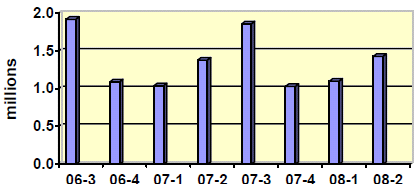 Total UK Poultry Meat Production (Average
monthly figures)
UK Quarterly Figures for Turkey Slaughterings
(Average monthly figures)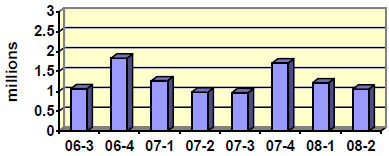 Total Poultry Meat Trade
(Average Monthly figures) *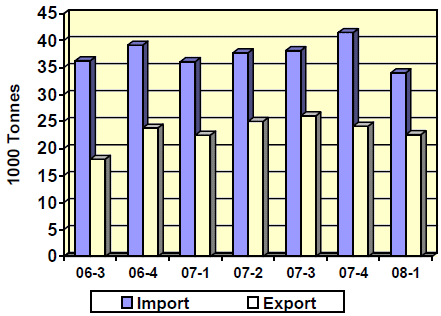 Further Reading
September 2008