UK Poultry Disease Quarterly Surveillance Report (to December 2007)
By Veterinary Laboratories Agency - This report monitors trends in the major endemic poultry diseases and utilises the farmfile and VIDA (Veterinary Investigation Disease Analysis) databases. The report is compiled using disease data gathered by the network of 15 VLA regional laboratories which carry out disease investigation in the field.

Quarterly Surveillance Report Poultry: Vol 11 No 4
october – December 2007
Published February 2008

Contents

OVERVIEW (here)

POULTRY STATISTICS

NOTIFIABLE DISEASES:
- SUBMISSIONS TO THE EU REFERENCE
- LABORATORY

FOOD SAFETY AND ZOONOSES
- FOOD SAFETY
- SALMONELLA REPORT
- SALMONELLA ZO4 VISITS
- VACCINAL STRAINS OF
S.ENTERITIDIS

ENDEMIC/NEW AND EMERGING DISEASE SURVEILLANCE
- VIROLOGY REPORT

OTHER AVIAN TOPICS
- FOWL CHOLERA
- BLACKHEAD UPDATE
- MAREK'S DISEASE
- TURKEY RESPIRATORY
MENINGITIS SYNDROME
- NECROTIC ENTERITIS
- TENOSYNOVITIS IN PHEASANT
POULTS
- MOTILE PROTOZOAN INFECTION OF
GAMEBIRDS

APPENDIX I: VLA BURY ST EDMUNDS HISTOPATHOLOGY SUBMISSIONS JULY – DEC 2007 12

APPENDIX II: VLA LASSWADE COMMERCIAL POULTRY DIAGNOSTIC PMS OCT – DEC 2007


Highlights
SUMMARY OF LOW PATHOGENICITY AVIAN INFLUENZA OUTBREAK


BIG LIVER AND SPLEEN DISEASE SURVEY
Overview
In terms of disease, 2007 has been dominated by the outbreaks of Highly Pathogenic H5N1 Avian Influenza in turkeys in February and November. These are reviewed in an international context on pages (4) and (5) of this report. At the time of writing ten cases have also been identified in mute swans in Dorset (page 4).

Increasing feed prices have had a major impact on the poultry sector through the year.

As a result of this and other increasing costs, many producers face uncertainty as to what the future will hold for the industry. This is shown in the statistics on page 2 in the slight decline in broiler chick placings and broiler slaughterings in the fourth quarter compared to last year. However layer chick placings have been relatively buoyant through the Amongst the endemic diseases covered in this report, a report of a possible new medication for blackhead (histomonosis) in turkeys is described on page 14, the continuing decline in diagnoses of necrotic enteritis in broilers on pages 15 and 16 and the increasing trend in motile protozoal disease in gamebirds on pages 17 and 18. Virus surveillance isolates of note during year.

2007 include further isolates of avirulent Newcastle disease virus, the first UK isolate of the QX strain of Infectious Bronchitis virus and the confirmation of Avian Encephalomyelitis virus infection in pheasants by PCR testing and serology.

Duck hepatitis type 1 virus was isolated with avian influenza H3N8 from ducklings (pages 12 -13). A serological survey reported in the April-June report confirmed that Big Liver and Spleen Disease virus is present in the UK.
Poultry Statistics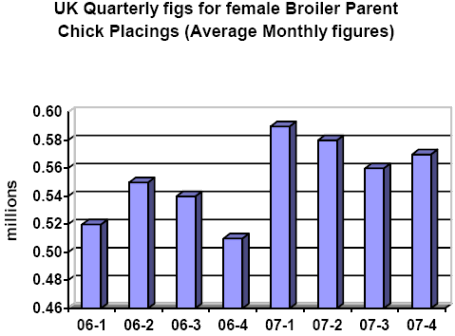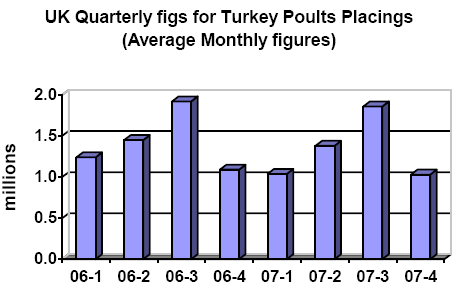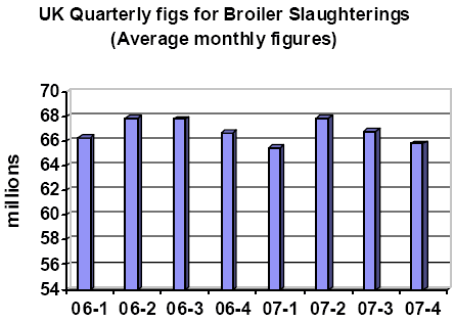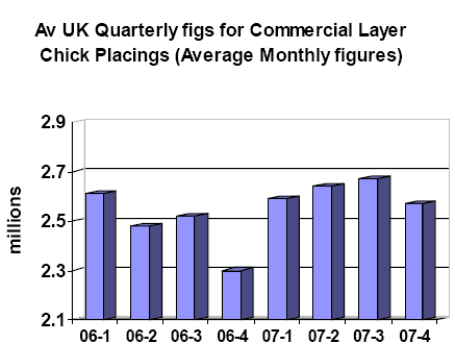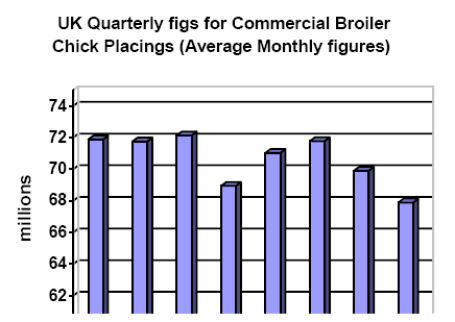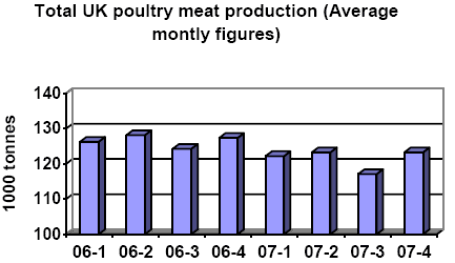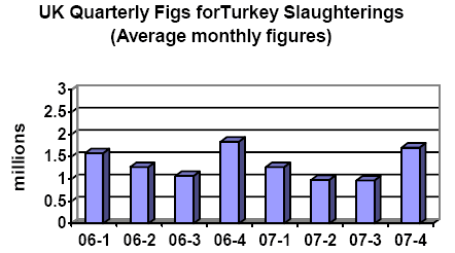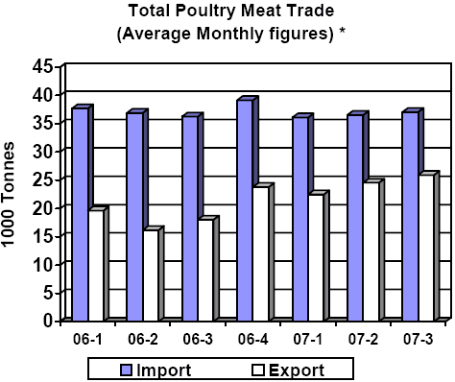 Further Reading
February 2008