VIV Asia 2013 Preview
The organisers of VIV Asia 2013 trade show say they are extending the scope of the event to cover the whole theme 'Feed to Meat' as well as attracting visitors from throughout Asia and beyond for the event, which takes place in Bangkok, Thailand in March 2013.
'The world's most promising meeting point to boost your business from Feed to Meat'. That is the pledge made by the organisers of VIV Asia about the forthcoming 11th edition of the trade show.
Taking place from 13 to 15 March 2013 at the BITEC exhibition centre in Bangkok, the show no longer just focuses on Thailand and its neighbouring countries, they say, but it now extends to the whole of the Far East and the Middle East, Australia, New Zealand and Africa.
The last edition of VIV Asia, in 2011, attracted 29,000 visitors from more than 100 countries and the wider scope of this year's event is predicted to raise attendance further.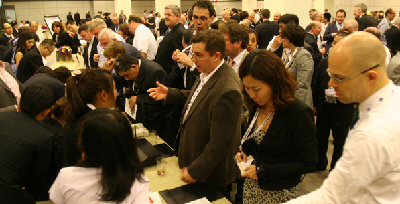 Special Themes
Three Special Themes are included alongside the trade show this time.
VIV Animal Health Summit Asia 2013
A special feature of the forthcoming VIV Asia is the VIV Animal Health Summit on Thursday 14 March that will focus on reducing the use of antibiotics in livestock production.
Antibiotics are still widely used in food animal production in many parts of the world. Their use includes the prevention of bacterial infections and because of low costs and availability of some without prescription, antibiotics can be an often used medication. The widespread occurrence of multi-resistant bacteria is becoming a threat for future human and animal health. One consequence of this is that humans get scared and question whether it is safe to eat meat and eggs.
'How to deal with this problem and the safety of meat and eggs in Asian markets' is the theme of the VIV Animal Health Summit Asia.
For more information on the Summit, click here.
MeatTech 2013
MeatTech Asia 2013 is a new feature for this edition of the show, presenting international suppliers active in technology to slaughter and process pig and poultry meat.
Throughout Asia, the demand for equipment and new technology has experienced a massive boost as slaughterhouse operators and meat processors search for efficient systems to speed up processing, manage food safety and reduce costs in terms of manpower, floor space and energy. Opportunities associated with the launch of the Asean Economic Community in 2015 are also fostering increased investment and upgrading of processing and packaging lines. Already some equipment suppliers have seen of sales of cooking equipment in Thailand double as producers opt for complete solutions that offer better yields rather than stand-alone machines.
It is these advances that will be addresses at MeatTech Asia 2013. This special feature consists of a presentation of 25 suppliers at the exhibition, representing some 40 leading brands of equipment for slaughtering and meat processing.
In addition to the MeatTech Pavilion at the exhibition, 'Asian Meat' Magazine (a publication of Asian Agribiz) and VIV present a conference on 13 and 14 March, running each day from 14:00hr to 16:00hr. Topic for both conferences will be 'Automation in Action', with the following participating companies: Ducool, Foodmat, FPT Food Process Technology, Linco Food Sytems, Lima S.A.S. and Marel Stork Poultry Processing.
On the same days, a selection of companies will present their vision on the contribution of automation to specific items of meat slaughter, processing and packaging equipment. Each company has 10 minutes to present its vision and solutions, followed by a closing 20-minute question session.
For more information on the MeatTech Conference, click here.
CropTech-FeedTech 2013
This event has been specially developed for the Asia-Pacific feed milling industries.
Throughout Asia, investments continue in technology and equipment for the Milling, Processing, Storage and Handling of raw materials to produce Feed. The rapidly growing population, the increased level of income and the focus on food safety requires significant investments. In particular China, Viet Nam, India and Indonesia pose a world of opportunities.
In 2011, for almost 5,000 visitors dedicated to feed milling throughout Asia, Africa and the Middle East, the 2011 edition of VIV Asia was a serious breakthrough. Feed milling has developed itself into a strong segment on its own whilst benefitting from VIV's complete 'Feed to Meat' concept. Of all VIV Asia 2011 visitors, more than 12,500 indicated their interest in feed milling technology so international feed manufacturing professionals now clearly mark VIV Asia as an important industry event.
At this point in time, all global market leaders have confirmed their participation for VIV Asia 2013, many of them with significantly larger booths. The space allocated for CropTech-FeedTech Asia 2013 has been extended as a result.
For more information on CropTech-FeedTech 2013, click here.
Other Events at VIV Asia
VIV Asia 2013 offers a wide-ranging seminar and conference programme supported by a range of stakeholders, trade and industry authorities and knowledge institutes.
The VIV Main Conference will cover a range of developments in the animal protein sector. Taking a cross-speciee approach, this CEO-level conference will present developments in feed manufacturing, poultry breeding, pig breeding and aquaculture.
Federation of Asian Veterinary Associations (FAVA) will be holding a seminar with the theme, 'Holistic Approaches to the Livestock Industry in the ASEAN Chapter', featuring international speakers, in the English and Thai languages.
The local branch in the World's Poultry Science Association (WPSA) will hold two parallel sessions - in English - on the poultry industry, one coveirng incubation and poultry health, while the other will be about economics and feeding.
The International Poultry Council Conference will hold its first meeting of 2013 in Bangkok on 11 and 12 March. The programme includes speakers from Rabobank International, G&S AgriConsulting and other leading international organisations.
'Sustainability of the poultry industry' is the theme of a presentation from the International Egg Commission.
As part of the Partner Country Program, there will be seminars focusing on the positioning and competitiveness of the Indonesian poultry and aquatic industries in Asia and investment opportunities in the Philippines' livestock industry.
For full details about VIV Asia and its events programme, click here.
Sponsors and Partners of ThePoultrySite can be found at the following stand numbers: Aviagen, H101.Q002; Big Dutchman, H102.J002; Biomin, H106.F010; Ceva, H104.C002 and H104.C019; CID Lines, H104.B070; Cobb, H102.M002; Groupe Grimaud and Hubbard, H102.L032; Hy-Line International, H101.S002; Merial, H104.C082; MSD Animal Health, H104.B048; Novartis, H104.C048; Pas Reform, H103.G032; Petersime, H103.H002; Vencomatic, H101.R002 and Zoetis (formerly Pfizer), H104.A002.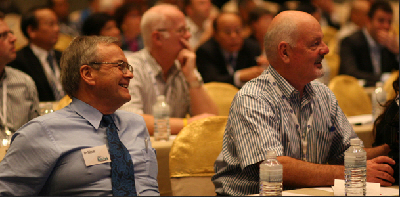 March 2013