What's behind the high gas price?
Gas prices all over the world are extremely high. Problems started last winter, which was cold in Asia, and gas demand was high there.
AHDB looks at the fundamental reasons behind those high global prices, and what will impact the prices over the coming months.
Problems started last winter, which was cold in Asia, and gas demand was high there. Following this, economic recovery from the pandemic and good gas demand for summer cooling needs meant storage inventories never really recovered. The amount of gas in European storage is also much less than would normally be expected at this time of year as we come into winter when it is needed most.

Supply response
Gas prices have stayed high in Asia, and that matters in Europe, because both regions compete for cargoes of Liquefied Natural Gas (LNG) when supplies are tight. As such, LNG imports into Europe are lower this year, as supplies over the summer have been drawn away. UK North Sea gas production is also down compared to last year. The day ahead gas price last Friday was nearly 175p/therm, up from below 40p/therm a year ago.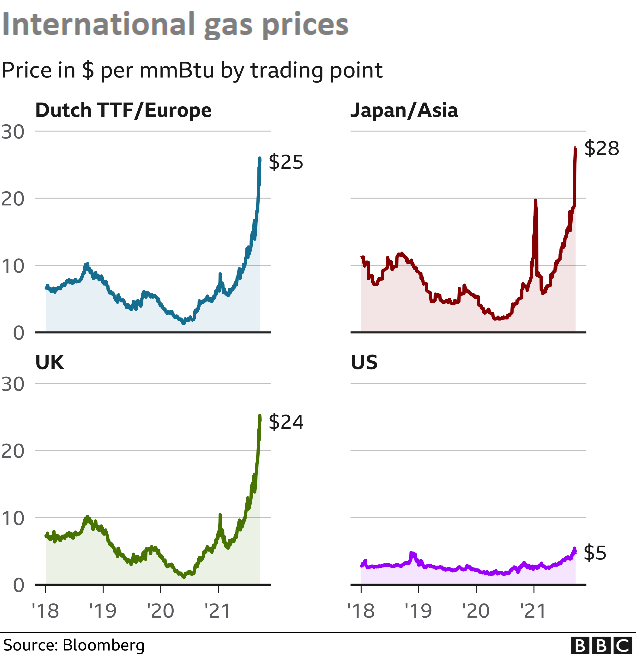 Russian gas pipeline supplies into Europe are higher than last year, although perhaps not as high as many in the market had been expecting. Nordstream 2, a controversial new large pipeline connecting Russian supplies directly with Germany is now complete, and commissioning is expected to start in October, with gas flowing after that. This could alleviate some of the problem, as lack of investment in the US and elsewhere over the past two years is limiting the amount of other new gas supplies that could respond to the high prices.
Demand response
Although an immediate supply response appears constrained, demand can respond. The gas market normally balances first in the power generation sector. Although the capacity to switch to coal-fired electricity generation away from gas-fired generation has now been exhausted. So, it is now left to industrial customers in the UK and Europe to reduce demand, which they have started to do. The first major demand side sector to react appears to have been fertilizer production, but others will likely follow.
What happens next?
It's very hard to predict what will happen to gas prices in the coming months. There is certainly still plenty of buying activity at the moment, even this week. Companies are positioning themselves ahead of the delivery of winter contracts, which start on Friday 1 October.
As always, and as with farming, the weather will also play a key role; an unusually cold winter really could test the system.