Wireless Egg Node – Identify exactly where eggs are damaged
Learn what can happen to eggs on a conveyer system and why it's important to monitor the process.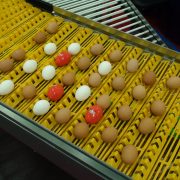 What can happen to eggs on conveyer systems?

If the eggshell quality is not good enough or if the conveyor systems are not running smoothly or are not calibrated appropriately, many eggs can be cracked, damaged or broken while moving through the conveyer system which causes economic losses, accounting for 6% to 8% of total egg production (Hamilton et al. 1979).
What is the Wireless Egg Node?
The Wireless Egg Node™ is an electronic egg that is actual egg size which provides a real-time measure of shock, vibration, rotation, tilting and temperature that eggs are subjected to, helping to monitor egg conveying, grading and packing installations and transportation extending from laying location to point of sale. It identifies exact locations where eggs are damaged. This allows appropriate corrective action to reduce breakage and losses, thus improving operational efficiency and enhancing the profit for egg-production farms and hatching companies.
What does the Wireless Egg Node tell you about your operation?
It is very simple - run the Wireless Egg Node together with regular eggs during the whole process, from laying location to point of sale including transportation. The Wireless Egg Node comes with a tablet and the real-time data is transmitted to this tablet. Using a graph, it indicates where eggs get hits or impacts, making it possible to concentrate on taking corrective measures at those specific points. This can reduce breakage of eggshells and egg losses significantly.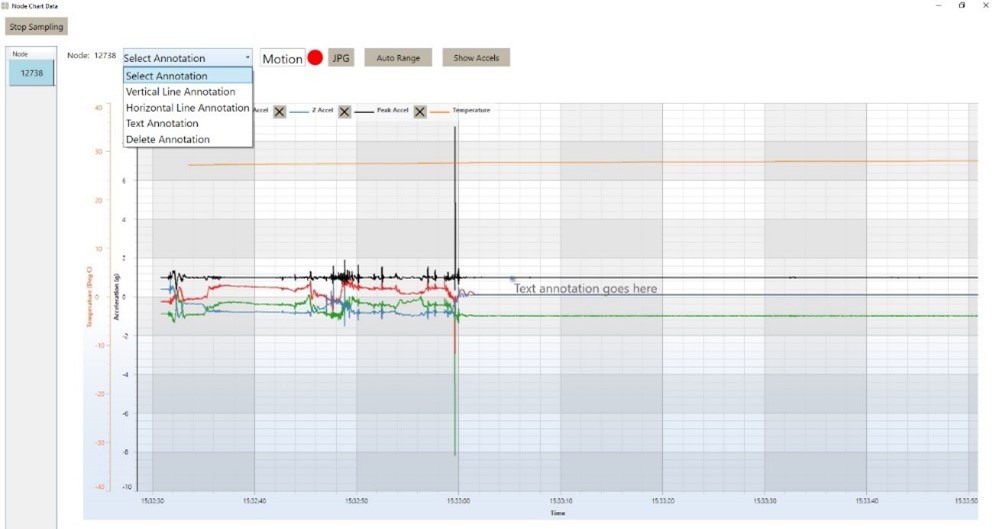 How does it capture data real-time?
The Wireless Egg Node provides the real-time information about shock, vibration, rotation, tilting and temperature of the egg and creates the graph for your intuitive viewing.
The Wireless Egg Node uses radio frequency (RF) communication to transmit data between the Wireless Egg Node and the tablet, and the data transmission range can reach up to 1 km (0.6 mile), unlike Bluetooth technology which can reach around 10 m (about 33 feet).

We offer both real-time mode and data logging mode. Data logging mode means the data is collected and stored in-egg and after the process you can download the data to your tablet to analyze. The majority of our customers use real-time mode which is more convenient, but we provide both options to all customers.
Is it necessary to benchmark and then track conveyor activity?
Please note that eggshell quality is influenced by several factors such as age, mutilation, storage, temperature and handling. Therefore, there is no universal standard of threshold above which eggs are being broken.

Having said that, we can share some useful threshold data from our customers' experiences. Click here to review 2020 data collected in Brazil. They use 5G for threshold for grading and packing machines and 8G for egg collectors.
Who should purchase and use a Wireless Egg Node?
The Wireless Egg Node is an excellent tool for egg production farms, hatching companies and equipment companies. Also, we work with manufacturers of grading and packing machines to ensure that their conveyor systems run smoothly and are well-adjusted for customers.