World Poultry Trade Overview - October 2009
By USDA Foreign Agricultural Service - This article provides a forecast for 2010, in which an economic recovery is expected to bolster world meat trade.
2010 Forecast: Economic Recovery Bolsters World Meat Trade
Economic recovery in 2010 will help stimulate improved demand for meat and poultry.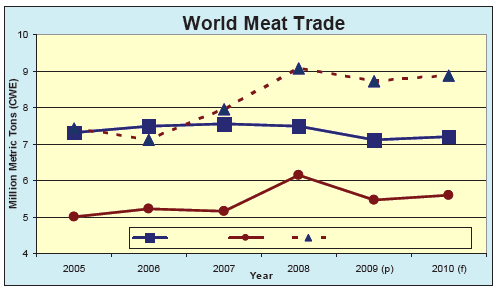 Beef and pork exports are forecast up one and three per cent, respectively. Whereas improved demand for beef is expected worldwide, the boost in pork will generally be concentrated in North America. Brazil, the only key beef producer with excess supplies, is expected as the principal beneficiary of increased demand. However, both Brazil and the United States will be able to take advantage of the rise in pork.

Broiler and turkey meat exports are forecast two and four per cent higher, respectively. Brazil will be the primary supplier as it focuses on growth to non-traditional markets. The United States faces a decline in broiler shipments on weak demand in major markets but modest growth is expected for turkey.
Broiler Meat 2010 Forecast Overview
Production forecast to rebound in 2010
Following recession-induced stagnant production, 2010 is forecast up three per cent at 73.7 million tons.

Growth is forecast to be largely driven by new historic production levels in Brazil and China (four and three per cent higher, respectively). Brazil's rise is spurred by strong export and domestic demand. China's increase is in response to strong domestic demand due to economic expansion. Contributing to global growth will be the world's leading producer, the United States, which is forecast two per cent higher at 16.2 million tons. Virtually all other major producers, particularly Argentina, India and Russia are forecast to expand production.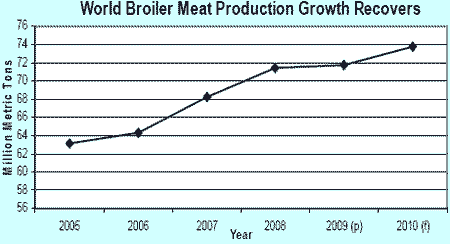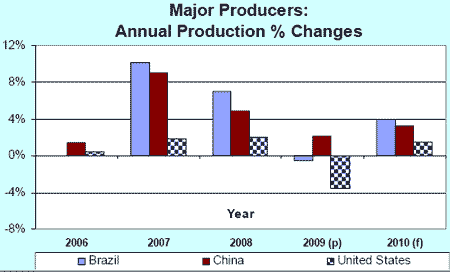 Exports forecast slightly higher amid growing supplies
Exports are forecast two per cent higher at 8.3 million tons. Plentiful supplies partnered with increasing consumption as the macroeconomic outlook improves will facilitate the positive environment for international trade.

Brazil's expanding exports are forecast six per cent higher to a record of over 3.3 million tons. Import demand is expected from a variety of markets in the Middle East and Asia as well as efforts to open new markets. Brazil's continued, long-term focus on developing non-traditional markets will buoy expansion.

US exports are forecast five per cent lower at nearly 2.9 million tons. Increased production in Russia and China to meet consumption needs as well as lingering non-tariff barriers to trade will weaken demand for US product.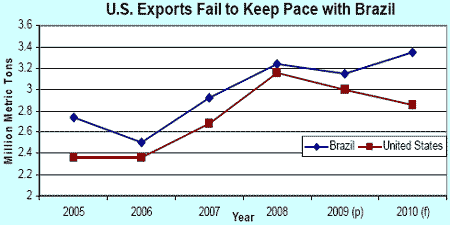 Imports forecast to rise largely on developing and non-traditional markets
Global economic recovery is expected to stimulate consumption and raise import demand. While Russia, the EU and Japan remain the largest markets for broiler meat imports, their share of global trade is forecast to continue to stagnate or erode in 2010.

In the absence of a multilateral agreement on 2010 TRQs, the Russian forecast is based on 2009 TRQ levels and allocations. While the 2010 outlook depends greatly on future policy decisions for not only the TRQ but also the chlorine ban and imposition of non-tariff barriers, imports are forecast four per cent lower at 855,000 tons. The reduction is expected as the Russian poultry industry, due to government financial support, will grow faster than consumption.

Larger imports are forecast to be led by non-traditional developing markets in the Middle East and sub-Saharan Africa, which are slowly accounting for a greater portion of world trade. Demand in these markets is spurred by population growth, rising incomes and budding meat consumption. Poultry performs particularly well in these markets as it is a lower cost animal protein (compared to beef and lamb), versatile and does not have any religious taboo attached to consumption.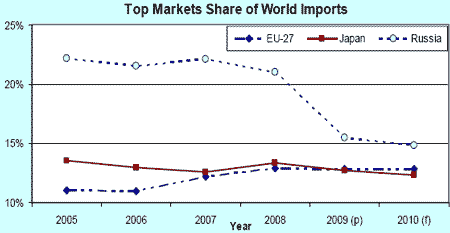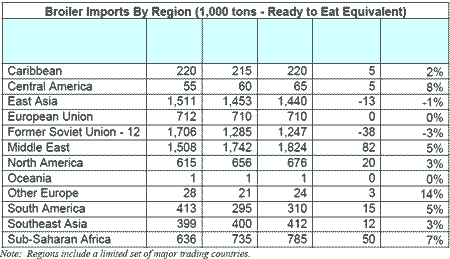 Turkey Meat 2010 Forecast Overview
Production to rise slightly in 2010
Following a decline in 2009, production is forecast to rebound two per cent to nearly 5.2 million tons on gains by Brazil and the United States which more than offset a decline in the EU. The United States is expected to rise two per cent to 2.6 million tons. Brazil's production is forecast to reach 480,000 tons on higher demand from both the domestic and foreign market. The world's largest producer, the EU, is expected to be stagnant.
Trade rises four per cent as world economy recovers
Exports of turkey meat are forecast to rise nearly four per cent to 551,000 tons. Both the United States and Brazil are expected to benefit from renewed demand. Mexican imports are forecast to rise by nearly 12 per cent on demand for cuts for processing as the economy rebounds from recession.
Further Reading
October 2009