Introduction
An acute or chronic enterotoxemia seen in chickens, turkeys and ducks worldwide, caused by Clostridium perfringens and characterised by a fibrino-necrotic enteritis, usually of the mid- small intestine. Mortality may be 5-50%, usually around 10%. Infection occurs by faecal-oral transmission. Spores of the causative organism are highly resistant. Predisposing factors include coccidiosis/coccidiasis, diet (high protein), in ducks possibly heavy strains, high viscosity diets (often associated with high rye and wheat inclusions in the diet), contaminated feed and/or water, other debilitating diseases.
Signs
Depression.
Ruffled feathers.
Inappetance.
Closed eyes.
Immobility.
Dark coloured diarrhoea.
Sudden death in good condition (ducks).
Post-mortem lesions
Small intestine (usually middle to distal) thickened and distended.
Intestinal mucosa with diptheritic membrane.
Intestinal contents may be dark brown with necrotic material.
Reflux of bile-stained liquid in the crop if upper small intestine affected.
Affected birds tend to be dehydrated and to undergo rapid putrefaction.
Diagnosis
A presumptive diagnosis may be made based on flock history and gross lesions Confirmation is on the observation of abundant rods in smears from affected tissues and a good response to specific medication, usually in less than 48 hours.
Treatment
Penicillins (e.g. phenoxymethyl penicillin, amoxycillin), in drinking water, or Bacitracin in feed (e.g. 100 ppm). Treatment of ducks is not very successful, neomycin and erythromycin are used in the USA. Water medication for 3-5 days and in-feed medication for 5-7 days depending on the severity.
Prevention
Penicillin in feed is preventive, high levels of most growth promotors and normal levels of ionophore anticoccidials also help. Probiotics may limit multiplication of bacteria and toxin production. In many countries local regulations or market conditions prevent the routine use of many of these options.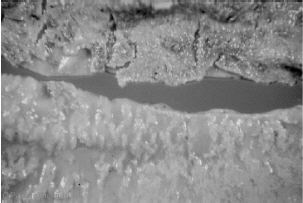 Figure 25. Severe lesions of necrotic enteritis affecting the small intestine of broilers. The sample at the bottom of the picture is still
focal, the upper has formed a thick crust of necrotic material.