HOG SLAT BULK FEED BINS
Hog Slat's bulk feed tanks are the heaviest grade of feed bins on the market today. Our bins are longer lasting and built with 5-10% more steel, by weight, than other available tanks on the market. Manufactured in-house, we control all raw material purchasing and manufacturing operations, constructing the most durable bin available to protect one of the most valuable inputs on your farm.
Built entirely of high tensile, Grade 55 Structural Steel with a G100 galvanized finish and JS1000™ coated hardware
State-of-the-art rolling, stamping and finishing operations ensure precise fit and finish of all feed bin components
Available in 6', 7' 9' and 12' diameter sizes to meet the needs of any operation
Industry leading 5 year warranty on all bulk feed bin tanks
Spring Loaded HDPE Lid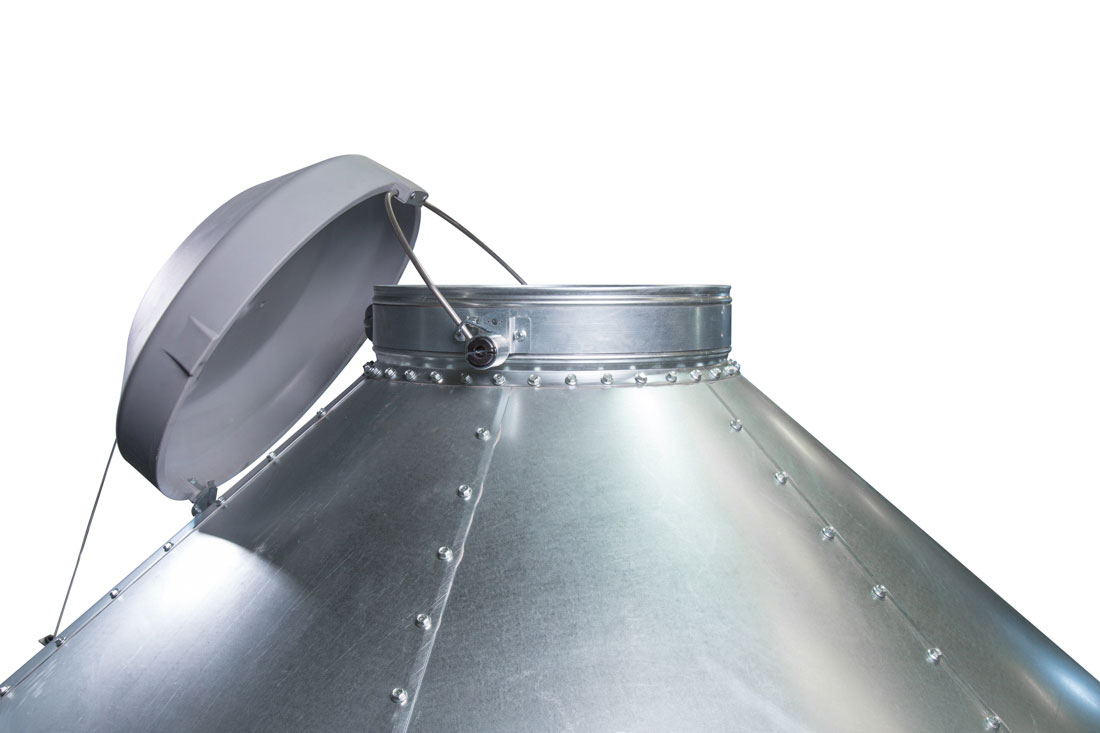 Hog Slat feed bin lids roll back onto the roof panel below the fill ring, eliminating the opportunity for snow, rain or other moisture to collect inside the lid while open.
Bin lid rolls back when opened, eliminating the opportunity to catch snow, rain or other moisture
Constructed of high-density polyethylene with the best UV protection available; provides improved durability against feed truck booms and other objects
Lid attaches to peak collar with stainless steel pivot rod; included SS cable connects to lid with a single eye-bolt
Integrated locking mechanism allows safe service and automatically disengages when the lid is activated from the ground
40 Degree Roof Angle
Laser cut roof sheets are rolled for a precise fit. The 40° angle slope allows for maximum filling capacity and better visibility of the lid opening from the ground.
Precision Stamped Ladder
Precision stamped ladder assembly with adjustable standard brackets. Rounded trapezoid ladder rungs have a larger surface area and a dimpled texture to provide secure footing. Design exceeds OSHA safety standards. Safety cages are included with ladder kits for all bins that have a fill height exceeding 25 feet.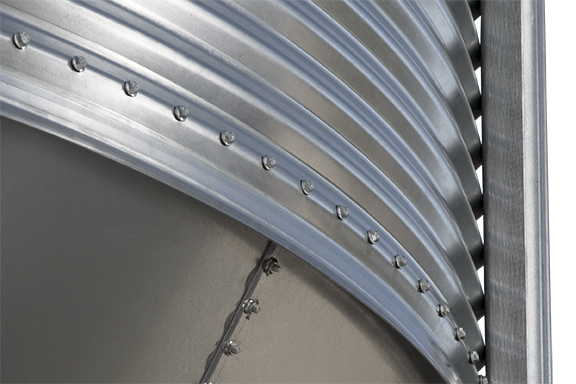 Weather Edge bottom lip forces water away from the hopper to protect the boot and unloader.
Weather Edge™
Improved Weather Edge™ design, with an extended 1-1/4" lip formed on the bottom sidewall sheet directs water away from the bin's hopper and unloading boot.
Bottom Cone Sheets
Thicker and stronger bottom cone sheets resist dents and dings from mallets. Stronger cone sheets also provide superior support for anti-bridging devices.
Stamped 16" Bin Collar
Reduces variation in dimensions compared to rolled or spun collars, providing a more consistent, smoother surface that facilitates feed flow. Our hopper collar is constructed of 10 gauge metal, heavier than all competitive brands.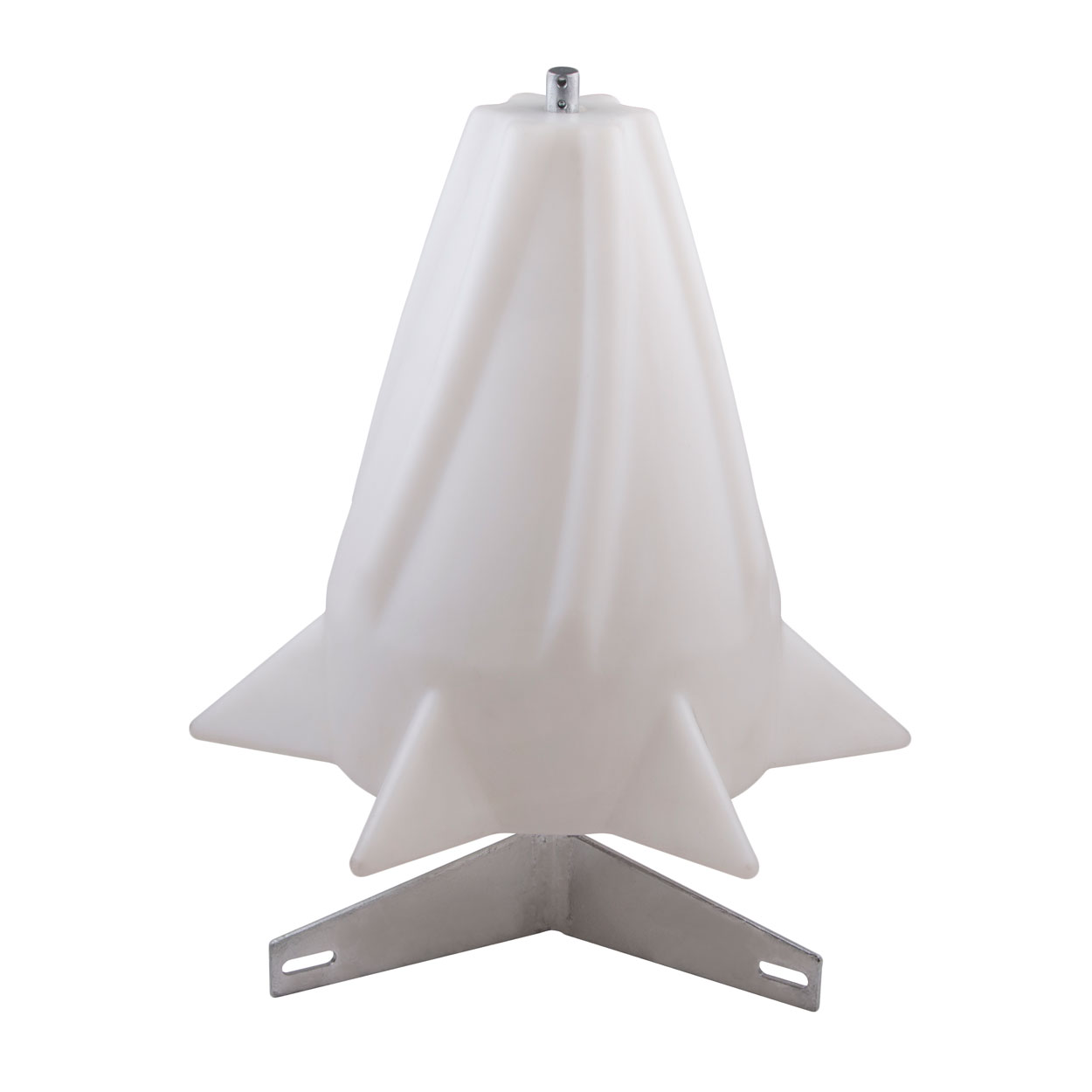 The Feedfas™ bin agitator cone helps direct feed away from the center of the hopper collar to prevent material bridging along the sides of the bin.
Feedfas™ Bin Agitator
The Feedfas™ bin agitator cone helps reduce feed bridging in bulk bins by redirecting material flow away from the center of the hopper, toward the edges of the unloader boot.
Heavy-duty polyethylene cone wobbles on the galvanized mounting bracket upright to keep feed from only flowing down the center of the bin
Easily installs on new or existing bins
Hot dipped galvanized mounting bracket mounts in the hopper collar and resists corrosion from feed material and moisture
Hog Slat is a stocking distributor for the BinTrac feed bin weighing system and BridgRid feed tank bridging solutions. Bin Trac systems allow producers to accurately monitor feed levels in all bins across a farm; reducing waste and improving feeding efficiency. The BridgRid vibrating feed bridging elimination system monitors fill auger systems and provides a strong, even vibration to the bin that prevents feed bridging while the system is running. Combined together, these two systems will give poultry and pork producers extra assurance about the amount and availability of feed for their animals at all times.
IMAGES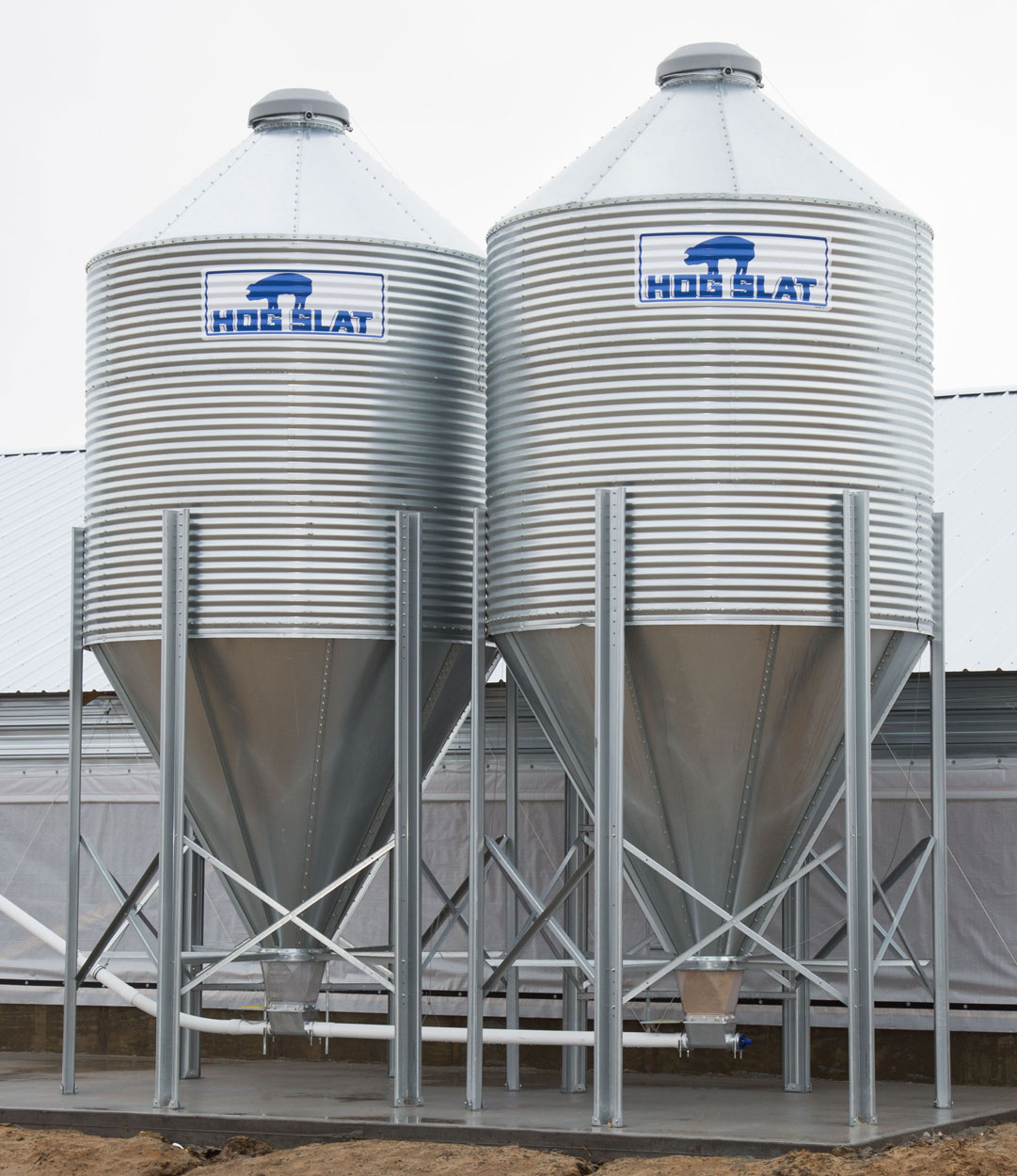 Click the above image for more pictures
RESOURCES -
BLOGS -