EVAP COOLING SYSTEM
Hog Slat's evaporative cooling system is designed to give you better performance, improved production results and reduced maintenance expenses, all at a lower installed cost. Our durable cool cell components, increased capacity trough, high-quality H2Pad and water circulation pump options combine to provide a superior cooling system you can rely on year after year for all your poultry and swine production air cooling needs.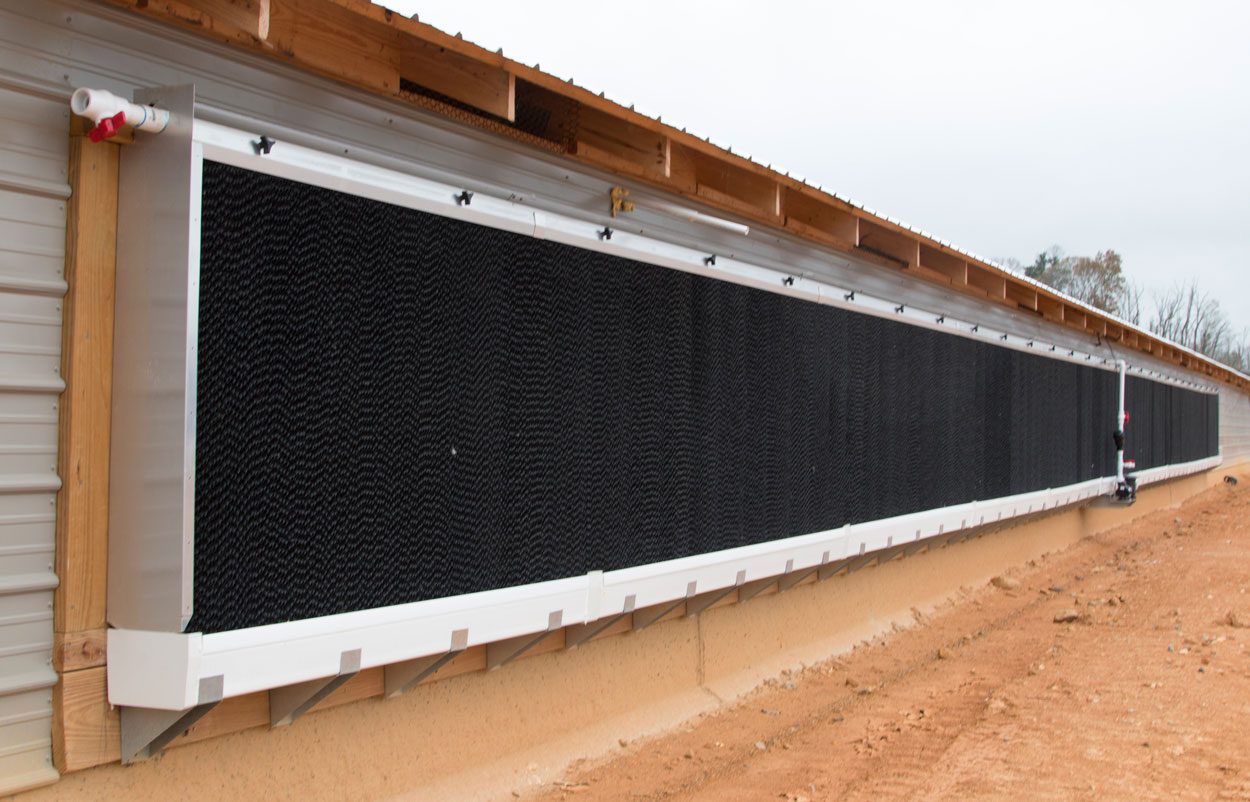 Hog Slat EVAP evaporative cool cell systems are designed with features and improvements that increase performance and reliability for your poultry and swine cooling needs. Our double leg bracket design provides superior support for EVAP systems when attached directly to a barn.
Heavy H2Pad
H2Pad is produced under a strictly controlled manufacturing process and features a black ProTec coating to protect the cool cell pad face against UV and mechanical damage.
Greater Capacity Trough
Our square trough offers over 24% more water capacity than round cool cell trough designs. The square trough holds 2.1 gallons per linear foot, versus 1.7 gallons per linear foot in round trough. Our improved trough cover features increased open area to quickly drain water back into the system, protecting pad bottoms, extending their lifespan and increasing system circulation.
Stronger Brackets
All that water needs plenty of support. Our 4" wide brackets prevent damage to trough and the double leg support design eliminates twisting and sagging, a common problem with single leg trough supports.
Sump or Jet Pump Circulation
Choose from a submersible sump pump or externally mounted jet pump to circulate the water in your system. The GrowerSELECT Jet Pump and Submersible Pump are reliable choices for new cool cell installations and affordable replacement units for existing installations.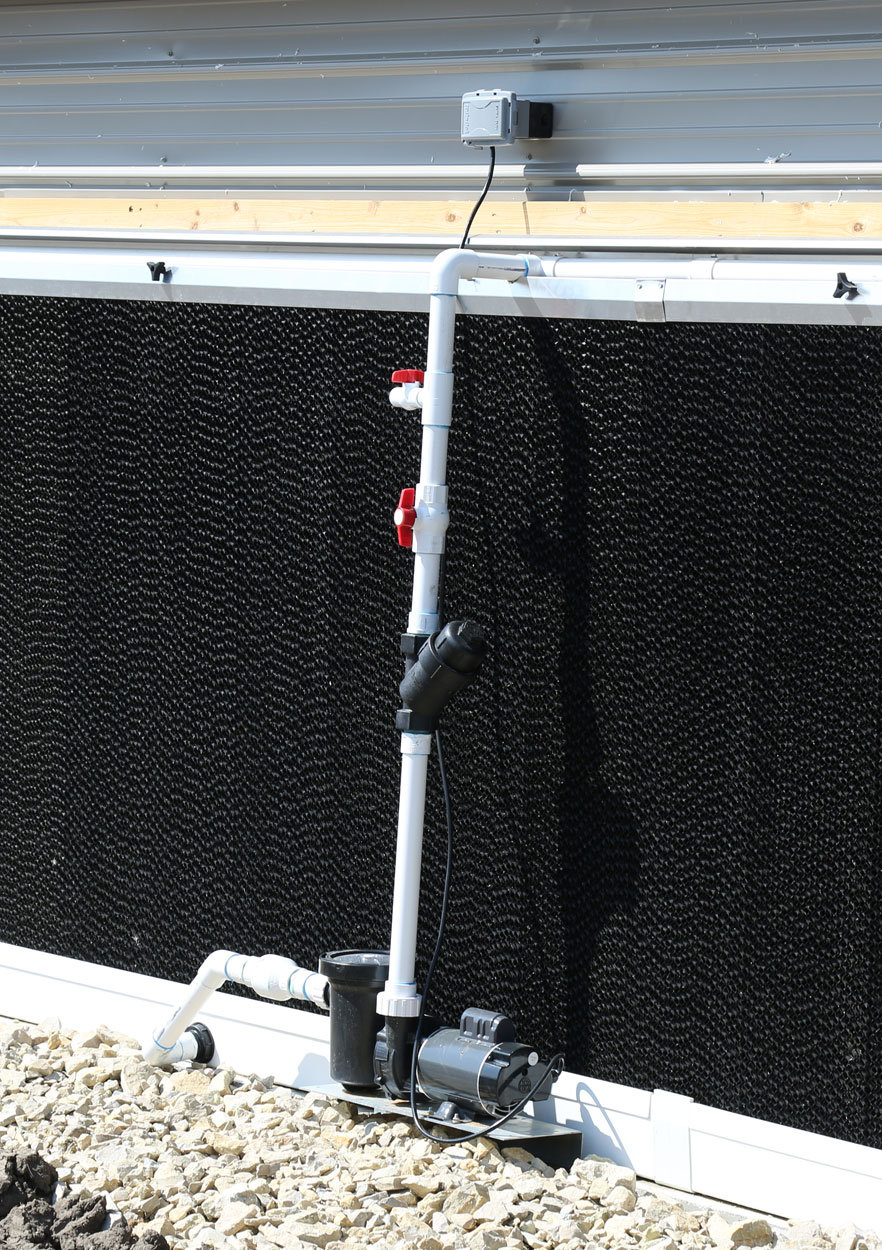 EVAP cooling systems can be operated with an external, self-priming jet pump (shown) or submersible pump tank system. GrowerSELECT jet pumps (shown) provide easy access for seasonal maintenance and cleaning.
GrowerSELECT JetPump
¾ HP enclosed fan cooled motor is available in 120V and 240V options and includes a 9 ft. power cord
Self-priming pump design protects internal components from wear and offers minimized friction and turbulence to reduce total power consumption, increase performance and extend unit lifespan
Unit features a large-capacity strainer basket to extend time between clean-out and transparent lid that allows quick visual inspection of basket contents
Easy access drain plug for service and winterizing
1-1/2' discharge pipe outlet
GrowerSELECT Submersible Pump
½ HP pump delivers ¾ HP pump performance and decreases electrical usage by 25%
Features a re-designed VORTEX IMPELLER resulting in a unit with a LOWER HEAD PRESSURE and HIGHER VOLUME capabilities, allowing the pump to service a longer cool cell run
Epoxy coated, cast iron housing features a silicon carbide seal and 115/230V oil filled motor
2' bottom suction inlet and 2' discharge with included 1-1/2' bushing to adapt to most systems
15 ft. waterproof power cord included
H2Pad Cool Cell Pad
Hog Slat's H2Pad cool cell pad is manufactured from quality cellulose paper, oven-cured with acrylic polymer glue and fungicides for superior cooling performance and increased lifespan. Pads are manufactured in 6' deep, 12' wide blocks, available in height options between 24" and 78'.
15/45 Flute Design
Self-cleaning 15/45 flute design provides low-pressure drop on incoming air. Water enters the H2Pad at 45 degrees, steeper than the 15 degree angle of the incoming warm air. This creates more surface area for the air to make contact with the wet cells as it passes through, resulting in cooler air. A special wetting additive promotes even water distribution and reduces the amount of water collecting on the pad surface.
Longer Lasting
H2Pad features a ¾' ProTec edging that reinforces the pad face to prevent against damage from UV light, severe outdoor weather and mechanical cleaning processes. ProTec edging also prevents algae and mineral deposit build-up to help increase pad life. Pad options with ProTec coating on the bottom, and no coating at all are also available.
Production of H2Pad
H2Pad is constructed of heavyweight saturation grade Kraft paper designed for high water absorption and consistent resin pick-up; a crucial step to ensure proper resin impregnation during manufacturing.
A Proprietary Resin
Our proprietary resin contains a critical formulation of acrylic polymer glues, melamine additive for fire resistance and a fungicide additive. A special viscosity additive ensures even application of the resin on each sheet.
Triple Curing Process
The first oven bakes the resin coating onto the paper. The second over cures each sheet individually after corrugating and before they're pressed together, ensuring consistent glue contact points. A third oven cures each block for three hours before cutting and sanding.
Constant Monitoring
Throughout the manufacturing process, technicians constantly monitor the moisture content of the paper sheets. Consistent moisture is critical to proper adhesion of the glues and curing process.
IMAGES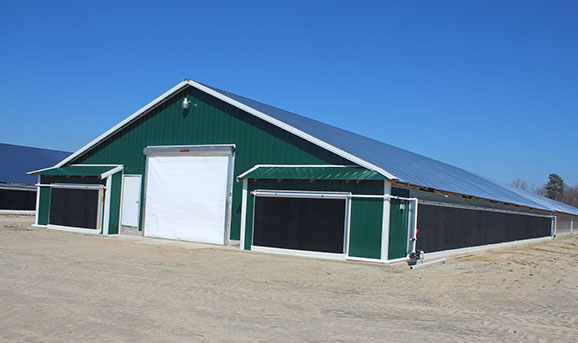 Click the above image for more pictures
VIDEOS -
RESOURCES -
BLOGS -