FASTENERS & SUPPORTS

Hog Slat manufactures flooring frames, supports, legs and fastening hardware to attach farrowing crates, bolt-on legs and other equipment to concrete slats, plastic and metal swine flooring.
Metal Floor Frames & Legs
Hog Slat offers metal floor frames to support both woven wire and other steel farrowing crate and nursery pen flooring installations.
Hog Slat steel floor support frames are available in painted and galvanized finishes for farrowing and nursery flooring installations.
Farrowing floor frames are constructed of heavy-duty 3/8' x 2' bar stock
Nursery floor frames available in either ¼' x 2' or 3/8' x 2' bar stock options
Many sizes available to fit all common farrowing and nursery pit floor designs
Complete line of bolt-on frame legs and supports that attach floor frames to concrete pits
Available in durable epoxy powder coat painted or hot-dipped galvanized finishes
Flooring Fasteners
Multiple flooring fasteners are available to attach equipment, water bowls, feeders and other accessories to concrete, plastic and metal swine floors.
T-Bolts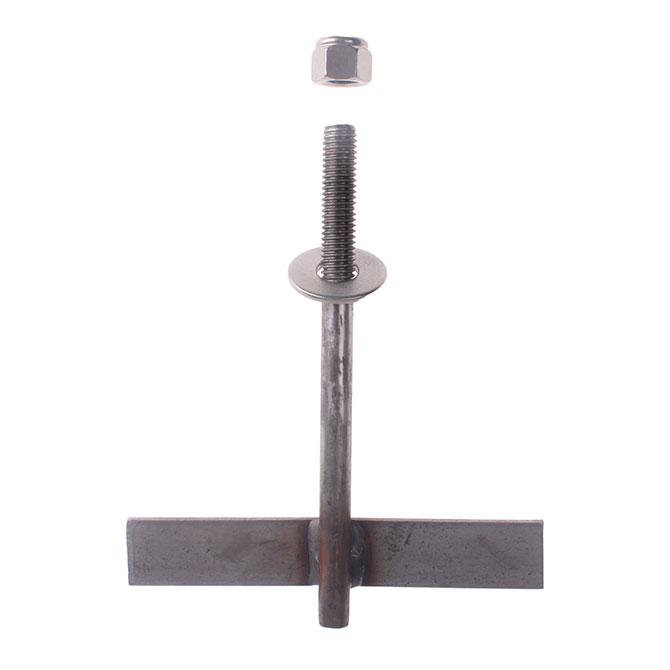 Stainless steel and cast iron t-bolts are used to secure gate posts and other accessories to slatted swine flooring.
T-bolts are available in cast iron and stainless steel bar stock options.
Cast Iron: Available with either 4-1/2' or 5-1/2' stainless steel bolts
Stainless Steel: Available with either 1-1/2' or 5-1/2' long bolts (3/8' thick tee) and 5', 5-1/2' and 6-1/2' long bolts (1/2' thick tee)
T-Bolt Wrenches
Hog Slat's t-bolt wrenches help you stop dropping bolts into the pit during installation. Our wrenches hold t-bolts in place while tightening and also allow them to be installed from on-top of the slats.
Item # 3090900100 (Cast Iron T-Bolt Wrench)
Item # 3090910100 (Stainless Steel T-Bolt Wrench)
Hog Slat Plastic Floor Anchor
Hog Slat Plastic Floor Anchors are ideal for attaching AquaBowl water bowls and other equipment to plastic floors in farrowing and nursery barns.
Tabbed design allows installation from above the floor without any extra tools
Slide the encased nut assembly through the flooring slots and the winged-tabs hold it in place until tightened
Wings can be cut off after bolts are tightened
Sold in packages of 4 bolts
Item # HS652-50 (M8-1.25 x 50mm long bolt)
Item # HS652-90 (M8-1.25 x 90mm long bolt)
Gro-Loc Fastener
Gro-Loc fasteners are a quick a reliable way to secure slat mats and other pen items to concrete hog slats.
Each fastener includes a 3/8' x 4" stainless steel bolt and washer
Remains firmly locked and can be re-tightened as needed