PLASTIC FLOORING

Hog Slat manufactures our blue plastic flooring for pigs with a high-tech injection molding process using virgin quality polypropylene copolymer to create a durable, long-lasting plastic flooring solution for nursery pigs and farrowing barn installations. Our plastic swine flooring is available in multiple grid configurations and sizes that will adapt to any building scheme, whether it is a new construction or barn remodeling project.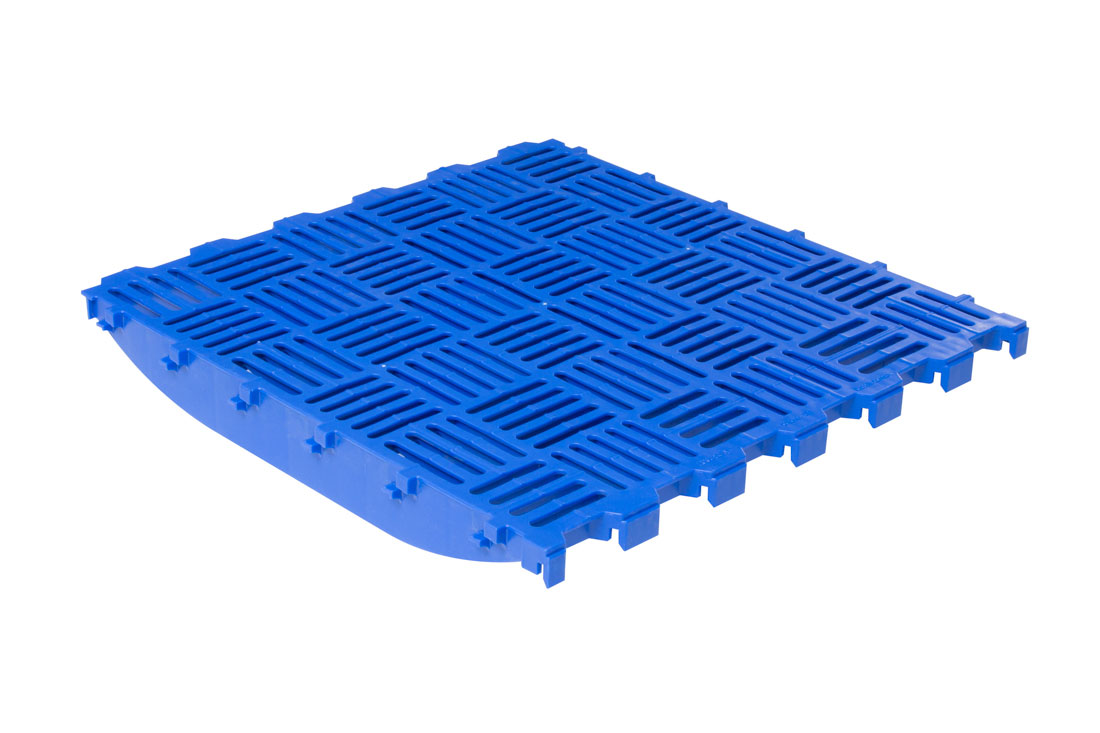 Hog Slat plastic flooring panels are designed to interlock with each other, forming a durable, stable flooring solution for nursery and farrowing barn installations.
Plastic pig flooring is more thermally conductive than traditional metal flooring, making it easier and more affordable to provide a warmer, comfortable environment for young pigs
Plastic flooring is easily power-washed and sanitized between pig groups, allowing producers to create the best possible starting environment for young pigs with less developed immune systems than older pigs
Our DUO beam supports and optional support legs are adaptable to provide a sturdy support for our interlocking plastic flooring in any design situation
Chess Nursery
Hog Slat blue Chess Nursery flooring is available in many different sizes and is designed to interlock along our DUO support beams to create complete pit-spanning flooring solutions for weaned pigs.
Self-cleaning, 3/8' wide slots arranged in a multi-direction pattern give nursery pigs optimum traction while allowing animals wastes to easily pass through, maintaining cleanliness
Sturdy design supports wider spans, reducing support beam costs
Suitable for pigs up to 130 pounds
Modular Plastic Farrowing Floors
Hog Slat modular plastic flooring components are configured to match almost any size of farrowing pen layout. Choose from durable cast iron or Swing plastic center sections to pair with our interlocking Rubin creep section floor panels.
Cast Iron Center Sections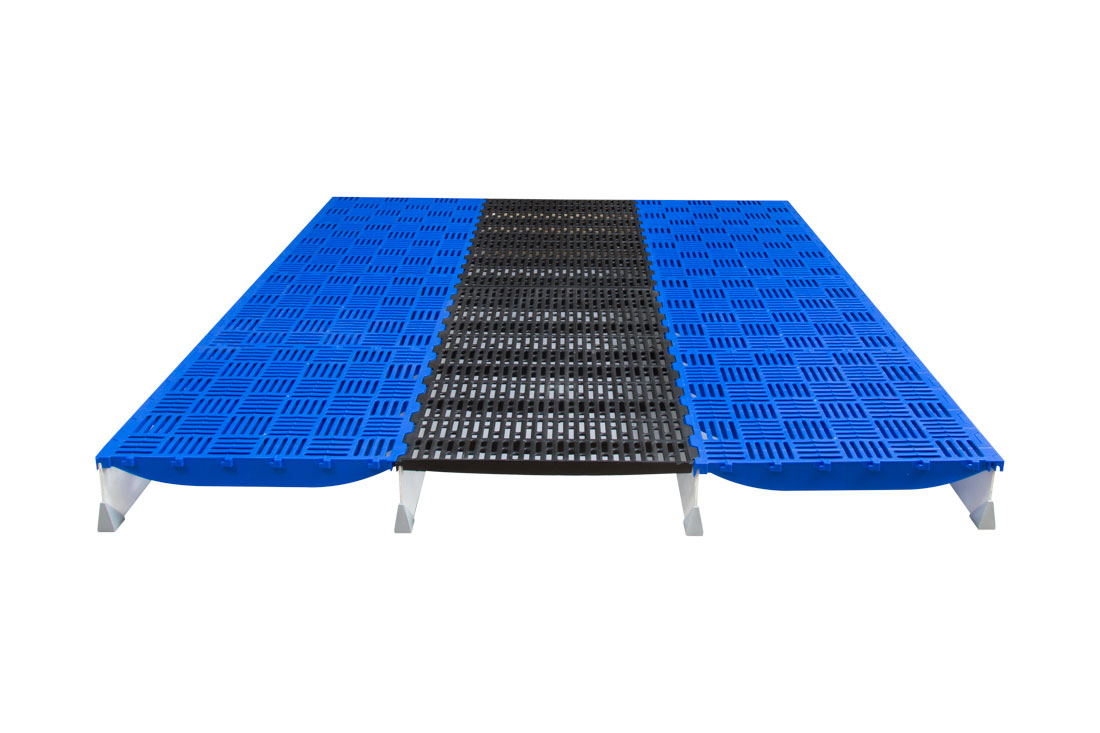 The Hog Slat plastic and cast iron combination farrowing floor provides a durable, cool surface for the sow and a warmer, plastic creep area floor for young pigs.
Smooth edge openings reduce sow injuries
Cast iron helps provide a cooler, more comfortable floor temperature for the sow
Longer sizes require only two sections per crate
Two sections allow the farrowing crate to be secured to both ends, eliminating the changes for sows to move a section out of place
Swing Sow Sections
Traditional center panel interlocks with Rubin creep sections and snap into place on DUO beam supports
Options available with 5% & 10% solid sections for shoulder areas, as well as soft and GR series options for improved laying comfort and footing traction
Available in multiple sizes to fit the needs of existing and new construction building layouts
Rubin Creep Panels
The Rubin design creep area floor panels offers an excellent combination of traction, comfort and cleaning for small piglets
3/8' slot width allows wastes to easily pass through without compromising stability or traction
Multiple sizes and solid creep panels are available
DUO Support Beams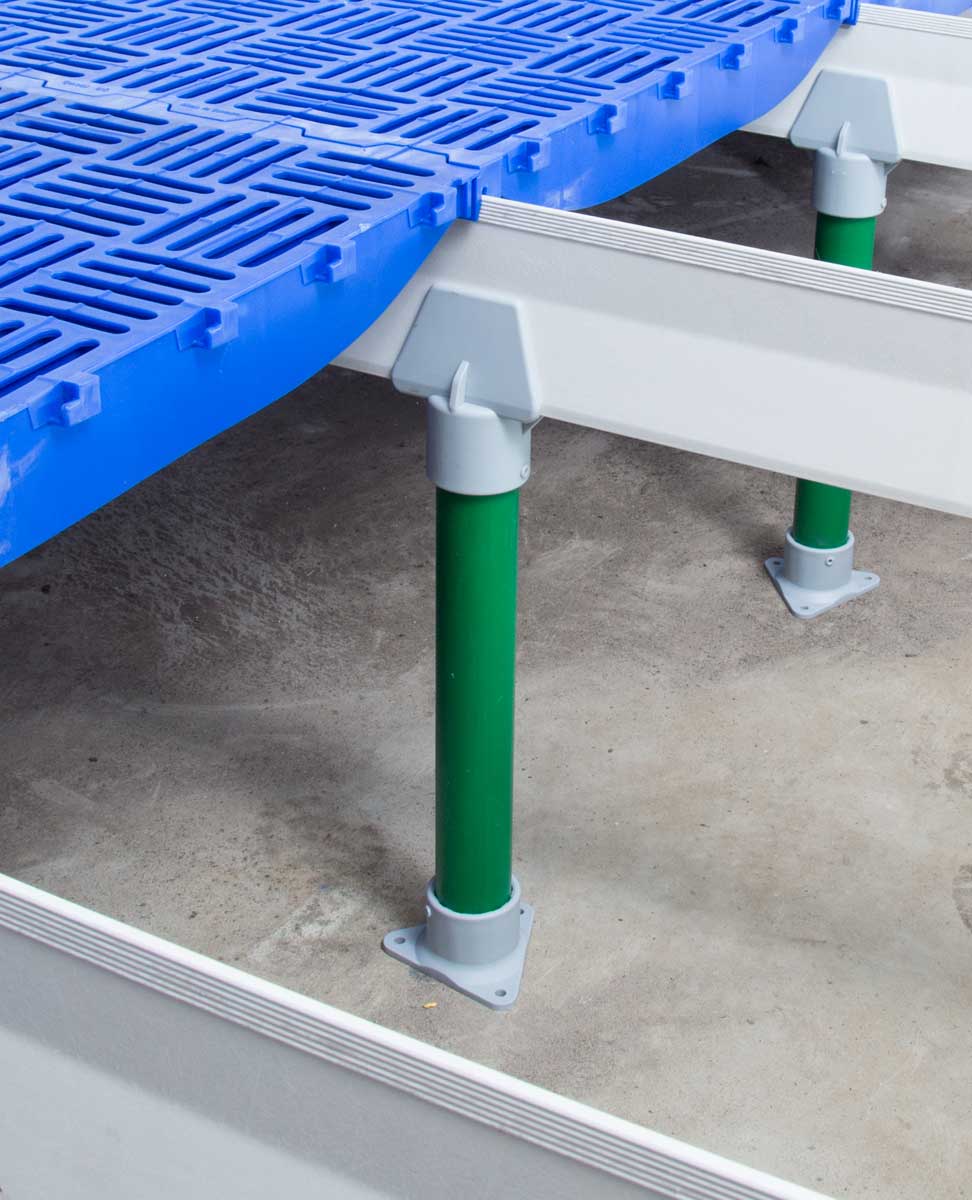 DUO support beam leg sets can be installed to provide intermediate support across the pit for longer beam installations.
Corrosion resistant composite fiberglass beams provide a stable, durable foundation to support plastic pig flooring sections
Triangular shape resists manure build up and allows animal wastes to easily pass into the pit below while also furnishing a high-load bearing capacity improved buckling stability
Farrowing and nursery floor sections dovetail together and interlock onto the top of the DUO fiberglass support beams
End cap pedestals seal beam-end openings and provide improved stabilization
Available in Large (4.75' high) and Extra-Large (6' high) heights and multiple length options
DUO support beam leg sets are available to provide intermediate support for longer beam installations. Leg sets consist of an Upper & Lower Bracket Kit (Item # MK24100) and a 72' green fiberglass support tube (Item # MK25201) that can be cut to length on site as needed depending on the pit depth.
IMAGES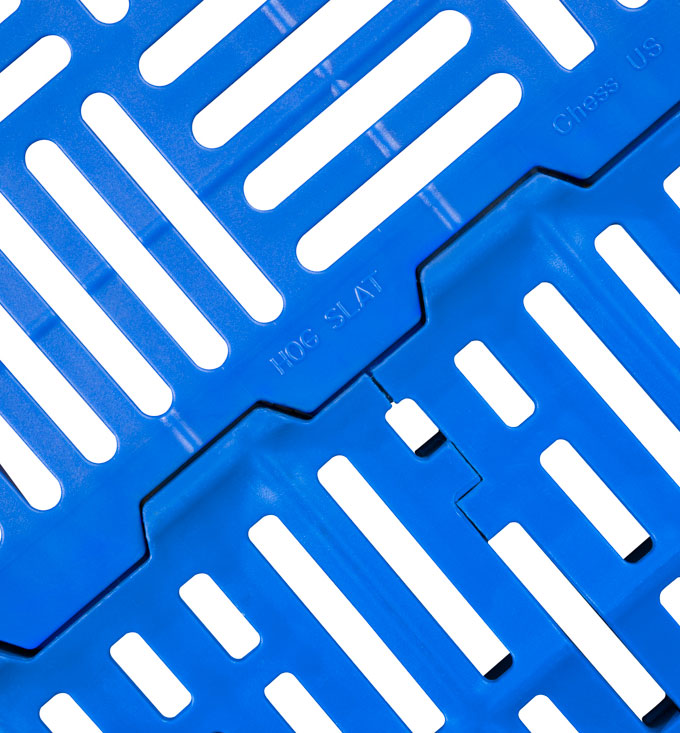 Click the above image for more pictures
VIDEOS -
RESOURCES -