Groundbreaking for New USDA Poultry Facility
US - A groundbreaking ceremony was held today for a new, $5.2 million facility for state-of-the-art research on chickens and poultry at the U.S. Department of Agriculture's Henry A. Wallace Beltsville (Md.) Agricultural Research Center
Groundbreaking for New USDA Poultry Facility - US - A groundbreaking ceremony was held today for a new, $5.2 million facility for state-of-the-art research on chickens and poultry at the U.S. Department of Agriculture's Henry A. Wallace Beltsville (Md.) Agricultural Research Center.
"This facility will provide much-needed space and allow our scientists to conduct research on poultry nutrition, growth regulation and reproduction," said Edward B. Knipling, administrator of USDA's Agricultural Research Service.

The 28,100-square-foot building is designed primarily to house chickens and turkeys for poultry research conducted by BARC's Growth Biology Laboratory and Biotechnology and Germplasm Laboratory. The two labs currently share space in a building constructed in the 1930s.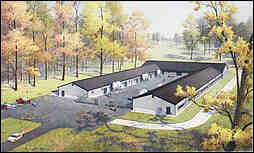 Artists rendering of new poultry facility
Poultry are now housed in other buildings on the grounds, which is operated by ARS, USDA's chief in-house scientific research agency.
Scheduled to open in May 2006, the new facility will have a "U"-shaped configuration. One wing will house turkeys, while the other wing will house chickens. A hatchery, labs and feed rooms will be located at the base of the "U". The new facility will also include a shower and disinfection area and other facilities for employees who work in the labs.
Source: USDA
Agricultural Research Service
- 9th September 2004