Cobb's Technical School Held In The Ukraine Proved Valuable
UKRAINE - "Cobb's Technical School in Kiev attracted more than 40 delegates from Belarus, Russia and Ukraine. The event was organised by Vasyl Babych, Cobb Germany market manager for Ukraine and Belarus, who is based in Ukraine, and was co-sponsored by Cobb Germany, Cobb Europe and Broiler Budushego."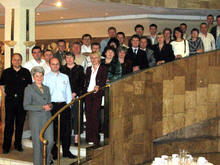 Delegates at the Cobb Technical school at Kiev with front left Vasyl Babych and front right Pelayo Casanovas
"The technical school enabled delegates from poultry companies in this growing market to widen their views on Cobb's economic and genetic potential," says Mr Babych. "With discussions among participants lasting late into the evening, this meeting undoubtedly reflected the increasing interest in the new Cobb management practices and showed the need for regular events of this kind."
"This was an excellent event and we were pleased to see so many people some of whom travelled a very long way," said Pelayo Casanovas, Cobb Europe technical director.
"These technical schools are of immense value to all of us," commented James Truscott, director of Cobb Germany. "They show the economic benefits to be obtained from Cobb products by improving technical knowledge. Our customers have the opportunity to discuss and exchange ideas with each other and with the Cobb technical team so that the desired progress is made."
The proceedings were held in Russian language, with translation for the speakers, including; Pelayo Casanovas, Nick Lynn, Matthias Todte, James Truscott, Steve Tweed and Matthew Wilson, who discussed many aspects of breeder, broiler and hatchery management.
Source:
Cobb
- 23rd June 2006