New sales structure for Cobb 500 in Brazil
BRAZIL - As the new $4.5 million parent stock hatchery in Mato Grosso do Sul begins production, Cobb-Vantress Brasil has announced changes to the future distribution of the breed.

With the growth of Globoaves as a broiler integrator and chicken exporter as well as hatching egg producer, the company will no longer be the sales arm for the Cobb 500 from January 1 2007 but will obtain their Cobb parent stock through a new partnership with Agrogen Desenvolvimento Genetico.

Agrogen, Cobb's largest grandparent customer in the world, will provide Globoaves with their parent stock needs through a contract signed this week and Globoaves will maintain the Cobb breed within their organisation.

Globoaves' growth in the Brazilian industry has seen them develop from an independent chick producer to the largest hatching egg producer in Latin America, and subsequently expand into chicken production and exporter of chicken meat.

"Since 1995 Globoaves has been an integral part of the Cobb 500's growth in Brazil where sales of our stock have increased from one million to more than 25 million this year," says Mark Barnes, South American general manager for Cobb-Vantress.

Initially there was a three-party agreement between Frango Sertanejo, Cobb-Vantress Inc and Globoaves. In 1997 Cobb-Vantress acquired the shares of Frango Sertanejo to form the company Cobb-Vantress Brasil and in 2000 the shares of Globoaves were sold to the group, although the company remained the exclusive sales representative.

"The strength of Cobb in the Brazilian market has been due to the Globoaves' diligence in conjunction with the breed's adaptability to local conditions and the technical service provided," says Mr Barnes.

"While this is naturally a sad moment for the Cobb-Vantress group, we are delighted that the triumvirate will continue to gain strength from the Globoaves association with Agrogen."

Agrogen was appointed as Cobb-Vantress parent stock producer for southern Brazil in 1997 and has since invested in farms, hatchery, laboratory and feed mill expansion. Their latest project is a state-of-the-art grandparent complex at Guarapuava, Parana, which will produce six million parents for the southern region.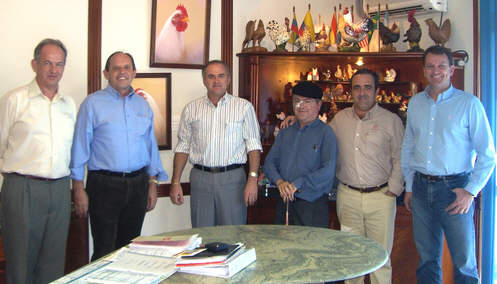 The signing of the new agreement between Agrogen and Globoaves. From left: Velci Kaefer, Globoaves, Flavio Wallauer, Agrogen, Roberto and Alfredo Kaefer, Globoaves, Jairo Arenazio, Cobb-Vantress Brasil and Gerson Muller, Agrogen.
ThePoultrySite News Desk