World Poultry Awards for Big Dutchman innovations
THE NETHERLANDS - Carrying award-winning certificates and a fine trophy, the Big Dutchman colleagues have returned from VIV Europe which took place in Utrecht, Netherlands.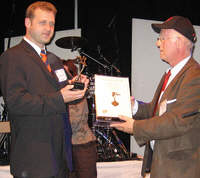 Christian Kalkhoff, manager of the Product Development Department for Climate and Control Systems accepts the award.
At this year's leading show for modern poultry production Big Dutchman was the only housing equipment manufacturer to receive two of the highly coveted "World Poultry Awards".
Christian Kalkhoff, manager of the Big Dutchman product development department for climate and control systems accepted the award in gold in front of approximately 1000 invited guests. Kalkhoff and his development team were given the award for the new Big Dutchman EggFlow and Tracking System, which consists of several patent-pending automation components, a sophisticated measuring technique, as well as hard- and software modules.
The chairman of the international jury and editor-in-chief of the worldwide published magazine "World Poultry", Wiebe van der Sluis, praised the digital Big Dutchman development as "...a great innovation. It improves the egg flow during automatic collection, optimizes packer utilisation and provides more transparency of the egg stream allowing better in-line tracing and tracking."
A silver World Poultry Award was presented to Big Dutchman product developer Heinz Südkamp. His new practical egg detector for enriched layer production systems and aviaries improves the egg quality and reduces the number of hair-cracked eggs.
Of 50 top-class applications, altogether 18 received an award - six golden awards and twelve silver awards.