China Broiler Weekly
CHINA - In this weeks China Broiler Weekly, eFeedLink report that prices of China breed broilers registered gains in the provinces of Guangdong, Sichuan, Jiangsu and Guangxi Zhuang Region in the week ending Jul 18.

Price Summary
Meanwhile, prices of AA broiler are showing some signs of weakness in Henan and Shandong provinces but had remained steady in most of the other regions.
Market analysis
In Sichuan, the lower broiler supplies could not satisfy market demand. Coupled with the slight pick up in live hog prices there, broiler prices were also well supported.

AA broiler prices in Henan and Shandong were lower. High summer heat and power supply shortages in some rural areas have resulted in more broiler deaths, forcing broiler producers to sell off some stocks earlier to reduce losses.

In neighbouring Jiangsu, strong broiler demand from major meat processing enterprises as well as from buyers in other provinces amid lower market supplies have enabled prices to hold on to previous week's gains.

Broiler prices in Liaoning have stayed at the previous week's high level on the back of reduced supplies.
China breed broiler
In Guangxi and Guangdong, fewer stock replenishment by broiler producers earlier has resulted in reduced market supplies.

Better containment of bird flu and the resumption of poultry imports by Hong Kong have led meat processing enterprises and frozen meat plants there to step up broiler procurement, thus pushing up prices during the week under review.

However, the increasingly warmer weather in southern China have somewhat affected meat consumption. Broiler prices in Guangdong and Guangxi had thus begun to stabilise towards the end of the week in review after some initial gains.
Market forecast
In the week ahead, prices of AA broilers are seen to weaken slightly in some regions. However, prices of China breed broilers may continue to rise on continued strong demand.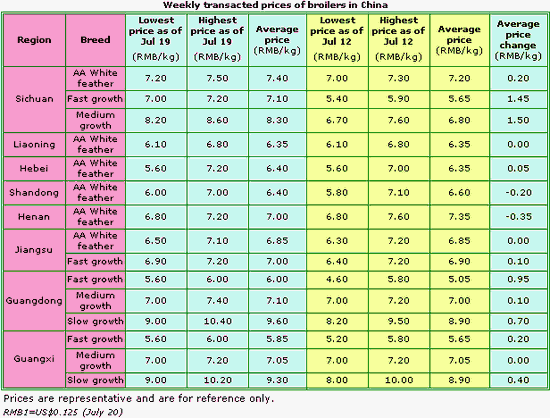 Source:
eFeedLink
- 29th June 2006