Impressions: VIV Europe 2006
THE NETHERLANDS - As we welcome the Summer and prepare for the holidays, there's time to reflect on the year so far – and what the rest of the year may bring, says Pas Reform Hatchery Technologies.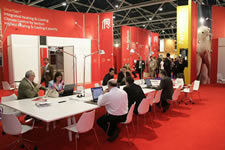 One of the major highlights of the year for us so far has been VIV Europe 2006. And while many suggest that fairs and expositions are in decline, this was plainly not the case in Utrecht – as our photo impressions clearly illustrate.

VIV Europe 2006 delivered a high quality event, with an impressive visitor profile. Decision-makers clearly chose to be there - and at Pas Reform, we welcomed more than 1,000 visitors to our stand during the three days of the show.

Our 'very red' booth presented Pas Reform's mission: setting standards for uniformity in the hatchery. And with a total floor area of 250 m2 – we created a distinctive landmark in Hall 8.

For the first time, we introduced 'Pas Reform Times' – and had a great response to this colour review of news and articles produced since the launch of SmartTM. We look forward to putting together the next edition, but if you'd like a copy or two meantime, just email [email protected], and we'll send them straight to you.

For us, VIV Europe signalled the start of the Summer. We met lots of friends, old and new, and found an excellent platform for the launch of our latest innovations: SmartCenterTM, SmartPortalTM and SmartBasketTM.

If you'd like more information on the new SmartTM innovations, or you would like someone from Pas Reform to contact you - please email [email protected] and we'll send printed brochures to you – or put you in touch with your nearest office.

Our brochures are also available as PDF downloads:
Thank you to everyone who helped make VIV Europe such a success this year. And special thanks to our customers, agents and distributors, many of whom travelled extensively to join us in Utrecht.

Click here for photo impressions of VIV Europe 2006 >>

We hope you will enjoy this collection of images from VIV, and look forward to seeing you again soon!