China Broiler Weekly
CHINA - In this weeks China Broiler Weekly, eFeedLink report that prices of China breed broilers in Guangdong and Guangxi continued to move higher in the week ending Aug 30.

Price Summary
Prices of AA broilers were mixed, with higher prices seen in Liaoning and Hebei provinces but lower prices were recorded in Henan, Shandong and Jiangsu provinces.
Market analysis
AA broiler
AA broiler prices were higher in some regions on account of the following:

As the end of the summer school holidays approaches, demand for broilers had increased. Prices were thus higher in regions where supplies were not adequate in meeting demand.

In Sichuan, farmers had not replenished stocks of day-old chicks earlier and this had contributed to lower supplies in the week under review.

In Liaoning province, prices were up as broiler supplies had stayed low.

In Henan province, farmers had limited broiler stocks to offer and they were also not been active in taking supplies of day-old chicks. In the other regions, broiler prices were lower as supplies were high and broiler processing enterprises were not active in procuring supplies. Besides, high temperature in certain regions had hampered broiler deliveries to other provinces.

China breed broiler


In Guangxi, prices were higher as demand had remained strong. Broiler producers there were able to bring in profits at current prices.

In neighbouring Guangdong, supplies were tight on low farm poultry inventory. Broiler demand in the province had also picked up as temperatures had fallen slightly, boosting consumer demand for chickens. Demand from schools is also rising as the end of the summer vacation approaches.
Market forecast
Concluding, broiler consumption in China is expected to increase with the reopening of schools. Following recent outbreaks of pig diseases in the south, consumers are also likely to buy more broilers. These factors are seen to provide support for broiler prices.

However, analysts say that the higher market releases of broilers in some regions may restrain price gains. Prices of AA broilers in China are seen to remain stable while those of China breed broilers may continue to make more gains.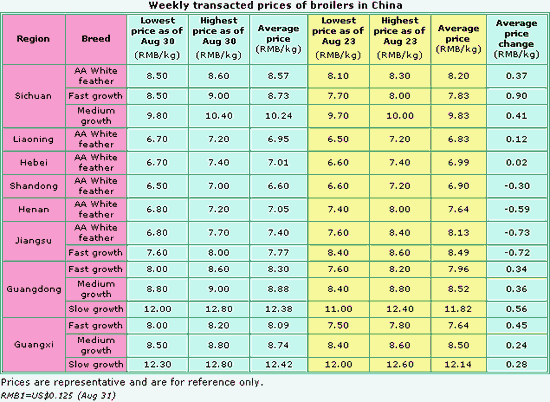 For information on this and other China market reports by eFeedLink, e-mail
[email protected]