VIROCID(R) listed by FAO against A.I. H5N1
GLOBAL - CID LINES ' VIROCID ® successfully passed a test against H5N1 at the low dilution of 1:400 ( 0.25 % or 2.5 ml / L ) at an FAO accredit lab. (VIROCID ® already passed the A.I. test in China and in the USA earlier).
VIROCID is a synergistic broad spectrum disinfectant, that is non corrosive thanks to it's neutral pH in dilution. It can be sprayed, foamed or fogged just by adding water. It's three years shelf life is guaranteed under ISO 9001:2000 and GMP .

VIROCID is available on five continents and is a leading disinfectant in the battle against animal diseases, chosen by different governments and poultry organisations world wide.

Now the United Nations' Food and Agricultural Organisation (FAO) listed VIROCID ® on their multi language websites as an approved and effective disinfectant against H5N1.
FAO: Which disinfectant should I use against avian influenza?
Soapy water and detergents are first choice for many items!!
The avian influenza virus is more simple to destroy than many viruses since it is very sensitive to detergents which destroy the fat containing outer layer of the virus. This layer is needed to enter cells of animals and therefore destroys the infectivity.
The virus survives well in water and simple washing may assist the virus to enter into areas where it is picked up by other birds.
Therefore any washing to remove contamination should always be with detergents (soapy water) or specific disinfectants.
The biggest danger is bird droppings -the virus likes moist, dirty conditions so it is essential to thoroughly disinfect items that have been in contact with bird droppings - cages, shoes, clothes before working with poultry/entry to a place where poultry are kept.
Simple hygienic measures can reduce risk - but national authorities are encouraged to prepare and communicate specific guidance of each type of poultry enterprise.
More guidance for veterinary services on selection and application of decontamination procedures is given in the reference below. Adaptation to the specific country circumstances will be needed.
Items and procedures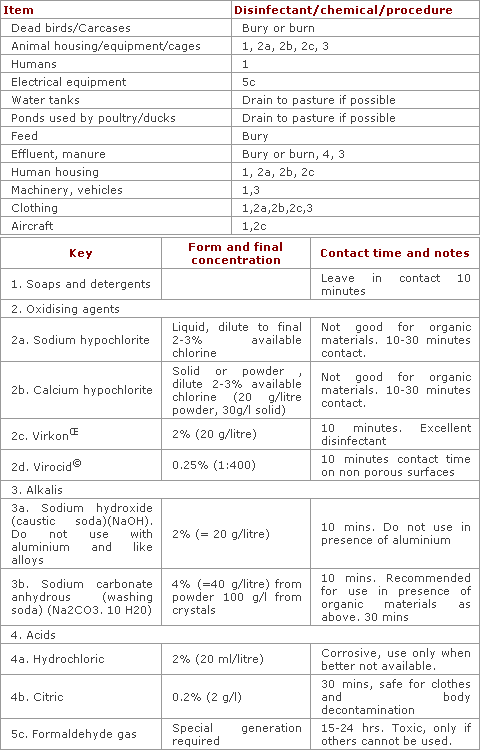 Further Information
To read the FAO's Full Avian Influenza Q&A, click here

For further information contact CID LINES, your biosecurity partner, at [email protected] , visit www.virocid.com and www.avian-influenza-disinfectant.com or call CID LINES' Avian Influenza Helpdesk ++ 32. 57 21 78 77.

To see the latest news on Bird Flu, click here

ThePoultrySite News Desk