China Broiler Weekly
CHINA - In this weeks China Broiler Weekly, eFeedLink report that China broiler prices were mixed during the week ending Sep 6.

Market analysis
AA broiler
AA broiler prices were lower in the following regions:

Following the discovery of pig disease in Sichuan province, hog prices there had declined and fewer hog deliveries were made to other provinces. The weaker hog prices there had also affected AA broiler prices as well.

In Liaoning province, high AA broiler prices had discouraged broiler processors from taking up supplies. Some processors had halted broiler procurement activities.

In Hebei province, increased market supply of AA broilers had helped to ease the tightness in supply earlier, thus causing prices to fall marginally. In Henan and Shandong provinces, increased broiler demand from schools and tertiary institutions had helped AA broiler prices to move up.

Throughout most of the week in review, AA broiler prices in Jiangsu province have remained stable. However, towards the end of the week under review, demand picked up in the southern part of the province as well as in Shanghai due to a decline in temperature. This led AA broiler prices in Jiangsu to rise.
China breed broiler
In Guangxi Zhuang Region, market supply of broiler was slightly lower and demand had remained at the previous week's level. Broiler prices were range-bound with little change in market transactions compared with the previous week.

In neighbouring Guangdong province, broiler supply was insufficient in meeting the higher demand from schools that had just re-opened in the past week. Buoyed by robust procurement activity by middlemen traders, broiler prices had moved higher in the province.
Market forecast
From the week in review until early October, when the Chinese people will celebrate the Mid Autumn Festival (which falls on Oct 6 in the Gregorian calendar this year) and China's National Day holidays (first week of October), broiler supplies are seen to rise. Analysts say the increasing supplies may restrict near-term price movements.

In the week ahead, prices of AA broilers are seen to remain stable, with some regions registering only marginal gains. As for China breed broilers, prices are likely to remain firm on lower supplies and stable demand.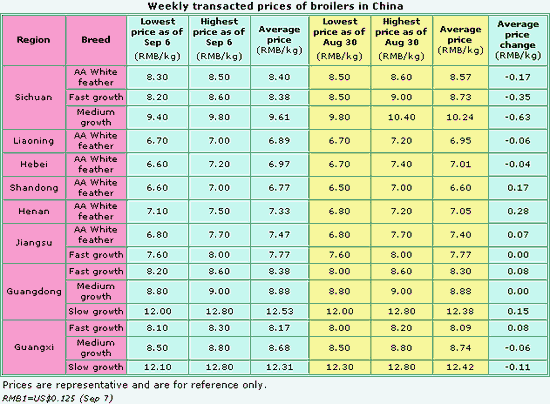 For information on this and other China market reports by eFeedLink, e-mail
[email protected]