China Broiler Weekly
CHINA - In this weeks China Broiler Weekly, eFeedLink report that prices of China breed broilers were mixed in the week ending Sep 13.

Price summary
As for AA broilers, prices registered gains in Sichuan and Shandong, but moved lower in Henan, Hebei, Liaoning and Jiangsu.
Market analysis
AA broiler
In Sichuan, increased procurement by traders to meet higher demand from schools that had reopened had triggered higher prices there.

In Henan, the cooler weather had helped to facilitate cross-province deliveries. Although middlemen traders were more active in making purchases, supplies of broilers had also increased, thus causing prices to weaken slightly in the province.

Demand for AA broilers in Shandong was strong, and prices were higher. In neighbouring Hebei, prices were marginally lower on increased supplies.

In the north-eastern province of Liaoning, farmers had released more supplies, an act which had helped to ease earlier supply tightness.

China breed broiler
In Guangxi, despite the tight supplies in the first half of the week, a substantial increase in market supplies later in the week led prices lower.

In Guangdong, prices were firmer due to a greater demand from schools that had reopened. Recent decline in temperatures there had also sent meat demand higher, including that of broilers.
Market forecast
Broiler demand is seen to rise in the approach to the Mid Autumn Festival and the week-long National Day holiday. However, analysts say that an increase in market supplies may prevent prices from moving much higher.

In the week ahead, prices of AA broiler are seen to remain largely unchanged. As for China breed broilers, prices are likely to remain firm on lower supplies and stable demand.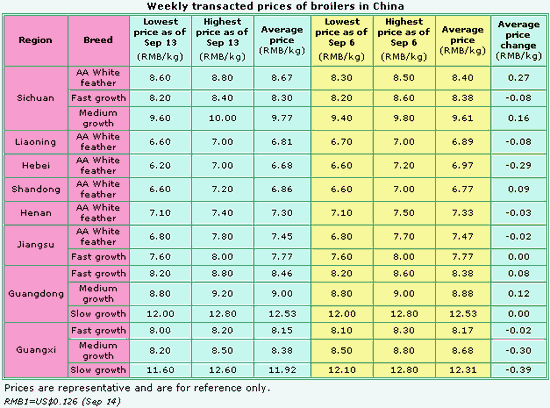 For information on this and other China market reports by eFeedLink, e-mail
[email protected]