First Hubbard Flex GP In South Africa
SOUTH AFRICA - Hubbard is pleased to announce that it has signed an agreement with Genetex Poultry Breeders (Pty) Ltd for the distribution of Hubbard Flex PS in South Africa, Lesotho, Swaziland and Namibia.

Hubbard is a world leader in the development and marketing of improved broiler breeding stock. Hubbard specializes in state-of-the-art methods (both traditional and new technologies) of improving the breeding of their pure lines for broilers, in order to respond to current and future needs of the industry.
At the end of July 2006 the first Hubbard Flex GP arrived in South Africa. Jim Gray (Managing Director of Hubbard South Africa) and Henri Bel (Hubbard Senior Technician) were at Johannesburg International Airport to meet the first shipment.

Genetex Poultry Breeders (Pty) Ltd, trading under the name "Hubbard South Africa", will offer the independent South African poultry industry an excellent alternative to the breeds currently available.

The Hubbard Flex was introduced 3 years ago, and has proven its advantages at all levels of production; a competitive breeder combined with the efficiencies of modern live cost broiler performance with a good carcass conformation. Consistency and reliability are the key words of the Hubbard Flex.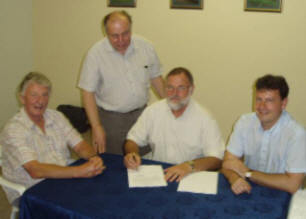 Picture: Jim Gray (Genetex) signing the agreement with Paul van Boekholt (Hubbard).
(from left to right: Mike Walne, Jim Hunnable, Jim Gray and Paul van Boekholt)
ThePoultrySite News Desk