Big Dutchman inaugurates new logistics centre in Malaysia
GERMANY - Two-digit growth rates, reliable partners and an ever-increasing number of satisfied customers: Big Dutchman has been reaping the benefits of its investment in the Asian market for some time now.
It is only consequent that the international market leader for housing and feeding technology for pig and poultry with an annual turnover of more than 300 million euros now opens its first logistics centre outside of Germany in Malaysia in the outskirts of Malaysia's capital Kuala Lumpur.
And it is more than just a new building: the location, which was recently officially inaugurated by Big Dutchman CEO Bernd Meerpohl, will now serve as logistics centre for the areas Asia and Oceania. Purchase, sales and service will be independently controlled from the architecturally appealing main office and supported by a large warehouse with an impressive capacity of approximately 4000 square metres.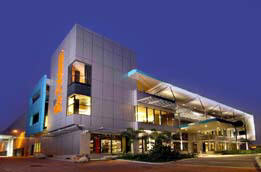 Appealing architecture:
The new BD Asia office building at night.
The new Big Dutchman Asia branch office will now carry out the same administrative tasks for countries like Japan, Korea, Philippines, Malaysia, Thailand up to Australia and New Zealand as the headquarters in Calveslage does for distributors in approximately 100 countries around the world. Innovative products, qualified service and know-how from one source. Long transport distances from Europe to the pacific area are no longer required, thanks to additional suppliers and an intelligent warehouse management on-site.
This was also emphasized by Bernd Meerpohl during the opening ceremony before 300 international guests: "Talk does not cook rice", he quoted from an old Chinese proverb, emphasising Big Dutchman's future orientation. "We take our knowledge and our high-quality products directly into your neighbourhood", he addressed the customers and distributors in Asia. The new BD Asia headquarters is an important but still only a first step in the international reorientation of the corporate group.
Big Dutchman Asia was founded approximately 15 years ago. Led by the Swede Bo Molin, the market leader started its Asian adventure in 1991. The operation started out at a small one-family home, but the ideas from Calveslage soon won recognition. Big Dutchman Asia had to move four times over the years in order to be able to grow with the increasing market demands. Now, the Asian branch office, which is successfully managed by the Dutchman Jan Hofstede, has found a future-oriented location, which will allow Big Dutchman a more dynamic growth.
And this can go rather fast in Asia: in the last two years, the number of employees in Malaysia (41) and Thailand (33) has doubled. Investments made by Big Dutchman in the same period increased by 60 percent.