China Broiler Weekly
CHINA - In this weeks China Broiler Weekly, broiler prices were mixed in the week ending Oct 11.

Price summary
Prices of China breed broilers were higher in Guangdong, Guangxi and Sichuan. As for AA broilers, prices were up in Liaoning, Hebei, Henan and Jiangsu, but were lower in Sichuan and Shandong.
Market analysis
AA broiler
In Sichuan and Shandong, AA broiler prices were lower. Supplies had increased sharply in the past two weeks as farmers anticipated strong demand in early October's holiday period. The excess supplies over demand thus caused prices to weaken.

In Henan, Hebei and Liaoning, prices of AA broiler were higher. Fearing that broiler prices might fall after the holidays, most broiler producers in these provinces had chosen to release most of their stocks in the pre-holiday period. This resulted in lower broiler supplies in the post holiday period, which helped in bolstering prices.
China breed broiler
In Sichuan, farmers had earlier replenished their stocks of fast growth (49 days) and medium growth (70 days) broilers but these stocks could not mature in time for release in the past week. The lower supplies enabled prices to make some gains.

In Guangdong and Guangxi, prices surged on robust demand during the National Day holidays (Oct 1-7). Following the week long holidays, broiler consumption returned to their normal levels. In Guangdong, prices were only marginally higher compared with the pre-holiday period.
Market forecast
With the end of the weeklong celebrations of the National Day and the Mid-Autumn Festival (Oct 6), broiler demand is seen to weaken slightly from the high levels of the holiday period.

Overall, broiler prices are expected to remain at current levels in the near term. In some regions where demand holds up well, marginal gains may be likely.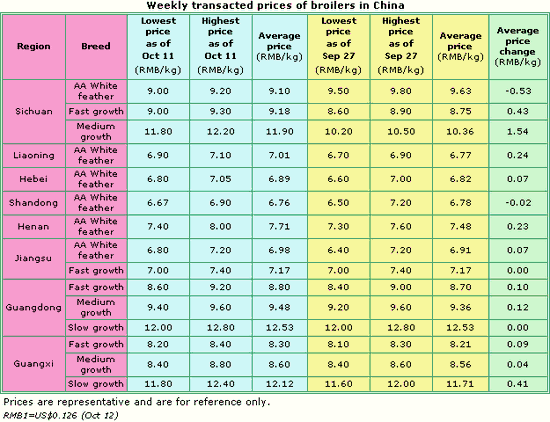 For information on this and other China market reports by eFeedLink, e-mail
[email protected]