China Broiler Weekly
CHINA - In this weeks China Broiler Weekly, broiler prices in China were mixed in the week ending Oct 18.

Prices of China breed broiler were higher while those of AA broiler gave up most of the previous weeks' gains, ending sharply lower in Sichuan, Henan and Jiangsu.
Market analysis
AA broiler
Sluggish post-holiday demand and increased supplies had caused prices of AA broilers to fall in most regions. Broiler processors were also less active in making purchases on concerns over high production costs. In certain regions, broiler producers continued to hold on to their limited animal stocks but the weaker demand had kept prices down.

China breed broiler
Increasingly cooler weather in Sichuan had caused demand for China breed broilers to rise. Lower supplies of the broiler had thus lifted prices.

In Guangdong and Guangxi, broiler inventories remained low but higher demand had kept prices up. Guangdong's hosting of the China Hi-Tech Fair (Oct 12-17) and Chinese Export Commodities Fair (Oct 15-20) had lifted demand for broilers there.
Market forecast
With broiler demand seen to remain largely unchanged amid stable supplies, broiler prices in China are likely to remain at close to current levels in the week ahead.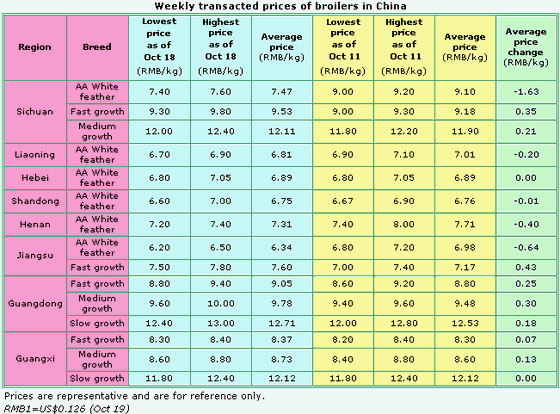 For information on this and other China market reports by eFeedLink, e-mail
[email protected]