China Broiler Weekly
CHINA - In this weeks China Broiler Weekly, eFeedlink report that prices of China breed broilers were largely stable.

Price summary
With the exception of Sichuan and Henan provinces, AA broiler prices were higher in the other regions.
Market analysis
AA broiler
Strong meat demand in Shandong and Jiangsu due to the increasingly cooler weather and a smaller market release helped prices to rise. In Liaoning, prices were higher on low supplies.

In Sichuan and Henan provinces, prices were down marginally amid lower demand and supplies.

China breed broiler
In Guangxi and Guangdong, broiler producers continued to bring in high profits. Prices have remained at the previous week's high amid strong demand and lower supplies.

In Sichuan, prices of fast growth (49 days) broilers were lower but prices of medium growth (70 days) broilers continued to register strong gains.
Market forecast
Stable demand and lower farm broiler inventories are seen to continue providing support for prices in the week ahead.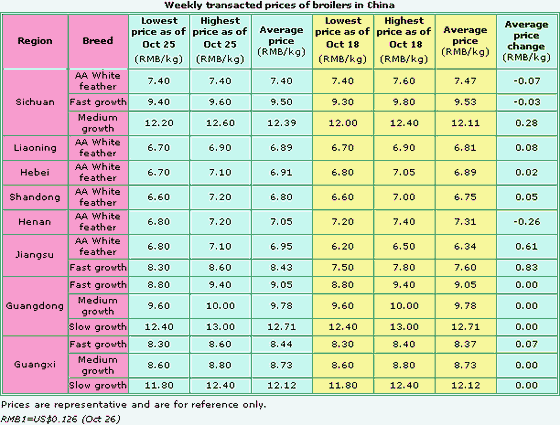 For information on this and other China market reports by eFeedLink, e-mail
[email protected]