Hubbard Consolidates Its Position in Central America
EL SALVADOR - The 19th Central American and Caribbean Poultry Congress took place on August 23-25, 2006 in San Salvador, El Salvador.

Hubbard is a world leader in the development and marketing of improved broiler breeding stock.
Hubbard specializes in state-of-the-art methods (both traditional and new technologies) of improving the breeding of their pure lines for broilers, in order to respond to current and future needs of the industry.
The congress gathered more than 1,500 participants; every segment of the poultry industry was represented: feed milling, hatchery, live production, processing, commercial egg, marketing and all support activities. Nearly 100 exhibitors participated, including Hubbard. Hubbard was well represented with a booth and attracted many visitors from small and large Central American poultry companies as well as independent or integrated growers.

"The Hubbard Classic has been dominating the Tropics for more than 25 years" commented Ing. Francisco Portela, Director of Sales. "The majority of commercial broilers produced in El Salvador are Hubbard; we are looking forward to strengthening our position in this important and growing market". Hubbard supplies its Central American & Caribbean customers with parent stock directly from its own hatcheries in the United States.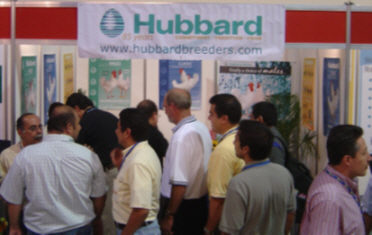 Hubbard featured the Hubbard CLASSIC product with improved broiler efficiency - the biggest seller in tropical regions. The Hubbard CLASSIC is a combination of the optimal balance between reproductive and broiler performance in a standard breeder. The Hubbard COLOR lines, world leader in 'alternative' free range and natural production systems, have been really popular in Central America and Hubbard has expanded its network of distributors lately in Central America.

The technical sessions of the poultry congress focused on Incubation, Breeder and Broiler Management, Pathology, Feed Mill, and Processing. Dr. James Ranson, Hubbard Technical Specialist, presented "Key Points in Managing Breeder Males".

Dr. Ranson, a "globe trotter" of the poultry industry concluded his presentation to the audience by stating "I have been traveling to Central America for more than 30 years and today I am delighted to have this chance to interact and learn with our Hubbard distributors and growers. Every year they achieve outstanding results with the Classic package; the Top Performer Under the Toughest Conditions".

For more information please contact: [email protected]
ThePoultrySite News Desk