UK egg producers well-placed to meet new salmonella controls
UK - Eggs are still considered the most important source of human salmonellosis in Europe, but the UK is well-placed to meet the tough new EU controls which are being introduced following a Europe-wide salmonella survey.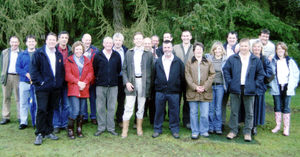 Poulty farmers, representing some of the country's largest egg producers, gathered for an informal clay pigeon shoot, following a meeting organised by Lohmann Animal Health.
Due to the controls it introduced, including compulsory vaccination through the Lion Egg scheme, Britain achieved the best results among the larger countries with salmonella detected in just 11.9 per cent of its flocks, Eduardo Bernardi, veterinarian and director of marketing and registrations at Lohmann Animal Health, told a meeting of egg producers in Shropshire.

"British egg producers have set the example- determining the draft guidelines the EU Commission set for future controls in layer flocks. Based on the British experience, from 2008 vaccination of all flocks will become compulsory in countries where salmonella exceeds 10 per cent," he said.

However, he warned that egg producers must focus on the salmonella control programme as a whole, by disinfection, hygiene, vermin control and the introduction of comprehensive bio-security programmes along with vaccination. They should also be aware that their flocks would, in future, be subject to much more stringent biological monitoring for all salmonella serotypes with public health significance. Each country would be required to provide its own guidelines to the EU Commission.

From January 2008, the sale of eggs for human consumption would only be allowed from flocks returning negative results following these salmonella tests.

The five most prevalent salmonella serotypes in laying hens were S. Enteritidis (51.33 per cent), S. Infantis (8.31 per cent), S. Typhimurium (5.24 per cent), S. Mbandaka (4.44 per cent) and S. Livingstone (2.75 per cent), but overall S. Enteritidis and S. Typhimurium were those most frequently associated with human illness, said Mr Bernardi.
ThePoultrySite News Desk