100th Installation Of The Elgra 3
THYE NETHERLANDS - Wednesday 22nd November Rijnvallei Bedrijfstechniek installed the 100th Elgra of Prinzen at the van Steenbergen family Bennekom. This event was used by Prinzen and Rijnvallei Bedrijfstechniek to congratulate the van Steenbergen family.
Since 1982, Mr. van Steenbergen has been a self-employed poultry keeper. He subsequently started keeping broiler breeders and soon after he expanded by having his own rearing. The rearing has since grown considerably as has his dairy herd.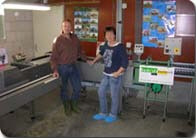 In 2000 he had the choice of further expanding his rearing activities or to continue with the broiler breeders. Since his main interest is his broiler breeders he built a new house for the broiler breeders which he later extended. He now keeps 23.500 broiler breeders in two houses on the farm.

In order to combine this with his 45 dairy cows and young stock his family gladly lends him a helping hand. "It is the diversity in the work that keeps it nice" says van Steenbergen.

Through the purchase of this Elgra grader in line with a PSPC packer they hope to save a lot of labour. Furthermore they expect, by monitoring the egg weight in combination with the hen weight, to get more insight in what they produce. "Measuring is knowing" says an optimistic Mr. van Steenbergen. Another advantage is that the family now knows exactly what they deliver and with that information, how to guarantee an even better quality.

Perhaps that in the future they might change their young stock for dairy cattle but for now there will not be another expansion in poultry. "Not more but even better", is the motto of the van Steenbergen family for the future.