China Broiler Weekly
CHINA - In this weeks China Broiler Weekly, Prices were stable to higher in most regions.

Market analysis
AA broiler
Demand for AA broiler had risen with the colder weather.
Supplies remained low as cautious farmers were slow in replenishing their broiler stocks following early October's National Day holidays.


Meat processors were eager to restock broiler supplies but farmers were mostly reluctant to sell their limited stocks at current prices.
China breed broiler
Demand for China breed broilers were also up with higher consumption of specially prepared meat products with the approach of the winter season.


Lower supplies in Guangdong, Guangxi as well as in the other parts of southern China had kept prices firm.
Market forecast
The colder weather will continue to fuel broiler demand but supplies are not seen to increase much from current levels. Broiler prices are expected to make more gains in the week ahead.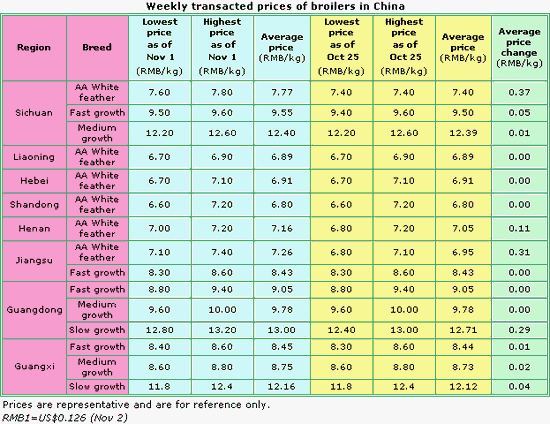 For information on this and other China market reports by eFeedLink, e-mail
[email protected]