Two Share New Goose Entrant Sponsorship
US - Two newcomers to goose production - Judith Dryden in County Durham and John Arwel Jones in Wales - are the inaugural winners of the John Adlard Memorial Sponsorship.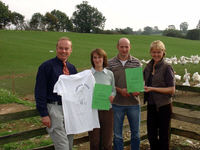 Joint winners Judith Dryden [second left] and John Arwel Jones [second right], pictured with Eddie and Georgia Hegarty of Norfolk Geese.
The scheme was launched by Norfolk Geese in memory of its founder John Adlard, who was also chairman of the British Goose Producers from its beginning in 1983 until his death in August 2005. It is aimed at new entrants to the goose industry to help get them off to a flying start.

The joint winners receive special guidance from Norfolk Geese, with the first 20 goslings provided free and advice on all aspects from rearing day-olds to presenting and marketing the oven-ready product. Both winners - Judith Dryden at Murton Moor Farm, Murton, and John Arwel Jones at Hirwaen, Llanbedr, Ruthin, Denbighshire - have started with 100 goslings.

"We awarded the sponsorship to both entrants because they represent the industry ethos by producing the best quality geese on the market while being willing to learn and benefit, and enjoy the whole experience," say Louise Adlard and Georgia Hegarty, daughters of John Adlard. "And in true John Adlard style, we felt why not have two winners for the first year?"

Mrs Dryden has already had experience with Christmas poultry producing 500 KellyBronze turkeys and has found the two enterprises fitting well, with the goslings arriving on the farm one month ahead of the turkey poults.

For Mr Jones the geese fit in well with the main sheep enterprise. He has realised the potential for geese in the locality and has used his grazing for the geese after the sheep were sold.
ThePoultrySite News Desk